As part of the new ​"Experiences" fea­ture at Airbnb's expand­ing empire, a trio of native Greek food­ies have joined forces with the dwelling con­glom­er­ate to offer trav­el­ers an immer­sive view of the Greek expe­ri­ence in France.
A Taste of Greece in Paris offers Airbnb guests a culi­nary excur­sion that includes a com­pre­hen­sive tast­ing of hand-picked del­i­ca­cies deliv­ered straight from Greece to the gourmet shop, Kilikio, located in the trendy 3rd Arrondissement in Paris.
Nestled between art gal­leries and bou­tique cloth­ing shops, Kilikio's brightly-tiled inte­rior pro­vides a cheer­ful back­drop to the bustling group of ded­i­cated cus­tomers rel­ish­ing bites of deli­cious serv­ings pro­vided by the own­ers.

---
---
Gourmet selec­tions includ­ing olives, olive oils, meats, breads and honey are care­fully picked in col­lab­o­ra­tion with the shop's liai­son in Greece, Stavros Seretis, who is respon­si­ble for com­mu­ni­cat­ing with pro­duc­ers and deliv­er­ing the store's 160 prod­ucts, 95 per­cent of which orig­i­nate from organic farm­ing.
"Come taste!" invited Solon Costopoulos, the inno­v­a­tive store's owner. Kilikio's suc­cess may be in large part due to the per­son­al­i­ties spear­head­ing its rise.
Chef Kritonas Poulis, a Kilikio part­ner and food afi­cionado, is respon­si­ble for pro­mot­ing Greek gas­tron­omy by work­ing closely in the selec­tion process of each fine food item. ​"Being 100 per­cent sure of the source is a def­i­nite way to guar­an­tee qual­ity of taste," Poulis told Olive Oil Times.
"We also wanted to pro­vide an oppor­tu­nity for Greek pro­duc­ers to sell abroad," he said, as he pointed to a bas­ket full of fresh, hand-picked, wild oregano, just one of the many arti­sanal treats orna­ment­ing the shop.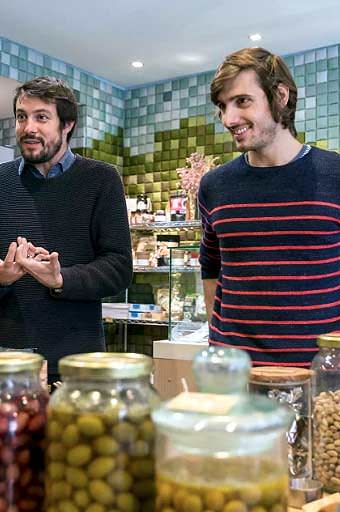 When asked how the part­ner­ship with Airbnb came to be, Poulis replied: ​"They just found us." It's not hard to see why, as Kilikio is such a find.
As one of the only shops to pro­vide such an elab­o­rate vari­ety of unique Greek fare, the own­ers also hap­pen to be Greek food experts. Part of the three-hour Airbnb expe­ri­ence fea­tures Costopoulos detail­ing the intri­ca­cies of each pro­duc­t's cre­ation and qual­ity selec­tion process.
Following the tast­ing, trav­el­ers are guided to Le Carreau du Temple, home to the first (and allegedly best) Greek burger in Paris, to enjoy lunch. As if that isn't enough, guests are invited to return to the shop to wash down an assort­ment of Kilikio snacks with authen­tic Greek beers.
As lovers of Greek cui­sine and pro­mot­ers of the Greek lifestyle, Costopoulos, Poulis and Seretis are bring­ing a taste of Greece to the streets of Paris in a very Greek, splashy way.
Kilikio is located at 34 Rue Notre Dame de Nazareth, 75003 in Paris, France.
---