By Byron Ayanoglu
The Mediterraneans' pas­sion for olives tran­scends life and even death. The rains, the storms, the snows had wreaked havoc in the Mariou area. Roads had col­lapsed, elec­tric­ity poles and TV trans­mit­ters were downed, all the houses leaked water, live­stock had suf­fered, veg­eta­bles patches and oranges had frozen, but the olives had sur­vived.
The olives are eter­nal. They are the life-giver. They are wealth. They can freeze and wither, and still their oil is intact, wait­ing to be extracted. But, the olive is not an accom­mo­dat­ing fruit. It flow­ers in March and ripens slowly through the long sum­mer and fall. It reaches matu­rity in December and is at its best if har­vested right then, January being a back-up to com­plete what­ever work has been left undone.
This year December had been such a wash-out that almost all the har­vest­ing was left to the last minute. If January were to also be lost, then the whole crop would rot.
Landlords Niko and Erato, own­ers of a tidy string of olive groves around Mariou and the neigh­bour­ing vil­lage of Asomatos, went to their prop­er­ties on dry days, even if it was too cold to com­fort­ably work out­doors. The olives demanded their imme­di­ate atten­tion, noth­ing else mat­tered.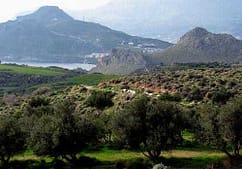 They waited for a some­what warm, sunny day, and invited us to join them. I believe that they fully expected the two of us to work, but I craftily claimed to have caught stoithi, a Cretan chest ail­ment related to laima (throat) and caused by the same cold wet drafts. I set myself under an olive tree with a ther­mos of hot cof­fee to suf­fer with­out undue com­plaints.
Algis threw him­self enthu­si­as­ti­cally, if errat­i­cally, into the tasks at hand, though I caught him slack­ing off sev­eral times to take pho­tographs. The fam­ily were too busy to notice. They had far too much to do, and it was a bat­tle against time.
Olives have been pressed into olive oil on Crete since Minoan times. Modern pale­on­tol­ogy tech­niques have given us proof that olive oil was not only known to the Ancients, it was a major export of theirs, and there­fore a source of their wealth and power.
Not only is olive oil nutri­tious, it enhances every­thing with a lux­u­ri­ous taste. Be it a lowly tomato-feta cheese salad, or an ele­gant grilled fish, food becomes a del­i­cacy when driz­zled with fresh, cold-pressed olive oil.
The Minoans would eas­ily have been able to fig­ure out that the olive con­tains oil. It oozes out of the fruit with­out much crush­ing or squeez­ing. And amaz­ingly, the oil that the olive relin­quishes is sweet and fla­vor­ful, even though the raw fruit itself is bit­ter and unpleas­ant.
It is not known if the Minoans dis­cov­ered the method nec­es­sary to ren­der olives edi­ble, but mod­ern Cretans, ben­e­fi­cia­ries of five-thou­sand years of olive-cul­ture, cer­tainly do know. Olives are either cracked or scored, and stored in water to shed their bit­ter­ness. The water is refreshed twice a day for ten days, until a neu­tral taste is achieved. Afterwards, the olives are either pick­led in brine, or mar­i­nated in lemon or vine­gar and even­tu­ally pre­served in olive oil, to become enjoy­able in their own right.
Either as fruit or as oil, olives are the com­mon denom­i­na­tor of Crete's econ­omy and well-being. It was there­fore no won­der that the land­lords, their play­boy son Grigoris, their older son Stamatis, the sur­pris­ingly pro­fi­cient Catalan girl-friend Arete, and the two hired hands were so absorbed by their olive chores.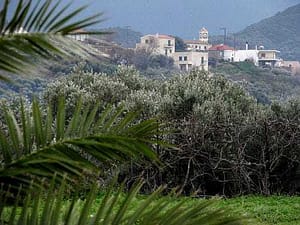 Olives, when ripe, can either fall off the branch to the ground, or stub­bornly stick to the branch until prod­ded. The har­vest includes both the fallen and the stub­born. Dark-green mesh-cloth is spread under the trees to pre­vent fallen olive from rot­ting in con­tact with the soil. The cloth also pro­vides a sur­face onto which the prod­ded ones can fall.
In the old days the prod­ding was done with olive branches. Now it is done with slen­der, motor­ized thresh­ers that churn the olives off the branches. It's still a mus­cle-wrench­ing busi­ness but at least it's speed­ier and much more effec­tive. Once the olives are off the branches and on the mesh, the leaves and lit­tle twigs are picked out by hand, and the olives are gath­ered into burlap sacks to be trans­ported to the olive oil co-oper­a­tive. There they are pressed into oil by machine, another wel­come improve­ment over the man­ual presses of the past.
Olive pick­ing, known locally as ​"pame yia ellies" might be hard work but it has ele­ments of fun and cel­e­bra­tion. Drinks, includ­ing the all-occas­sion raki, flow through­out the day, and the high­light is the essen­tial lunch break. On this day, to mark the pres­ence of Algis and myself, a char­coal bar­be­cue was set up, to roast a humon­gous spit­ted turkey.
I was fairly sure that this was the same turkey I had watched Niko han­dling the other day, and which had once tried to peck my eyes out. I hardly minded being assigned the task of tend­ing to its roast­ing. Suffering from stoithi did not excuse me from cook­ing chores, if any­thing it rec­om­mended me for them.
I sat by the bar­be­cue, enjoy­ing its warmth, turn­ing the big bird on its spit, and breath­ing in its com­fort-food smells, as the skin charred and the meat dripped fat rhyth­mi­cally onto the spit­ting char­coal.
The day was mostly done around three p.m., just as the win­try sun started to par­tially hide behind puffy clouds, and the turkey was cooked through, its meat threat­en­ing to fall off the bones. The olive pick­ers, includ­ing the exhausted Algis, who had exer­cised mus­cles he didn't know he pos­sessed, gath­ered around me and my bar­be­cue like moths to a flame.
Erato and Arete, as the women of the group, set out a copi­ous pic­nic on a makeshift table, with pre-baked dan­de­lion pies, home-made goat cheese, steamed veg­eta­bles doused with olive oil and lemon, and crusty bread to accom­pany my expertly roasted turkey.
Niko would've pre­ferred if the women had taken over all the food-serv­ing chores, but tol­er­ated my turkey-carv­ing since it had been I who had roasted it. Many bot­tles of wine were fetched from secret satchels, and I was even allowed to sip mine and enjoy it, since this was a work­ing lunch and not anyone's name day party.
The meal ended with a dessert of tiny clemen­tines freshly picked by Erato from trees at the edge of the olive grove. They were a spe­cial treat, as they were among the very few that had escaped the frost of the big snow storm.
The women got busy wrap­ping up the lunch left­overs, while the younger men returned to their olive work before dark­ness set in. Niko stayed with me to fin­ish the wine with the last of the cheese.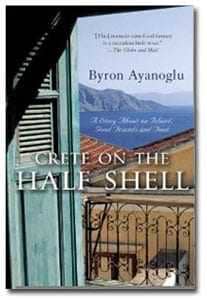 "This way of life is near­ing its end," he mused. ​"I'm not unduly sad, because I'll never give up my olives, and I'll con­tinue to do what I've always done, and what my par­ents had done. But, there are lots of oth­ers who are sell­ing their her­itage to out­siders, to Europeans, for those pre­cious Eurodollars, so that more hotels can be built. It's as if there is no end to the peo­ple who want to come here in August, and limit to the sac­ri­fice of our tra­di­tions to accom­mo­date their vaca­tion plans." He took a chunk of cheese in his hand and smelled it. ​"I had a taste of a goat cheese from France. Arete brought it back from one of her trips home. To impress me. Well, it didn't impress me at all. Not at all. It smelled of noth­ing. Then I found out that the goats who gave the milk for that cheese live on a farm, and eat feed out of a box. My goats live on the hill and graze on herbs. Once they build their hotels on all our hills, then our goats will have to eat from the same boxes, and our cheese will also smell of noth­ing." He smiled and dropped the cheese into his mouth. He shut his eyes and savoured the many per­fumes of the herbs his goats had grazed.
I helped myself to some cheese and ate it quickly. In this rapidly chang­ing world it's imper­a­tive to act with alacrity. For all I knew some European's bull­doz­ers could sweep down, nip the last of the heir­loom cheese out of my hand, and pro­ceed to put up a flimsy hotel right where I was sit­ting.
.
.
Excerpt from: Crete On The Half Shell Paperback: 268 pages Harper Perennial Canada (Feb 19 2004)
Reprinted with per­mis­sion.
Photos: ALGIS KEMEZYS