By Will Dunn
Olive Oil Times Contributor | Reporting from Barcelona
From Australia to Andalucia, it's long been a habit of some olive lovers to pick a bag of wild fruit when the oppor­tu­nity presents itself, and to pre­pare them at home. As the world's most exten­sively cul­ti­vated fruit crop, the olive tree has spread back into the wild wher­ever groves are near – it's even con­sid­ered a weed in some places – and these feral fruit are anyone's for the pick­ing.
Preparing your own table olives is a sim­ple, if labo­ri­ous, process. Once the olives are picked – by hand, so as not to dam­age the tree – a slit must be made in each fruit, and the olives must then be sealed in a con­tainer filled with water, brine, or a vine­gar solu­tion that allows them to fer­ment. Curing or fer­ment­ing the fresh olives removes the bit­ter com­pounds that would oth­er­wise make them ined­i­ble, and once cured they're ready to be eaten or fla­vored with gar­lic, wine, herbs or spices. A bowl of wild, home-cured olives on the table makes for a great con­ver­sa­tion starter.
But what about those who want to go one fur­ther, and turn the olives they've picked them­selves into oil? Well, for one thing you need to pick a lot more olives – even the rich­est strains will require sev­eral hours' pick­ing to fill a bot­tle of extra-vir­gin. Then, you'll need to find some­one to press your bounty. Locating olive trees, find­ing out who owns them and nego­ti­at­ing with millers can be even harder work than pick­ing, but there are ways around this. Several com­pa­nies now offer the chance to pick olives while you're on hol­i­day, remov­ing the guess­work and get­ting straight to the whole­some fam­ily fun. In return for an after­noon spent up a lad­der get­ting twigs in your hair, there are quite a few places that will press your har­vest and send you home with a bot­tle of pick-your-own oil.
Some com­bine apart­ment and villa rentals with the chance to join the har­vest, such as the Saint Basil Olive Grove in Crete, and at some places, such as Vila La Rogaia in the rural Italian heart­land of Umbria, you can even adopt your own tree – adding another level of brag­ging rights to that spe­cial bot­tle of oil. For the more adven­tur­ous, there are very cheap hol­i­days to be had as a sea­sonal worker on organic farms. In return for join­ing the olive har­vest for a week or so as a seri­ous, hands-on worker, you'll get free accom­mo­da­tion, food and wine, as well as the oppor­tu­nity to help sup­port small farms that pro­duce top-qual­ity oils. You can find out more about work­ing as an organic fruit picker from World Wide Opportunities on Organic Farms.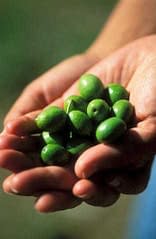 For some, how­ever, the olive pick­ing expe­ri­ence is much more than just a hol­i­day. Journalist and author Mort Rosenblum lives in Paris but spends a lot of time at a place in the south of France that he has named, appro­pri­ately, Wild Olives: ​'five acres of steeply ter­raced land down a teeth-loos­en­ing dirt road in the back folds of Provence', where 200 olive trees are har­vested by Rosenblum (with the help of numer­ous friends and invited guests) each December. A good har­vest can bring in a few hun­dred kilos of olives, which are then taken to a nearby mill – there is a choice of sev­eral – to be pressed. ​'I used to like the old style a la feuille press­ing,' says Rosenblum, ​'but I now go to a third-gen­er­a­tion mill dat­ing back cen­turies which uses low-tem­per­a­ture cen­trifu­gal machines for clean, clear oil.'
The price of all this involve­ment in his oil is a con­sid­er­able amount of work – prun­ing, till­ing around the bases of the trees, guard­ing against the dreaded olive fly – but the reward is his own per­sonal oil, picked by the hands of his friends and grown on the trees that have stood on his hill­side for more than three cen­turies.
For those of us who don't have our own olive groves or even a spare week to go out pick­ing, there's still a chance to try a taste of the wild. Can Solivera, a small oil pro­ducer in Catalonia, pro­duce a Wild Extra Virgin Olive Oil from trees that were allowed to grow wild for cen­turies. In the moun­tains above the Ebro val­ley in Catalonia, the cli­mate is suf­fi­ciently high and dry that olive fly is not a worry, and the trees, which grow Empeltre and Arbequina olives, have never been any­thing but organic (avail­able from La Tienda). It's even milled using medieval tech­niques. To try oil from a wild olive strain, head to Tuscany for the unique Seggiano oil, made using oli­vas­tra seg­gianese olives. People have been cul­ti­vat­ing new strains of olive trees for thou­sands of years but the seg­gianese vari­ety, which only grows around the vil­lage of Seggiano, is all Mother Nature's work. Try the oil, and I think you'll agree: Mother Nature knows what she's doing.
.
.
You can buy Mort Rosenblum's book about travel, the olive oil trade and acquir­ing his own grove from Amazon.com: Olives: the Life and Lore of a Noble Fruit.