By Michael Owen, an olive grower in the Clare Valley in South Australia.
Have I really pro­duced all this fruit? Am I really an olive grower? The doubt is nag­ging me but up to now I've only ever thought of myself as some­one who grows olive trees because the fruit has sim­ply failed to mate­ri­al­ize because of the drought. And how can I take myself seri­ously when the sum total of my olive grow­ing knowl­edge and expe­ri­ence is a night school course in 2000.
So, I'm about to pick our first olive crop and I'm excited and I'm pan­ick­ing. What if the oil is no good? Koroneiki olives are famous for oil but vir­tu­ally use­less for the table. I think of noth­ing but extra vir­gin oil as I arrive at my first tree.
The olives dec­o­rate the trees like hun­dreds of tiny black and green baubles demand­ing to be picked and I can't wait to get stuck in.
Friends have vol­un­teered to help with the first har­vest and silently approach their trees. They're prob­a­bly won­der­ing what to do as, like me, they've never picked before. I don't think they feel the way I do. They can't. I have my heart and soul in this crop. But, they look cheer­ful enough.
As I rake the olives my thoughts go back to when we first bought the trees and the ques­tion of plant­ing sur­faced. We dis­cussed how we would do it. We argued whether we should do it. We debated if we could actu­ally do it. In the end we did tackle it our­selves but had absolutely no idea of what we were tak­ing on.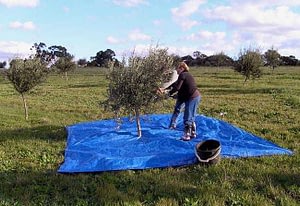 We marked out a ten metre by five metre grid and started plant­ing. We, my wife Kath and my two sons Tom and Harry, were full of energy and enthu­si­asm. I dug the holes, Tom put the trees in, Harry banked the earth and Kath gave them a good drink. It was August 2001 and the win­ter rains had failed once again. We moved achingly across the field and planted nearly a thou­sand trees in just three weekends.
There's a shout from the other group as a tar­pau­lin begins to flap in the wind. Curses and olives fly through the air then laugh­ter and pick­ing starts again. A mut­ter­ing fig­ure drag­ging a sheet trudges by. No-one will work with him as he's too demand­ing so Harry is despatched to keep the lone picker company.
I'm proud of my fam­ily. We did this all by our­selves. Every sin­gle tree was held in our hands, given words of encour­age­ment and gen­tly placed in the ground. We planted in freez­ing rain. We planted under clear blue skies. We planted in the still misty morn­ings and as the night descended. I remem­ber cold hands, aching joints and blis­ters. Hardly a labour of love but there can't be many fam­i­lies that have expe­ri­enced this.
Some peo­ple work in silent con­cen­tra­tion and take every sin­gle olive from the tree. Others chat­ter away and drift from tree to tree as and when the mood takes them. It really doesn't mat­ter — there are no instruc­tions as we're all first timers.
Years ago a local farmer laughed when he saw our lines of bon­sai olive trees. ​'You're mad plant­ing in this drought,' he said. I wish he were here now to see this.
The pick­ing goes on and on and on. Every now and then one or two peo­ple head towards the camp­fire for warmth and rest. Others seem obliv­i­ous to the cold and carry on regard­less. The lone picker now has a dif­fer­ent helper.
It's finally over but some peo­ple won't stop. They insist on pick­ing indi­vid­ual olives across the grove and are called in to cheers as they tip the last bucket into the trailer. Everyone stands around admir­ing the mound of green and black trea­sure until the need for warmth and nour­ish­ment takes over. I don't know about the oth­ers but I'm aching from head to toe and I wouldn't have it any other way.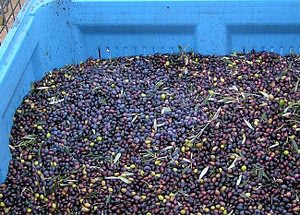 At the press my head is thump­ing from the pre­vi­ous night's cel­e­bra­tions but I don't care. I'm try­ing to act non­cha­lant, as though this is some­thing I do every year, but inside I'm danc­ing with excite­ment. The aroma is evoca­tive — fresh grass and earth. The taste is sen­sual – smooth and pep­pery kick and the color is bright green.
Other grow­ers arrive with their har­vest. Everyone tries to act dis­in­ter­ested but they all have a furtive glance at the oppo­si­tion. I want to run round shout­ing out the ques­tions that whirl round in my head. When is the best time to pick? Why are yours greener than mine? How do you prune an olive tree? But I'm part of the olive grow­ing fra­ter­nity now and it wouldn't do to look fool­ish would it?