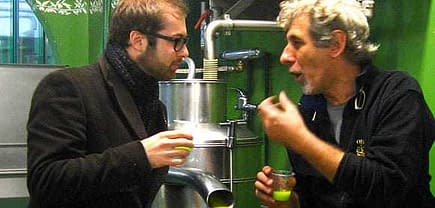 Nicholas Coleman (left) with olive oil pro­ducer Franco Boeri in Liguria
Two years ago Nicholas Coleman stopped by New York's newly opened Italian food mar­ket Eataly to check out its olive oil sec­tion. But he found more than olive oil. Standing by him­self star­ing at the bot­tles was Mario Batali, the famous Italian chef and restau­ra­teur, who helped open the wildly suc­cess­ful gourmet empo­rium just off Madison Square.

Coleman, who had given an olive oil sem­i­nar to the staff of Batali's Otto restau­rant, intro­duced him­self and told the chef that Eataly had a great olive oil selec­tion, but the aver­age American would have a tough time nav­i­gat­ing it. Batali cut him off and offered Coleman the job of Eataly's chief olive oil spe­cial­ist.
Coleman's intro­duc­tion to olive oil was just as serendip­i­tous. He intended on spend­ing his career work­ing in the music indus­try, but a trip after he grad­u­ated from music school changed his path.
In 2007, on his way from the Arctic Circle in Finland to the Sahara Desert, Coleman stopped in Tuscany dur­ing the olive oil har­vest. A friend sug­gested he stay at Nadia Gasperini Rossi's villa so she could show him what hap­pened dur­ing the har­vest. ​"At the time, I had never seen an olive tree, and I had never thought about olive oil," said Coleman.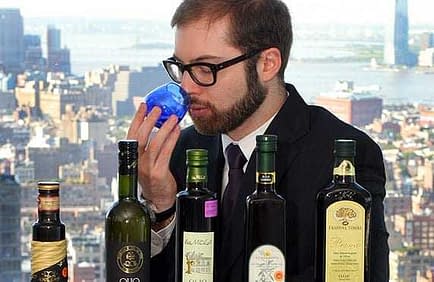 His time with Rossi was the most mem­o­rable part of his trip. She took him under his wing, and showed him how she hand-har­vests, cleans and cod­dles her olives, as Coleman put it, turn­ing them into extra vir­gin olive oil. Rossi became his men­tor, and since that time Coleman has vis­ited her every year dur­ing the har­vest (except in 2010, the first year he worked at Eataly).
But it took a cou­ple of years after he met Rossi for Coleman to turn olive oil into his career. He owned his own record label and record­ing stu­dio, and pro­duced music, but with the increase in music piracy, it became dif­fi­cult for him to make a liv­ing. So he turned to his other pas­sion, olive oil.
A few years ago he started work­ing as an olive oil spe­cial­ist at the Grand Central Station olive oil store O&CO. During that time, he also started giv­ing olive oil sem­i­nars, includ­ing one at Otto which led to his cur­rent posi­tion at Eataly.
"For me it's the holy grail of sin­gle estate Italian olive oils in America," Coleman said about the market's slec­tion. ​"It might be the finest selec­tion of really high-end Italian oils in America," he con­tin­ued.
Coleman has about seven of Eataly's nearly 100 olive oils opened at a time for cus­tomers to try, each from a dif­fer­ent region. ​"The true beauty of olive oil is in its regional diver­sity," he said. With many dif­fer­ent micro­cli­mates and vari­etals, Italy has an unri­valed range of olive oils.
Eataly has olive oils from 12 dif­fer­ent Italian regions, with the most from Liguria in the north, Tuscany in cen­tral Italy and Sicily in the south. Two of the most pop­u­lar olive oils are Roi, a Ligurian oil and La Mozza, Eataly's house oil from Tuscany that is also used in all of Batali's restau­rants. Often peo­ple try La Mozza at one of the market's eater­ies, like it and want to buy it, said Coleman. Eataly's olive oils range from about $20 for to up to $50 for half-liter.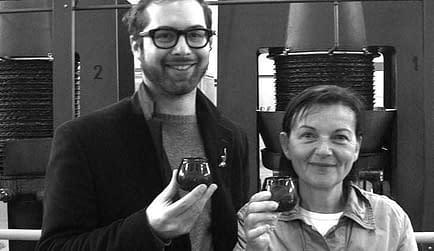 Nicholas Coleman and his men­tor, Nadia Gasparini
Coleman doesn't select the olive oils that Eataly car­ries, but does help the market's Italian food buy­ers with tast­ing the oils and he makes sug­ges­tions.
In addi­tion to advis­ing cus­tomers, Coleman teaches a two-and-a-half hour olive oil class at Eataly's La Scuola Grande. More than just a tast­ing, it edu­cates atten­dees on the world of Italian olive oils — how they're made, stored, cooked with and paired with food. The class is for any­one who is curi­ous about good food, said Coleman.
Though Coleman's career is now all about olive oil, he hasn't for­got­ten about his other pas­sion — music, and has found ways to com­bine the two.
He is in a band with Eataly's wine direc­tor and Joe Bastianich, son of Italian chef Lidia Bastianich, who part­nered with her son and Batali to open the Italian mar­ket­place. The trio have played on the roof of Eataly's beer gar­den, Birreria, and in May per­formed at the Las Vegas Food and Wine Festival. Coleman even hired some­one to make a gui­tar for him out of olive wood.