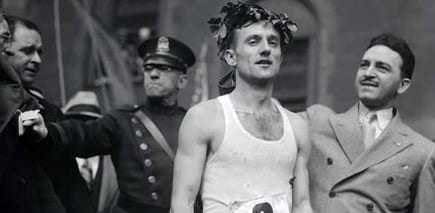 Athletes lead the way in health and nutri­tion, acutely aware of the con­nec­tion between our food, our minds, and our bod­ies. At a time when we are look­ing more and more to food as a means of gain­ing and main­tain­ing health, we find our­selves return­ing to our roots. Our ances­tors were great ath­letes who per­formed with­out mod­ern food tech­nol­ogy. No chem­i­cally pro­duced gel pre­vented a bonk halfway through a hunt or a race. They were fueled by real food. One of those foods, olive oil, hasn't changed in thou­sands of years and it remains as ben­e­fi­cial to today's ath­lete as ever.
It's no coin­ci­dence that win­ning ath­letes of the first Olympic games were crowned with olive wreaths. Olive oil and the ath­lete share a rich and cel­e­brated his­tory. Used to anoint ath­letes' bod­ies before exer­cise and the games, olive oil was also the prize of vic­tory. Olive oil was revered by the ancients who under­stood the depth of its value, and today's ath­letes have redis­cov­ered that wis­dom and are putting it to prac­tice.
At its most basic, olive oil pro­vides energy, some­thing ath­letes never want to be with­out. Compared to the seden­tary who should con­sume no more than 15% of their calo­ries from fat, ath­letes need any­where from 20%-30%. This is true for both endurance and high inten­sity sports. Fat is the body's main fuel dur­ing low inten­sity lengthy endeav­ors like triathlons and marathons, but it's just as nec­es­sary for high inten­sity sports too. Carbohydrates may be the cen­tral fuel for high inten­sity activ­i­ties but with­out fat, car­bo­hy­drate energy can­not be released.
Fats are essen­tial to the ath­lete, but not just any fat will do. Fats may be sat­u­rated, polyun­sat­u­rated, monoun­sat­u­rated, and trans fat. Health con­scious as they are, ath­letes know trans fats serve no good pur­pose and should be avoided. As for sat­u­rated and unsat­u­rated, some researchers believe unsat­u­rated fats are the best choice. Saturated fats come from ani­mals and can con­tribute to high cho­les­terol lev­els. Athletes should mon­i­tor their intake of ani­mal fats which can also be dam­ag­ing to the skele­tal and heart mus­cles. Because it is monoun­sat­u­rated, olive oil does not have these effects. In fact, olive oil helps lower cho­les­terol lev­els and con­tributes to heart health and bone build­ing. Olive oil is made up of mostly monoun­sat­u­rated fatty acids in the form of oleic acid, a few sat­u­rated fats, and some polyun­sat­u­rated fats such as linoleic acid.
Fats like to hang out in the stom­ach, tak­ing their time digest­ing. For this rea­son, tim­ing is every­thing for the ath­lete. Any ath­lete who has been struck by stom­ach cramps, minor or down­right debil­i­tat­ing, knows the neces­sity of fast and easy diges­tion, not a hall­mark of fats. Yet, among fats, olive oil is highly digestible. Research shows that it has a high absorp­tion capac­ity in the intes­tine, aid­ing diges­tion by reduc­ing gas­tric flu­ids in the body, keep­ing things run­ning smoothly, and reduc­ing con­sti­pa­tion. The result is a last­ing feel­ing of full­ness, a def­i­nite perk for any ath­lete.
Olive oil plays an essen­tial role in exer­cise recov­ery which is crit­i­cal to ath­letic per­for­mance because only at rest do the effects of train­ing kick in. During recov­ery the athlete's mus­cles repair, rebuild, and strengthen in response to the break­down of mus­cle tis­sue, the deple­tion of energy stores, and fluid loss induced by exer­cise. Its omega‑3 rich monoun­sat­u­rated fats pro­duce anti-inflam­ma­tory sub­stances that reduce inflam­ma­tion along­side its pow­er­house of polyphe­nols which also play a role in pre­vent­ing bone loss. A 2005 study found that olive oil con­tains oleo­can­thal, yet another anti-inflam­ma­tory com­po­nent that has anti inflam­ma­tory effects sim­i­lar to ibupro­fen, the pain reliever widely used by ath­letes. Four tea­spoons of olive oil equal 10% of the dosage of ibupro­fen, which may not appear impres­sive, but eaten daily, study par­tic­i­pants reported reduced mus­cle pain and stiff­ness. Results increased when olive oil was taken along with fish oil.
Muscles take a beat­ing dur­ing ath­letic train­ing and events. Without ade­quate recov­ery, which includes repair, strength­en­ing, and mus­cle build­ing, no progress is gained. Olive oil steps it up in this role too. A 2009 study pub­lished in the jour­nal Lipids, shows olive oil helps cells absorb cho­les­terol and con­vert it to testos­terone bet­ter than other fat sources. Testosterone is crit­i­cal to the body's mus­cle build­ing process as well as increas­ing energy lev­els.
Fats are also vital to the devel­op­ment, repair, and build­ing of bone den­sity which pre­vents and pro­tects against frac­ture and injury. Olive oil in par­tic­u­lar has the ideal make-up for bone health due to its unique com­bi­na­tion of oleic acids and polyun­sat­u­rated fatty acids which work together to build bone tis­sue. This is vital for the ath­lete whose body is con­stantly in a state of work and recov­ery, allow­ing the body to regen­er­ate and grow stronger.
You don't need to be an ath­lete to reap the ben­e­fits of olive oil, though it cer­tainly won't hurt. Its unique com­bi­na­tion of fatty acids and high lev­els of antiox­i­dants make up this pow­er­house of cell pro­tec­tion that keeps us healthy, active, and dis­ease-free. Calorie dense and smoothly fla­vored, extra vir­gin olive oil (the health­i­est form) is eas­ily added to many foods, mak­ing it ideal for the seri­ous ath­lete, the week­end war­rior, and even the couch potato. What bet­ter rea­son to ditch food tech­nol­ogy and get back to the source!
.
Photo credit: Bettman/Corbis