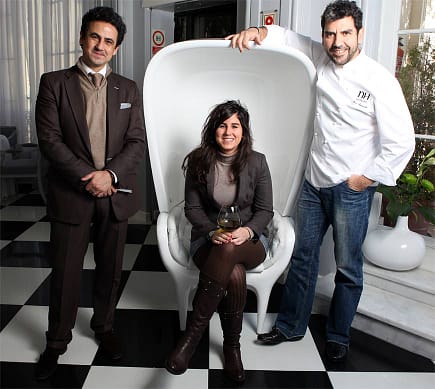 Juan Peñamil and Pandora Peñamil, edi­tors of Mercacei Magazine next to the chef Paco Roncero.
Olive Oil Times and the Spanish pub­lisher Mercacei, have agreed on a con­tent shar­ing col­lab­o­ra­tion. Already Mercacei-authored arti­cles, trans­lated into English, have appeared in Olive Oil Times, while the Mercacei web­site and newslet­ters have car­ried inter­na­tional arti­cles writ­ten by Olive Oil Times con­trib­u­tors and trans­lated into Spanish.
"We think this is a great way to expand our cov­er­age of Spanish busi­ness news with an estab­lished and well-respected part­ner. Mercacei's two decades of expe­ri­ence report­ing on olive oil news in Spain will help us keep our global read­ers informed of devel­op­ments in this most impor­tant region," said Curtis Cord, pub­lisher of Olive Oil Times.
Spain pro­duces 40 per­cent of the world's olive oil and is home to the International Olive Council. The Mercacei con­tent will com­pli­ment report­ing by the reg­u­lar Olive Oil Times con­trib­u­tors in the area.
The ini­tia­tive also expands the reach of the pub­li­ca­tions' respec­tive adver­tis­ers and both pub­lish­ers will seek new ways to expand the coop­er­a­tion in the months ahead, said Cord.
The agree­ment fol­lows a sim­i­lar con­tent col­lab­o­ra­tion announced last month between Olive Oil Times and Olivarama, a monthly mag­a­zine on olive oil cul­ture dis­trib­uted in Spain.