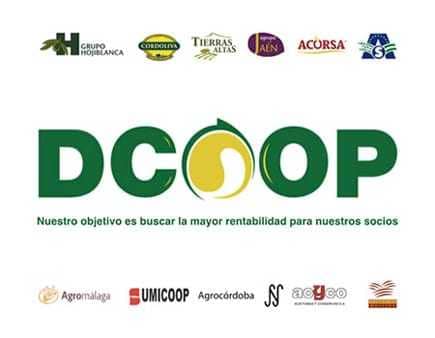 Spain's giant Hojiblanca Cooperative Group — already the world's biggest pro­ducer of extra vir­gin olive oil — has been renamed Dcoop after its merger with Tierras Altas, a Granada-based group of 15 olive oil mills.
The name change came today after the merger was approved at gen­eral meet­ings of the com­pa­nies' mem­bers.
Dcoop rep­re­sents ​"de la coop­er­a­tiva," which in English is ​"from the coop­er­a­tive."
The new name comes just months after Hojiblanca sold the world's biggest olive oil dis­trib­u­tor, Deoleo, its Hojiblanca extra vir­gin olive oil brand and a bot­tling plant in return for an increased stake in that com­pany and two seats on its board.
Expansion planned in ares includ­ing grain
Dcoop pres­i­dent José Moreno said that apart from being a pro­duc­tion leader in olive oil and table olives, Dcoop's inter­ests will include live­stock, grain and wine.
"We decided to change the name to cover more ter­ri­tory and more activ­i­ties as we work for a bet­ter future," he said.
Moreno, an econ­o­mist and farmer, had been pres­i­dent of Hojiblanca since 2000. Hojiblanca gen­eral man­ager Antonio Luque will con­tinue in the same role with Dcoop, which has kept the same head­quar­ters in Antequera, Málaga.
On its new web­site, Dcoop says it starts life as a coop­er­a­tive unit­ing more than 60,000 farm­ers and ranch­ers from south­ern Spain, com­bined annual pro­duc­tion of more than 67,000 tons of table olives, and more than 250,000 tons of vir­gin olive oil. It says the lat­ter is equiv­a­lent to the entire pro­duc­tion of Greece and beats that of Tunisia.
"Dcoop is the biggest agri-food coop­er­a­tive in Andalusia and third in Spain in terms of turnover, aver­ag­ing €600 mil­lion ($811m)," it says.
---