Some time ago a friend of mine sent me a sam­ple of an extra vir­gin olive oil, made from the vari­ety Manzanillo and grown in the warm cli­mate of South Eastern Queensland, Australia. The oil was caus­ing her real grief. It took for­ever to set­tle under grav­ity, and after it solid­i­fied fol­low­ing a cold night, it refused to com­pletely ​'melt' into its nat­ural fluid state after being warmed. On face value, there wasn't any­thing extra­or­di­nary about this oil. Sure, the sat­u­rated fat con­tent of the oil was on the high side – not unex­pected as hot cli­mate oils gen­er­ally have lower lev­els of monoun­sat­u­rated fat, and nature has to replace it with some­thing! Since sat­u­rated fats tend to be solid at fridge tem­per­a­ture, this might explain why the oil partly solid­i­fied. But they usu­ally melt again when warmed.
Since then I've been called upon to ghost­bust a few more of these mys­te­ri­ous EVOO's. They had a cou­ple of things in com­mon though. They were all Manzanillo's or dom­i­nant Manzanillo blends, and they were all from warm to hot cli­mates. I didn't have a solu­tion, but I did have a sus­pect, but until recently the evi­dence was lack­ing. My guess was that involved waxes.
The sur­faces of a lot of fruits includ­ing olives are cov­ered in a thin layer of nat­u­rally pro­duced wax. The wax prob­a­bly acts as a form of bio-armour against attack by plant pathogens like fungi and yeasts, and also pro­vides a valu­able bar­rier against mois­ture loss. The olive plant is well adapted to semi-arid con­di­tions. It's not sur­pris­ing there­fore that the sur­face of the olive has a coat­ing of wax to keep in that valu­able mois­ture when things start to heat up. When olives are processed into oil, the oil that is released dis­solves the skin waxes and it ends up in the oil.
Recently, Rod Mailer and his group (Mailer et al. 2010) pub­lished some data on the wax con­tent of dif­fer­ent vari­eties grown in hot (SE Queensland), warm (Central Victoria), cool (SW Western Australia) and cold (Tasmanian) cli­mates of Australia (my cat­e­gori­sa­tion of hot-cold, not theirs).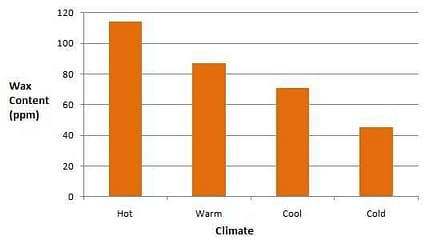 .
Figure 1: Effect of climate on wax content of extra virgin olive oil
.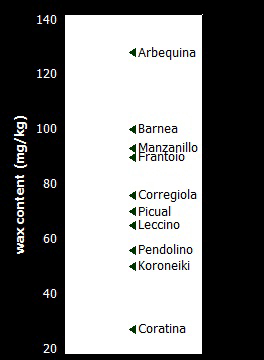 Figure 2: Average wax content of extra virgin olive oil by variety
.

Ah-hah…. Hot cli­mates pro­duce on aver­age 3x more waxes than cold cli­mates (Figure 1), and of the vari­eties stud­ied, Manzanillo is num­ber 3 on the list of high wax pro­duc­ers (Figure 2) behind Arbequina and Barnea.
While the amount of wax in an olive oil is pretty small (about 1/8th of a gram per litre), their pres­ence prob­a­bly act as a seed for other things to solid­ify.
While the role of waxes in dif­fi­cult set­tling and cold solid­i­fi­ca­tion hasn't been proven, it is prob­a­bly a con­tribut­ing fac­tor. While there is really noth­ing a pro­ducer can do about it, for some, it is worth know­ing why.
.
Reference
Mailer, R.J., Ayton, J. and Graham K. (2010) The Influence of grow­ing region, cul­ti­var and har­vest tim­ing on the diver­sity of Australian olive oil, J. Am. Oil Chem. Soc. 87:877 – 884.
Richard Gawel's blog is Slick Extra Virgin. Reproduced with per­mis­sion.