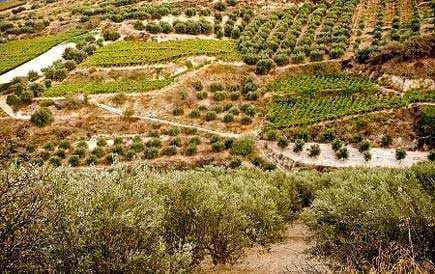 Cretan olive oil pro­duc­ers that were seek­ing direct aid from the Greek gov­ern­ment fol­low­ing dev­as­tat­ing weather con­di­tions will have to turn to the European Union first.
The Cretan Association of Olive Oil Producers (SEDIK) sent the let­ter to the Ministry of Rural Development (MRDF) and Greek Agricultural Insurance Organization (ELGA) late this sum­mer out­lin­ing the dam­age caused to Cretan olive oil crops this year.
Various unfa­vor­able weather con­di­tions hit the island dur­ing a crit­i­cal point of the olive oil sea­son. SEDIK esti­mated 150 – 200 mil­lion euros in income losses and sought aid and assis­tance.
"ELGA does not agree with us. Yet, these losses are seri­ous and they have dec­i­mated our olive oil pro­duc­tion sig­nif­i­cantly caus­ing a decrease of up to 70 per­cent. It's a mas­sive blow to Crete's econ­omy," said Dr. Nikos Michelakis, the sci­en­tific con­sul­tant of the Association of Cretan Olive Municipalities in an inter­view with Olive Oil Times.
SEDIK's let­ter stated that due to the extreme con­di­tions from May until early June, olive crops in Crete were dec­i­mated. A com­bi­na­tion of warm south­ern winds blew in from Africa with increased fre­quency and tem­per­a­tures hov­ered over 40 C or 104 F for extended peri­ods of time.
SEDIK had sought a change to ELGA statutes so Cretan pro­duc­ers could be reim­bursed. In north­ern Greece, farm­ers have been com­pen­sated due to frosty weather con­di­tions. SEDIK requested that other threat­en­ing nat­ural causes be con­sid­ered for com­pen­sa­tion as well. This summer's weather con­di­tions caused the olives to dehy­drate and drop pre­ma­turely.
"The response from ELGA is that that the losses are not reim­bursable. Furthermore, ELGA believes that the dam­ages can only be cov­ered by state aid that is approved by the EU," says Michelakis. ​"However, this type of aid can only be adopted after lengthy process by the EU. This, of course, leads to lim­ited com­pen­sa­tion and a delay in pay­ments for more than two to three years. This out­come dis­ap­points Crete's pro­duc­ers."
---