A rag­ing five-year civil war has claimed nearly a quar­ter-mil­lion lives. Most of the pop­u­la­tion — an esti­mated 11 mil­lion — have fled their homes. Most of the ter­ri­tory is under the con­trol of rival insur­gen­cies. Air attacks from Russian and American war­planes pound the coun­try­side.

Fighting and shelling often make it unsafe to go out in the orchard or the mill.
Syria hardly seems like a place to make olive oil now, and yet accord­ing to offi­cial esti­mates this will be a ban­ner year for Syrian olive oil.
The International Olive Council said this week that Syria fore­casts an out­put of 215,000 tons, more than dou­bling the pre­vi­ous year and plac­ing the war-rav­aged coun­try well ahead of Turkey, Tunisia and Morocco in terms of olive oil pro­duc­tion. Syria will be the fourth largest olive oil pro­ducer in the world.
A study by the World Food Program said the war has had cat­a­strophic effects on crit­i­cal agri­cul­tural sys­tems and infra­struc­ture, dis­placed farm­ing pop­u­la­tions, dis­rupted trade, and caused untold dam­age to the ecol­ogy. But some­how there are pro­duc­ers able to carry on, and enough work­ers still around to har­vest olives.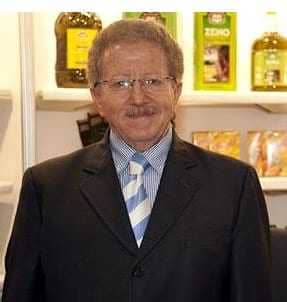 Mohamad Hassan Zeno, a pro­ducer from Aleppo, told IBTimes UK that the secu­rity of his work­ers is a major prob­lem: Fighting and shelling often make it unsafe to go out in the orchard or the mill.
Zeno said his trucks, filled with olive oil, get hijacked repeat­edly as they travel out of the Kurdish-con­trolled area where the com­pany is based through areas held by rival insur­gents before reach­ing the gov­ern­ment-held port of Latakia. At every check­point, his dri­vers are forced to pay bribes. He cred­ited his low costs for keep­ing the com­pany prof­itable amid all the set­backs.
Despite los­ing con­trol of more than 80 per­cent of Syrian ter­ri­tory, the Assad gov­ern­ment has been try­ing to per­suade Syrians to main­tain a nor­mal life dur­ing the cri­sis. Projecting life as usual is seen by the embat­tled leader as essen­tial to his own polit­i­cal sur­vival. This week there was a sport­ing goods expo in Damascus and a crafts fair in Homs fea­tur­ing ​"cul­tural and artis­tic activ­i­ties in addi­tion to an exhi­bi­tion of hand­made works and hand­i­craft."
A cul­tural fes­ti­val that runs through this week­end in Latakia called ​"Syria Stronger," orga­niz­ers said, ​"con­veys a mes­sage on the resilience of the Syrian peo­ple and their deter­mi­na­tion to live the life with all of its sweet and bit­ter details."
---