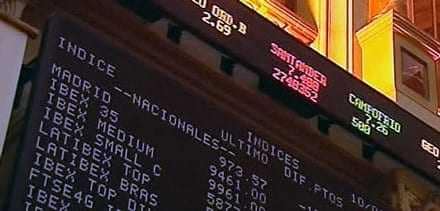 Given the rough ride that has been Spain's olive oil indus­try in recent years, the sector's dis­mal July-August fig­ures for olive oil trades should come as no shock.
Between July 12 and August 12, sales trans­ac­tions between pro­duc­ers and traders fell to 24,484 tons, rep­re­sent­ing a 53 per­cent drop from the pre­vi­ous month.
Prices con­tin­ued to drop as well. According to EFEAGRO, extra vir­gin olive oil prices fell by 2.27 per­cent (1.9 /kg), while the price of oils labeled ​"vir­gin" and ​"lam­pante" dropped 1.53 per­cent (1.74/kg) and 0.73 per­cent (1.63/kg) respec­tively.
When com­pared to the same period in 2010, depre­ci­a­tion was even greater, with lam­pante oils down 3.66 per­cent and extra vir­gin oils down 4.65 per­cent.
Futures pur­chased through the Mercado de Futuros del Aceite de Oliva (MFAO), Spain's offi­cial olive oil stock mar­ket, were also lower than expected.
Just 200 MFAO con­tracts were signed this August 4 – 10 with prices between 1,630 and 1,760 per ton. Contracts were dis­trib­uted among five of the seven matu­ri­ties open to nego­ti­a­tion: 25 con­tracts for November 2011, 50 for January 2012, 50 for March 2012, 50 for May 2012 and 25 for September 2012.
Investors and pro­duc­ers have seri­ous doubts about the upcom­ing cam­paign for 2011 – 2012, which begins in October. On the upside, for­eign exports have shown some promise. Between October 2010 and April 2011, exports grew con­sid­er­ably in coun­tries like Brazil (21 per­cent), Canada (12 per­cent), United States (6 per­cent) and Australia (+1 per­cent), though Japan saw a drop in exports (-10 per­cent).
---