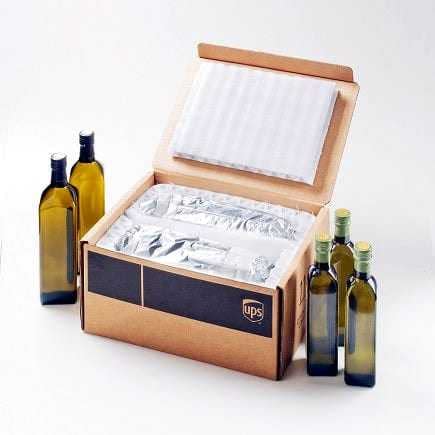 Extra vir­gin olive oil is a del­i­cate prod­uct. It needs to be pre­served from light, oxy­gen, extreme cold and heat. Glass is its best shield, but it needs to be pro­tected in turn.
Shipping olive oil safely from one side of the world to the other could now be eas­ier from Italy, as the global logis­tics provider UPS has pre­sented a new safe ship­ping pack­age for bot­tles of olive oil.
The new pack­ag­ing launched in Milan last week was devel­oped in Italy for Italian clients, in order to make it pos­si­ble to safely ship one of Italy's most famous prod­ucts — olive oil — through­out the world.
One of the main fea­tures of the new pack­age devel­oped by Grifal® exclu­sively for UPS is Mondaplen®, an inno­v­a­tive mate­r­ial with excep­tional pro­tec­tive and insu­lat­ing prop­er­ties. The pack­ag­ing — which mea­sures 400 by 300 by 200 mm, and can con­tain up to two, one-liter (or three, half-liter) bot­tles — has an outer shell made of dou­ble cor­ru­gated card­board while its walls are cov­ered with Mondaplen®. Inside the pack­age are two more Mondaplen® insu­lat­ing bags cov­ered with perime­ter pan­els lam­i­nated with alu­minium, which can be sealed with the adhe­sive tape pro­vided for fur­ther pro­tec­tion of the bot­tles.
The pack­ag­ing, which UPS ded­i­cated to small and medium-sized Italian com­pa­nies pro­duc­ing qual­ity oil export­ing abroad, is designed to defend the prod­uct from tem­per­a­ture changes dur­ing inter­na­tional tran­sit.
The box is made with 50 per­cent recy­cled mate­r­ial, is itself totally recy­clable, and could pass all ISTA (International Safe Transit Association) tests, as well as cli­mate tests to ver­ify that it can with­stand low and high tem­per­a­tures.
The cost of the pack­age is €7.50.