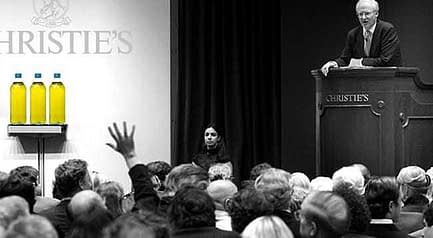 "Olive oil prices will increase by as much as $3.80 per gal­lon by the end of 2013, and there will be a deficit of olive oil in 2020," pre­dicted Pablo Canamasas dur­ing a pre­sen­ta­tion at a UC Davis Olive Center Master Milling class, held October 4 – 6, 2012.
Canamasas is the Production Technical Manager for Australia's largest olive oil pro­ducer, Boundary Bend Ltd. He has an agri­cul­tural engi­neer­ing degree with an empha­sis in olive oil and he also did post-grad­u­ate work in oil pro­duc­tion. Canamasas has con­ducted research in olive oil pro­duc­tion and pro­vides tech­ni­cal con­sul­ta­tion to pro­cess­ing plants.

Canamasas based his price pre­dic­tion on two fac­tors: shifts in the European sub­sidy pol­icy and the drought con­di­tions in Spain.
He is con­vinced, he said, that when the European Union re-con­sid­ers its agri­cul­tural sub­si­dies, the sub­si­dies for olive oil could be low­ered by 25 to 50 per­cent which would raise oil prices.
In addi­tion, Spain is only pro­duc­ing forty per­cent of what it pro­duced last year due to drought con­di­tions and this lower vol­ume will drive prices upward, accord­ing to Canamasas.
Yesterday Olive Oil Times con­trib­u­tor Julie Butler reported retail prices of pop­u­lar Spanish olive oil brands Carbonell and Koipe have shot up this month by as much as one euro ($1.30).
Compared to cur­rent bulk prices for EVOO, Canamasas' pro­jected increase of up to USD $3.80 per gal­lon would equate to a 25 to 30 per­cent rise in prices in 2013.
Beyond 2013, Canamasas expects EVOO prices to con­tinue to rise. His analy­sis shows that world con­sump­tion rates are grow­ing faster than pro­duc­tion rates. Production rates could improve some, but there are lim­ited areas where olive oil can be grown in an eco­nom­i­cally viable man­ner. Canamasas pre­dicts that con­sump­tion will exceed pro­duc­tion and there will be a deficit of olive oil in 2020.
Australia and the U.S. may be part of the solu­tion to the pro­jected deficit. He sug­gested that the two coun­tries work closely together to help meet world mar­ket needs.
Another fac­tor that will affect olive oil prices is enforce­ment of EVOO qual­ity stan­dards. Canamasas believes that if rea­son­able stan­dards for extra vir­gin grade are enforced, much of the sup­ply of what is now called extra vir­gin will be down­graded.
The com­bi­na­tion of demand exceed­ing sup­ply and EVOO grade enforce­ment will cause EVOO prices to ​"take off," said Canamasas.
---