Nothing suc­ceeds like suc­cess, and the mete­oric rise of Istria's extra vir­gin olive oil on the global stage is a prime exam­ple.
Along with Italy's Lake Garda, Istria is among the north­ern­most olive-grow­ing regions of the Mediterranean basin. The north­west­ern Croatian penin­sula has under­gone an olive-grow­ing rev­o­lu­tion in the past 30 years.
"From a total of 254,000 trees, through inten­sive plant­ing, today we have reached around 1.8 mil­lion trees," Denis Ivošević, direc­tor of the Tourist Board of Istria County, told Olive Oil Times.
See Also:
Tourists of All Ages Are Heading to Groves and Mills This Summer
In par­al­lel with new plan­ta­tions and agrotech­ni­cal mea­sures, farm­ers and millers have been trained to pro­duce, label and mar­ket high-qual­ity extra vir­gin olive oil.
Part of the effort to pro­mote their prod­ucts inter­na­tion­ally comes from the sig­nif­i­cant par­tic­i­pa­tion of Istrian pro­duc­ers at inter­na­tional com­pe­ti­tions.
More than half of the 105 awards earned by Croatian pro­duc­ers at the 2023 NYIOOC World Olive Oil Competition, the world's largest qual­ity con­test, came from Istria. This fig­ure has steadily risen over the years.
"We are the only region in the world with the same, if not more, extra vir­gin olive oil som­me­liers than wine som­me­liers," Ivošević said.
Although they have the high­est aver­age price of extra vir­gin olive oil, approx­i­mately €22, Istrian oils are in demand due to increas­ing oleo­tourism, which the region has suc­cess­fully devel­oped.
"Of our best oleo­tourism oper­a­tors, about ten have 10,000 to 12,000 vis­i­tors each year, con­firm­ing that oleo­tourism can be just as inter­est­ing and prof­itable as wine tourism or vis­it­ing cer­tain exhi­bi­tions, gal­leries or muse­ums," Ivošević said. ​"In total, on an annual level, we have around 190,000 vis­i­tors."
Efforts in the region to develop olive oil roads and other tourism forms have not gone unno­ticed, either. At recent oleo­tourism trade events in Spain and Italy, Istrian offi­cials were invited to share their expe­ri­ences and best prac­tices.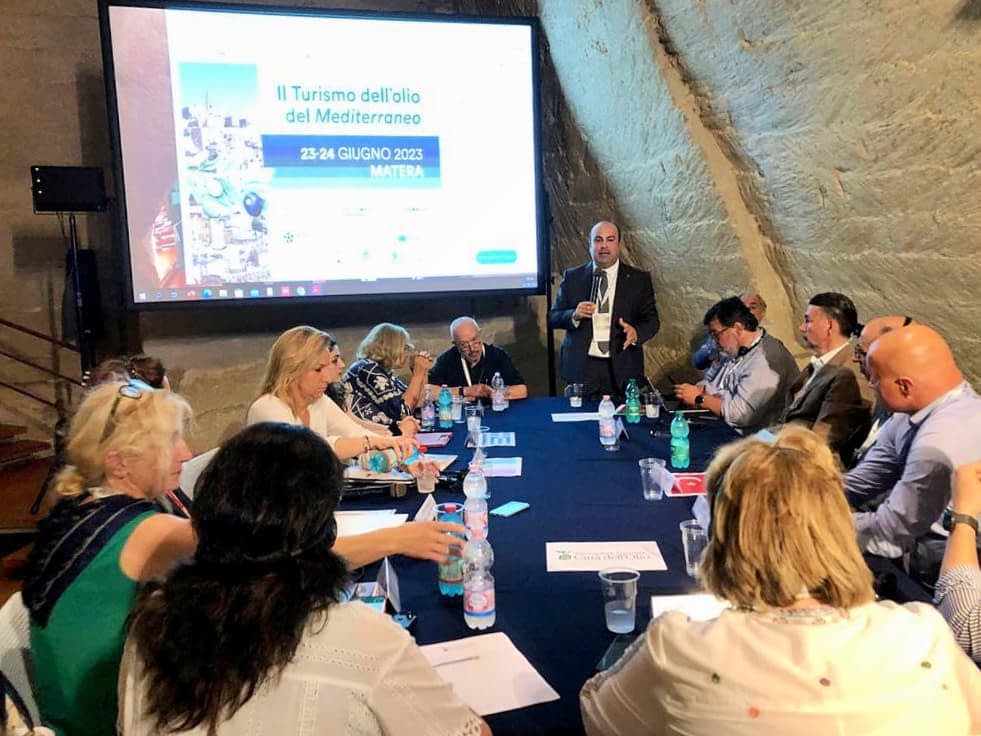 In Spain, Ivošević said Istrian oleo­tourist oper­a­tors were invited to Jaén, the world's largest olive oil-pro­duc­ing province, located in Andalusia, Spain.
The province is smaller than Istria but home to an esti­mated 66 mil­lion trees and typ­i­cally yields about 20 per­cent of global olive oil pro­duc­tion, roughly 600,000 tons per annum. However, last year's yield was excep­tion­ally low.
Jaén is aptly called the olive oil cap­i­tal of the world, with end­less rows of green trees sprawl­ing in every direc­tion. By some esti­mates, the province hosts 15 olive trees per per­son.
Considering such impres­sive num­bers, it is log­i­cal that the world's largest and most impor­tant olive trade fair is held here: Expoliva. The fair lasts three days, with more than 20,000 peo­ple vis­it­ing annu­ally.
In addi­tion to the impres­sive exhi­bi­tion and fair space where vis­i­tors can see and learn about the lat­est achieve­ments in olive grow­ing, a large part of the event is ded­i­cated to award­ing the best olive oils, edu­ca­tion courses and con­fer­ences on the devel­op­ment of oleo­tourism.
Interestingly, Ivošević said this oleo­tourism has yet to develop in the world's largest olive-grow­ing region fully because the pri­or­i­ties are on the side of vast amounts of pro­duc­tion and gen­er­ous state and European Union incen­tives.
As a result, pro­duc­ers in Jaén were eager to learn from oleo­tourism rep­re­sen­ta­tives from Tuscany, Mykonos and Istria.
Istrian oleo­tourism rep­re­sen­ta­tives were also present at two other events held in Matera, a pic­turesque town in Basilicata close to the bor­der with Puglia. Puglia is Italy's largest olive oil-pro­duc­ing region, home to 11 mil­lion trees and an aver­age annual pro­duc­tion of about 177,000 tons.
Istrian offi­cials attended the annual assem­bly of Città dell'Olio, an asso­ci­a­tion that includes more than 400 Italian olive-grow­ing munic­i­pal­i­ties, and an extra vir­gin olive oil tourism con­fer­ence hosted by the Network of Mediterranean Olive Oil Cities.
"At both emi­nent events, I pre­sented the achieve­ments of Istria in the field of oleo­tourism, which impressed all the pro­fes­sion­als present at the lec­tures," Ivošević said.
The con­fer­ence gath­ered oleo­tourism offi­cials and inter­ested par­ties from across the Mediterranean basin, includ­ing Croatia, Greece, Spain, Tunisia, Morocco, Montenegro, Turkey, Portugal and Italy. The goal was to iden­tify com­mon oleo­tourism stan­dards to cre­ate a body to ser­vice the grow­ing sec­tor.
Among those in atten­dance was Roberta Garibaldi, the pres­i­dent of the Italian Association of Gastronomic and Wine Tourism, who pre­sented the find­ings of her organization's recent study.
"Although Italy pro­duces high-qual­ity oil from north to south, with more than 500 vari­eties of olives and 4,319 active mills, it has not yet devel­oped an offer of oleo­tourism ade­quate for the demand," Garibaldi said.
"Just think that 64 per­cent of Italians are inter­ested in oleo­tourism itin­er­aries and oppor­tu­ni­ties, but only 8 per­cent had the oppor­tu­nity to do so," she added. ​"So there is a gap of 56 per­cent that needs to be filled by lever­ag­ing already con­sol­i­dated expe­ri­ences. For exam­ple, through qual­ity-based prod­uct clubs, to encour­age the mar­ket­ing of emerg­ing oppor­tu­ni­ties and facil­i­tate hotel and flight book­ing."
The results of the lat­est research are also inter­est­ing. Interest in more tra­di­tional expe­ri­ences is declin­ing, and tourists increas­ingly want a direct rela­tion­ship with pro­duc­ers, get­ting to know the areas they visit and dis­cov­er­ing his­toric homes with olive groves.
However, buy­ing prod­ucts at an attrac­tive price is still the main moti­va­tion that encour­ages tourists to visit oil mills. The per­cent­age of those who are attracted by the pos­si­bil­ity of tast­ing oil in com­bi­na­tion with domes­tic prod­ucts and food­stuffs rises to 70 per­cent.
Meanwhile, 68 per­cent of Italians said they are inter­ested in vis­it­ing a his­toric mill, 64 per­cent indi­cated they pre­fer offer­ings that include walks through olive groves and 51 per­cent said they would visit an olive oil museum.
The report added that many tourists want to com­bine these expe­ri­ences with more tra­di­tional hol­i­day activ­i­ties, includ­ing vis­its to spas and other relax­ing treat­ments.
Compared to pre­vi­ous reports, one of the most sig­nif­i­cant changes is the num­ber of respon­dents, 59 per­cent, who said they would like to meet the farm­ers and pro­duc­ers, a 10-per­cent increase com­pared to 2019.
If inter­est in more tra­di­tional expe­ri­ences pre­dom­i­nates at age 55, inter­est in active expe­ri­ences pre­dom­i­nates among Millennials and Generation Z, with 60 per­cent express­ing inter­est in can­dle­light din­ners in the olive groves and 54 per­cent want­ing to be involved in the har­vest.
"The poten­tial of this sec­tor, thanks to its cen­turies-old his­tory, con­nec­tion with the ter­ri­tory and land­scape, and the ben­e­fi­cial prop­er­ties of the prod­ucts, seems to be mostly unex­pressed," Garibaldi said.
Overall, the report found that the olive sec­tor has the great­est poten­tial for growth among all types of food and wine expe­ri­ences. However, a sig­nif­i­cant gap remains between inter­est and avail­abil­ity.
Michele Sonnessa, pres­i­dent of Città dell'Olio, agreed and said the event in Matera was a suc­cess because it laid the foun­da­tions for fruit­ful and last­ing coop­er­a­tion between the ten Mediterranean coun­tries inter­ested in cul­ti­vat­ing oleo­tourism.
"The time is ripe to take a step for­ward and turn olive tourism into a com­mu­nity expe­ri­ence that includes the pro­duc­tion chain and hos­pi­tal­ity," he said. ​"Oleotourism thus becomes ​'com­mu­nity tourism,' an oppor­tu­nity to give value to extra vir­gin olive oil and greater prof­itabil­ity to olive grow­ers, and to pro­mote our regions rich in his­tory and iden­tity."
The first offi­cial meet­ing of the newly-cre­ated Euro-Mediterranean olive tourism forum will be held in Puglia in 2024.
---