Hot and dry weather, heat waves and for­est fires in sev­eral coun­tries across Southern Europe have cre­ated drought con­di­tions that are threat­en­ing crops like wheat, olives and almonds.
The region has been expe­ri­enc­ing below aver­age rain­fall for most of 2017 which, cou­pled with high sum­mer tem­per­a­tures, has con­tributed to what the media are call­ing the worst drought in decades.

If we want to sus­tain our qual­ity agri­cul­ture, we need to reor­ga­nize our­selves to col­lect rain­wa­ter when it falls.
Cereal pro­duc­tion in Italy and Spain is par­tic­u­larly affected and has fallen to the low­est level in 20 years. Olive pro­duc­ers in both coun­tries are ner­vous about the upcom­ing crop after suf­fer­ing a bad har­vest last year due to harsh weather and pests.
Coldiretti, Italy's farm­ers' union, has esti­mated that two-thirds of Italy's agri­cul­ture are affected, rep­re­sent­ing up to €2 bil­lion in dam­ages to the sec­tor. La Stampa news­pa­per reports that the south­ern region of Calabria is worst hit, with an esti­mated loss of €310 mil­lion for olive grow­ers who are expect­ing a 35- to 40 per­cent decrease in pro­duc­tion.
Meanwhile, losses of €200 mil­lion have been reg­is­tered in the wheat crop in Campania and Tuscany, and provinces in the Piemonte region are see­ing a 30 per­cent decline in their wheat pro­duc­tion. In the agri­cul­tural provinces of Parma and Piacenza, the gov­ern­ment has declared a state of emer­gency which should offer some finan­cial relief to farm­ers there.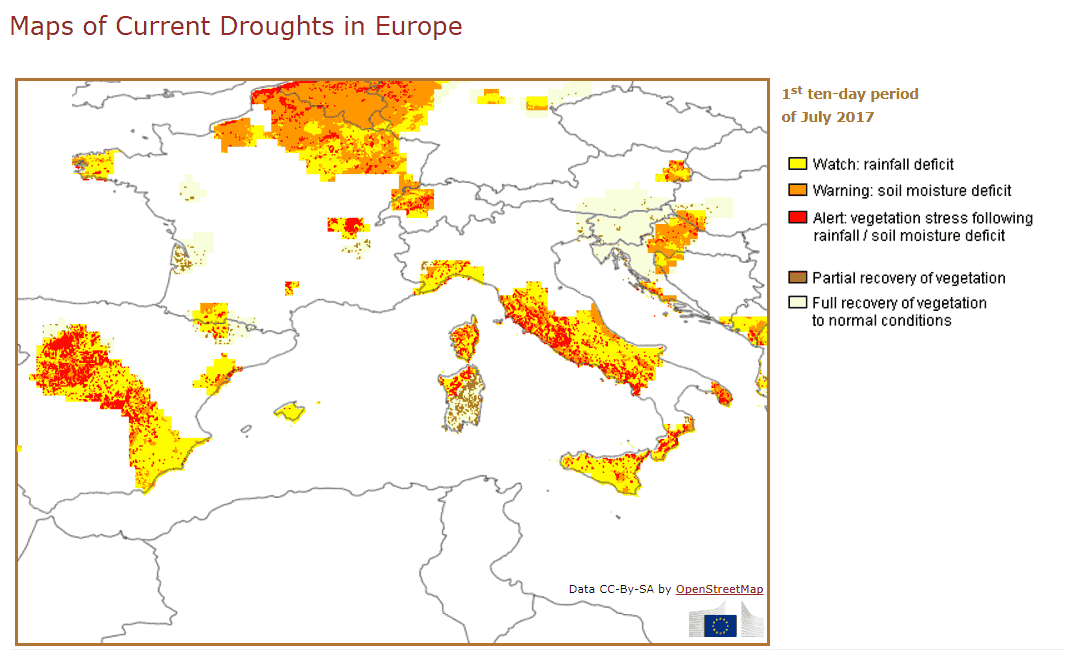 Coldiretti's pres­i­dent, Roberto Moncalvo, told La Stampa that ​"a new cul­ture of pre­ven­tion" is urgently needed: ​"If we want to sus­tain our qual­ity agri­cul­ture, we need to reor­ga­nize our­selves to col­lect rain­wa­ter when it falls," he told the news­pa­per. ​"We can no longer per­mit our­selves to lose 9 out of 10 liters of rain­fall."
In Spain, farm­ers are telling the media that this is the most cat­a­strophic drought they have expe­ri­enced since 1992. In the regions of Castile and Leon where cere­als rep­re­sent the biggest crops, losses are esti­mated at around 60 to 70 per­cent. The grape and olive har­vests are also under threat as high tem­per­a­tures and dry weather are fore­cast for the weeks to come.
Drought con­di­tions have also been observed in many parts of France, Belgium and parts of Northern Europe.
A map released by the European Drought Observatory revealed veg­e­ta­tion stress due to a rain­fall deficit in regions in all south­ern European coun­tries as well as parts of France, Belgium, Germany, Switzerland, Sweden, Finland, Ukraine and Belarus for the first ten days in July.
A June 2017 report by ISCIENCES had warned that much of Europe will suf­fer a water deficit through 2017.
In addi­tion to the heat waves that have affected south­ern Europe over recent weeks, for­est fires sparked by the dry and hot weather have rav­aged the Italian regions of Campania, Calabria, Puglia and Tuscany, and parts of Spain, Portugal and Croatia, adding to the dev­as­ta­tion.

---