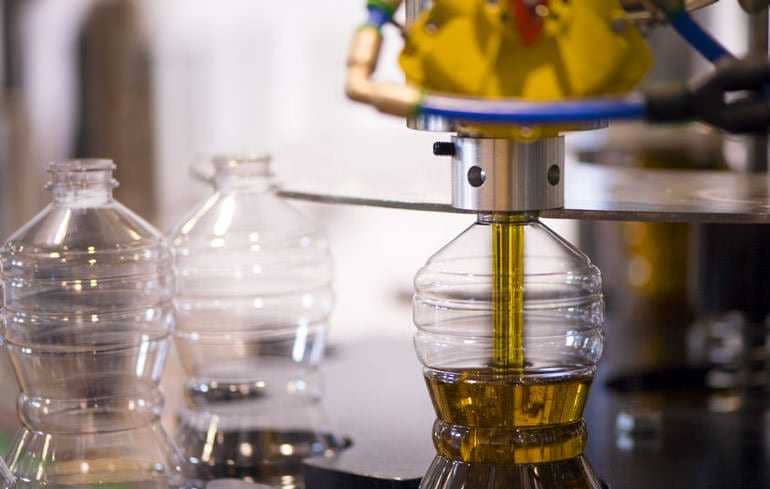 Deoleo, the world's biggest olive oil bot­tler, saw the value of its sales fall to €809 mil­lion last year — down from nearly €829 mil­lion in 2012 and €961 mil­lion in 2011 — and expects to achieve in the realm of €800 mil­lion this year.

In a press release con­tain­ing some details of its pro­vi­sional end of year results, the Madrid-based con­cern also reported Its EBITDA (earn­ings before inter­est, tax, depre­ci­a­tion and amor­ti­za­tion – a broad gauge of a com­pa­ny's finan­cial health) for 2013 was €80 mil­lion ($100m), com­pared to €88.3 mil­lion the pre­vi­ous year and nearly €73 mil­lion 2011.
A con­sid­er­able improve­ment in per­for­mance in the last quar­ter of the year had par­tially off­set a poor first half, where volatil­ity in ex-mill prices took a toll, it said. It also high­lighted a major reduc­tion in its net debt, which stood at €472 mil­lion at year-end, down from €624 mil­lion in 2012 and €1.5 bil­lion at the end of 2009.
High hopes for new prod­ucts
Regarding its fore­cast sales of about €800 mil­lion this year and growth in EBITDA of more than 20 per­cent Deoleo said these assumed a sta­ble sit­u­a­tion in regard to raw mate­r­ial, full imple­men­ta­tion of cost its con­tain­ment mea­sures, increased sales thanks to new prod­ucts ​"based on inno­va­tion", recov­ery of vol­umes in mature mar­kets — espe­cially Spain, and growth in inter­na­tional mar­kets.
CEO Jaime Carbó had said in November that the new prod­ucts — which will bear the Carbonell label and are rumored to include an olive oil mixed with an omega 3‑DHA — would be launched in January. A Deoleo spokesman said last week that despite the prod­ucts not yet being released there had been no change of plan. ​"The launch will take place in due course," he said.
Fidelity buys into Deoleo
Ebro Foods Deoleo also said in a notice on December 31 to the CNMV, the agency over­see­ing the Spanish stock mar­ket, that it had received res­ig­na­tion let­ters from two mem­bers of its board, pro­pri­etary direc­tors Antonio Hernández Callejas and José Barreiro Seoane, cit­ing pro­fes­sional rea­sons. Hernández is the chair­man and Barreiro a pre­vi­ous vice chair­man of the board of rice giant Ebro Foods, which holds a 9.3 per­cent stake of Deoleo. About three years ago, the for­mer Spanish food group SOS sold its rice divi­sion to Ebro Foods before renam­ing itself Deoleo.
There was some spec­u­la­tion by stock mar­ket com­men­ta­tors that the res­ig­na­tions were a fore­run­ner to Ebro reduc­ing its stake in Deoleo, which last year com­mis­sioned J.P. Morgan, to advise, among other things, on a finan­cial restruc­ture in order to improve its long-term finan­cial sta­bil­ity. On January 29, United Kingdom-based Fidelity International Ltd bought in with a 1 per­cent stake and Ebro is said to have recently sold nearly the equiv­a­lent.
European Commission asked to inter­vene over Deoleo staff, plant cuts
Meanwhile, Italian Member of the European Parliament Pier Antonio Panzeri (Socialists and Democrats) has raised con­cerns about Deoleo's ongo­ing restruc­ture and debt reduc­tion mea­sures, which he said have already seen a major reduc­tion to its work­force and num­ber of plants in Italy and Spain despite Deoleo hold­ing a dom­i­nant posi­tion in most olive oil mar­kets around the globe.
Noting first that the olive oil sec­tor is a cor­ner­stone of the Italian and Spanish food indus­try, Panzeri said the company's changes ​"could have a very adverse impact on the food indus­try in the Mediterranean area, in par­tic­u­lar the Italian food indus­try."
In an as yet unan­swered writ­ten ques­tion to the European Commission, Panzeri called for the Commission to con­vene talks with the com­pany and unions to address the sit­u­a­tion.
---