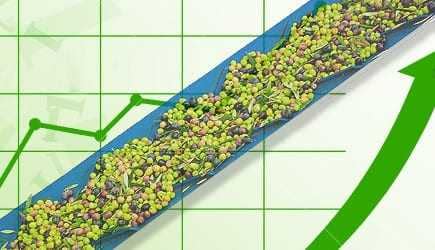 Bulk prices for extra vir­gin olive oil have shot up 57 cents in Spain amid gloomy har­vest fore­casts for the next sea­son, which starts in a month.

In May olive oil prices were at their low­est since 2009, accord­ing to the International Olive Council, with EVOO down to €1.77 ($2.22) a kilo.
But Spain's olive oil price infor­ma­tion sys­tem POOLred shows that since July there's been a strong recov­ery.
For the week to August 29, the aver­age bulk price for EVOO was nearly €2.34/kg, vir­gin was €2.30/kg, and lam­pante, though infe­rior to vir­gin, came in above it at nearly €2.33/kg.
The monthly aver­ages to August 29 for EVOO, vir­gin and lam­pante were €2.14, €2.06, and €2.08, up from €1.82, €1.73 and €1.67 respec­tively for July. About 33,054 tons of bulk olive oil were traded in August and 58,444 in July.
Producer orga­ni­za­tions are quick to stress, nev­er­the­less, that prices are still below the break-even point, which some peg at €2.40/kg
Speculation
The fact that pri­vate stor­age aid from the European Commission is tem­porar­ily keep­ing 203,000 t of Spain's stocks of vir­gin olive oil off the mar­ket and total out­put next sea­son is pre­dicted to be half this one's — largely due to drought — are said to have spawned the recov­ery.
But Spanish mag­a­zine Olimerca says spec­u­la­tion is help­ing drive prices even higher. Some pro­duc­ers are hang­ing on to their stocks in the hopes they will get even bet­ter returns later. Those at the pack­ag­ing end warn them, how­ever, they may be dis­ap­pointed because in past sea­sons pro­duc­tion has gen­er­ally always exceeded expec­ta­tions.
Crackdown on using olive oil as loss leader
Much to the cha­grin of pro­duc­ers, olive oil is often used as a super­mar­ket loss leader in Spain but it's now been reported that a con­sumer author­ity in the region of Murcia has put its foot down, impos­ing fines total­ing €6000 ($7,530) on an unnamed super­mar­ket for vio­la­tions includ­ing sell­ing EVOO at a loss.
Olive oil in school lunches
And in other good news for pro­duc­ers, in a con­tract for the sup­ply of school meals for the next two years the Andalusian regional gov­ern­ment selec­tion cri­te­ria is said to have included ​"the exclu­sive use of olive oil" and ​"menus based on the Mediterranean diet with plenty of fruits and veg­eta­bles."
---