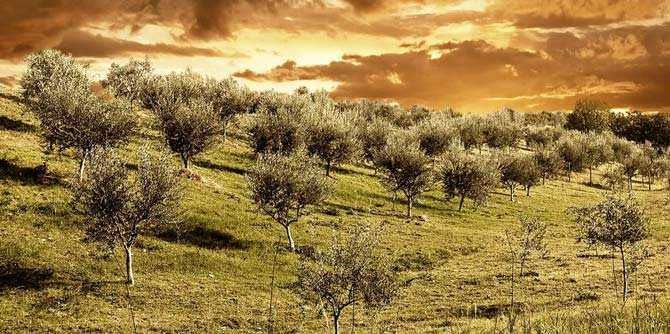 Spain's olive oil pro­duc­tion, domes­tic con­sump­tion and exports are all up — but stocks are at a four-year low — for October, the first month of the new olive oil sea­son.
The 8,700 ton total pro­duced last month is a third higher than that for October last year but lags about 10,000 tons behind October 2011, which was the start of a record pro­duc­tion year, fig­ures from the Spanish Olive Oil Agency (AAO) show.
Nearly 66,000 tons of olives were processed last month with a yield of 13.18 per­cent, down 0.1 points on October 2012.
Exports, total­ing 75,00 tons, are up nine per­cent on last year but still under the lev­els of the pre­vi­ous three Octobers, while domes­tic con­sump­tion recov­ered to 47,000 tons, beat­ing last year's monthly aver­age of 41,500 tons and well above the October aver­age of 39,000 tons for the pre­vi­ous four sea­sons.
Imports, mean­while, also remain high — total­ing 6,000 tons for October and on par with last year but well above the October aver­age for the pre­vi­ous three years.
Even so, Spain ended October with just olive oil stocks of just 193,000 tons, about half the monthly aver­age for the last four sea­sons.
Unfavorable weather meant national pro­duc­tion reached just 617,000 tons last sea­son — about a mil­lion tons lower than Spain's bumper har­vest of 1.6 mil­lion tons in 2011/12.
The International Olive Council fore­cast for this season's pro­duc­tion in Spain is 1.5 mil­lion tons, while the Andalusian gov­ern­ment expects about 1.6 mil­lion tons — a fig­ure some agri­cul­tural unions say is too opti­mistic. GEA Westfalia Separator Group's International Center for Olive Oil Excellence pre­dicts 1.35 mil­lion tons, Deoleo says 1.3 – 1.4 mil­lion tons, and the Spanish Association of Municipalities of the Olive Tree (AEMO) tips between 1.4 and 1.5 mil­lion tons.
---