Autumn in Puglia, Italy's largest olive oil-pro­duc­ing region, could not have started any worse.
Thunderstorms and rain accom­pa­nied by hur­ri­cane-force winds and hail the size of wal­nuts left behind des­o­la­tion in olive groves, vine­yards and veg­etable gar­dens.
In a few min­utes, months and months of hard work dis­ap­peared. The dam­age suf­fered by olive groves, vine­yards and all other crops was very great.
Olive groves were par­tic­u­larly affected, with the har­vest already under­way in the south­ern Italian region. Farmers have called the storms dis­as­trous, with some say­ing they have lost their entire crop.
Producer asso­ci­a­tions Italia Olivicola and the Apulian chap­ter of the Italian Agricultural Confederation (CIA Puglia) have asked local author­i­ties to inter­vene and help farm­ers recover by declar­ing a nat­ural dis­as­ter.
See Also:
2023 Harvest Updates
The most sig­nif­i­cant dam­age came in the rural areas of north­ern Puglia, espe­cially in the provinces of Capitanata, Barletta-Andria-Trani and the met­ro­pol­i­tan area of Bari. The strong wind and hail destroyed thou­sands of olive fruits, tomato plants and grapevines.
In the province of Foggia, the most sig­nif­i­cant dam­age was done in the rural areas of San Severo, Lucera, Sannicandro and Torremaggiore. In Bari, the worst con­se­quences of the sud­den wave of bad weather were recorded in Molfetta, Terlizzi, Ruvo, Corat, Giovinazz and Bitonto.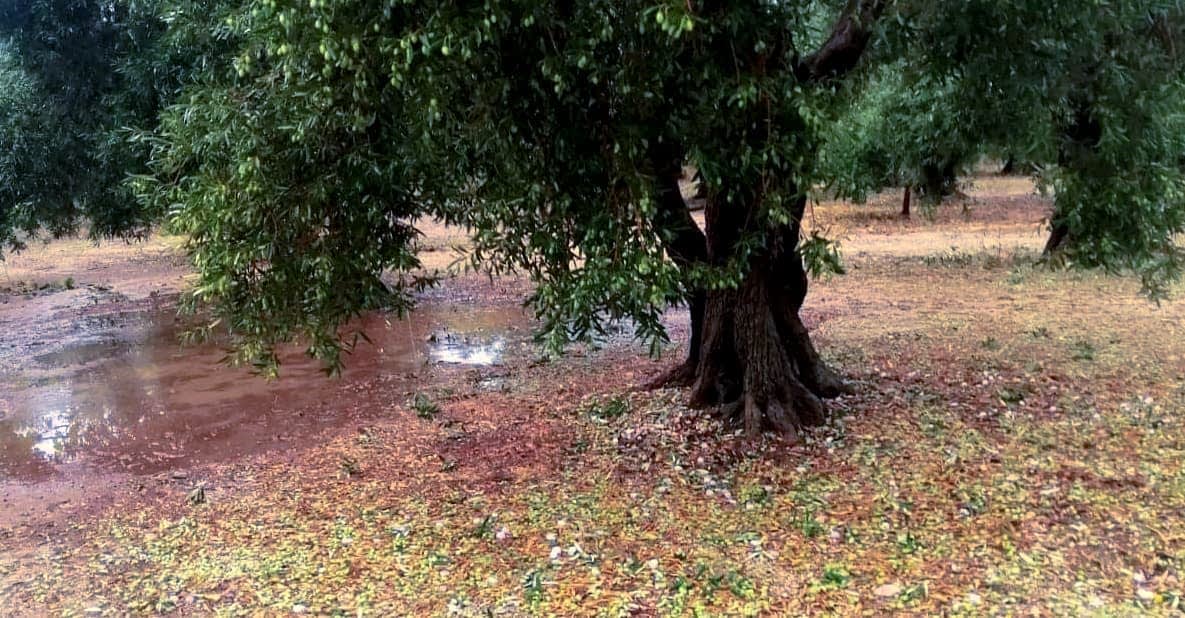 "In a few min­utes, months and months of hard work dis­ap­peared," said Tommaso Loiodice, the pres­i­dent of Unaprol, an olive oil pro­duc­ers' asso­ci­a­tion. ​"The dam­age suf­fered by olive groves, vine­yards and all other crops was very great."
"The flower grow­ers' green­houses were com­pletely destroyed," he added. ​"Agriculture is vital and essen­tial to the local econ­omy. I hope that insti­tu­tions of all lev­els will imme­di­ately do their part."
After vis­it­ing the affected areas, Loiodice called the dam­age ​"cat­a­strophic," adding that it was yet another set­back for olive grow­ers in the region.
"The olives, in this case, were ripe and ready for har­vest­ing," he said." We con­tinue to receive appeals from our des­per­ate olive grow­ers."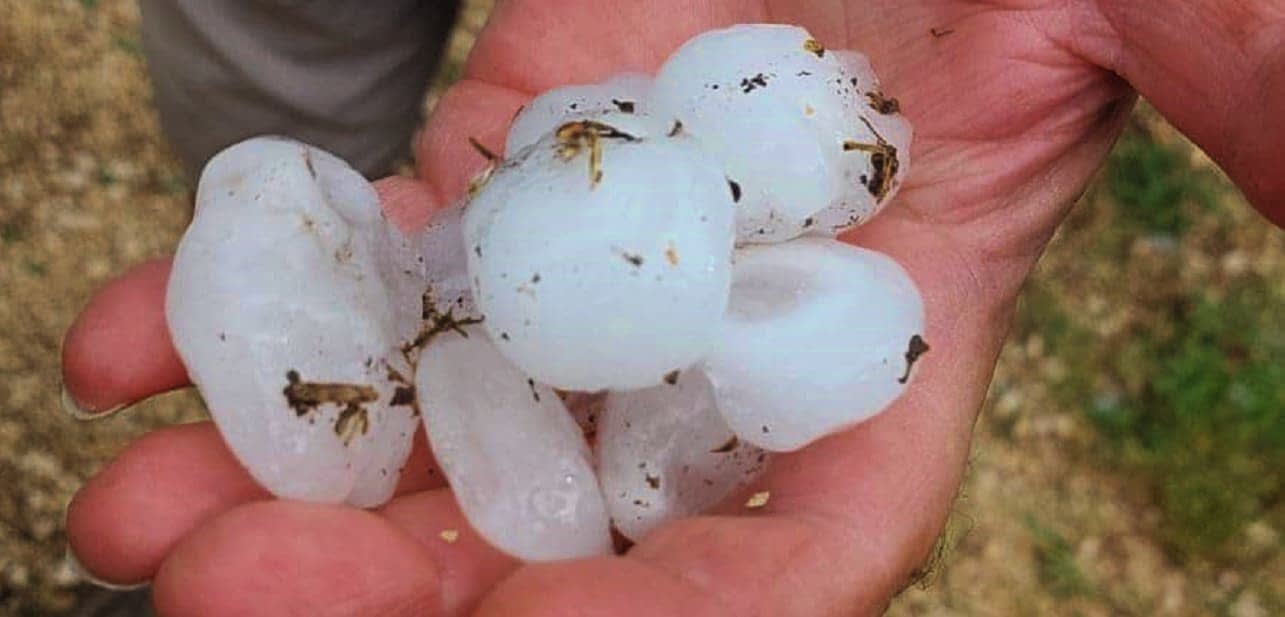 Extreme weather con­di­tions are becom­ing more fre­quent, with the cost falling pri­mar­ily on farm­ers.
"A year of hard work can­not be ruined by a few min­utes of bad weather," Loiodice said. ​"Therefore, we join the choir of other [agri­cul­tural asso­ci­a­tions] to request greater insur­ance and guar­an­tees for com­pen­sa­tion so that the efforts of our olive pro­duc­ers are pro­tected and val­orized to the great­est extent."
Coldiretti Puglia, a farm­ers' asso­ci­a­tion, and CIA Puglia are already cal­cu­lat­ing the dam­age in the olive groves where the trees were left with­out leaves and fruits, but also in the destroyed green­houses and land­slides caused by this nat­ural dis­as­ter.
"Hail in rural areas leaves behind the worst con­se­quences. It destroys the whole year's work," Coldiretti said. ​"When it comes to olive groves, the dam­age is multi-year because instead of uprooted trees, new ones need to be planted, and even those left with­out fruits and leaves need more than a year to recover."
Puglia pro­duces up to 150,000 tons of olive oil in a typ­i­cal crop year, roughly half of Italian olive oil pro­duc­tion. Producers who expected Italy to pro­duce 300,000 to 350,000 tons of olive oil are also dis­ap­pointed.
Gennaro Sicolo, pres­i­dent of Italia Olivicola, said the decline in pro­duc­tion will lead to an increase in whole­sale prices of 30 to 40 per­cent. Olive oil prices at ori­gin are expected to rise to €9, with prices reach­ing between €10 and €11 per liter on super­mar­ket shelves.
"Prices will not rise only because of the sit­u­a­tion in Italy but also because of the lack of pro­duc­tion in the entire Mediterranean basin: Spain has been hit by a seri­ous drought, Greece, Tunisia, Morocco and Portugal have also suf­fered," Sicolo said.
He added that a ban on olive oil exports from Turkey means Italian bot­tlers could not turn there either to make up for lost domes­tic pro­duc­tion.
---