A sta­ple in the cul­ture of Mediterranean pop­u­la­tions since ancient times, olive oil is increas­ingly seen as a means to con­vey con­tem­po­rary cul­ture.
This sum­mer in Italy, sev­eral evening events were focused on min­gling between extra vir­gin olive oil and artis­tic and cul­tural expres­sions.
The com­bi­na­tion between extra vir­gin olive oil and cul­ture has the poten­tial to cre­ate enjoy­ment for body and mind.
On the last Sunday of July, L'Olio della Poesia (The Oil of Poetry) was held in Serrano, a ham­let of the town of Carpignano Salentino and part of the cir­cuit of Italy's vil­lages of poetry, located in the province of Lecce, Puglia.
At its 27th edi­tion, the annual event awards a poet – to men­tion a few of the win­ners over the years, Alda Merini (in 1999), Ruy Duarte de Carvalho (2006) and Adonis (2007). Its unique­ness lies in the prize of 100 liters of extra vir­gin olive oil, pro­duced by the coop­er­a­tive com­pany San Giorgio.
See Also:
Art Exhibition Reflects on Xylella's Devastating Impact
"Olive oil and cul­ture are closely inter­con­nected, and this is espe­cially felt in this area that has always had olive farm­ing at its heart, which is also reflected by the land­scape shaped by count­less olive trees," said Mauro Marino, who took over the artis­tic direc­tion of the event last year.
"The award was born from this pro­found union, from which the idea of a fruit­ful exchange between olive oil and verses sprang," he added.
The win­ner of this year and recip­i­ent of the extra vir­gin olive oil is Vittorino Curci, a poet, visual artist and sax­o­phon­ist.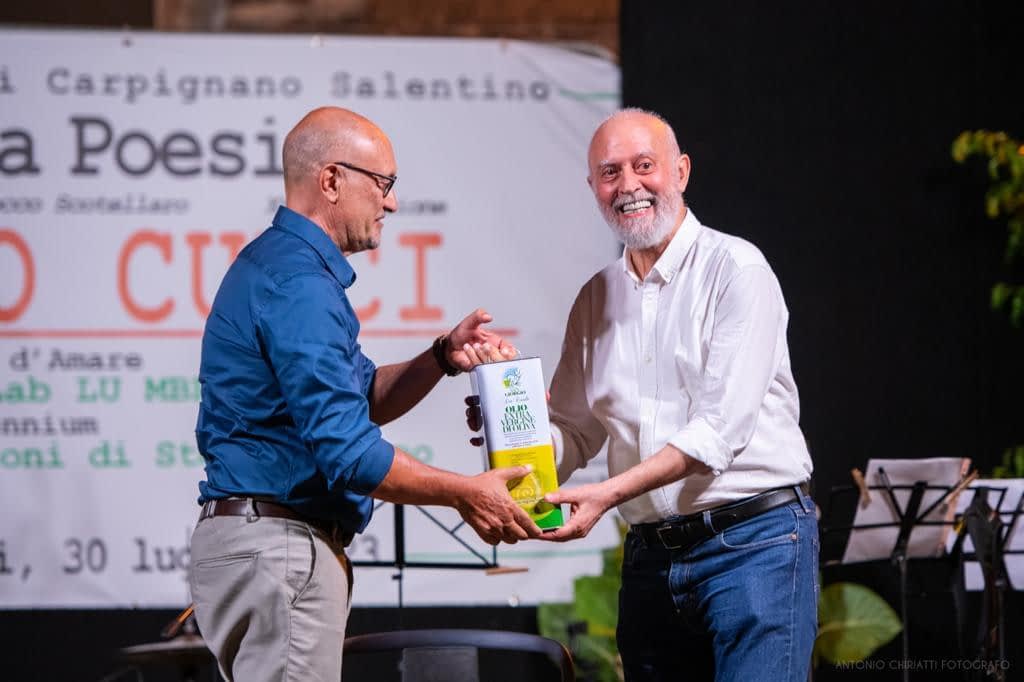 He has been pub­lished in var­i­ous antholo­gies, and his works have been trans­lated into English, French, German, Spanish, Greek, Romanian and Arabic. During the event, he was a guest of the band Maraba Blue Ensemble which per­formed a con­cert titled ​"Echoes from the South of the World."
"Today, this event acquires an even more impor­tant value because our ter­ri­tory is wounded by the effects of the bac­terium Xylella fas­tidiosa," Marino said. ​"Over time, it has become an oppor­tu­nity to reflect on the olive oil pro­duc­tion, the safe­guard­ing of the land­scape and to recon­sider with a for­ward-look­ing vision the terms of olive farm­ing and in a broader sense of the whole agri­cul­ture."
On August 12, Frantoio D'Orazio in Conversano, near Bari, orga­nized the event Olive Sonore (Sounding Olives), which paired extra vir­gin olive oil and jazz music.
At night, amidst the olive trees and trulli (tra­di­tional Apulian dry stone huts) sit­u­ated on the prop­erty, music ses­sions alter­nated with moments of dis­sem­i­na­tion about the high-qual­ity extra vir­gin olive oil and its health ben­e­fits.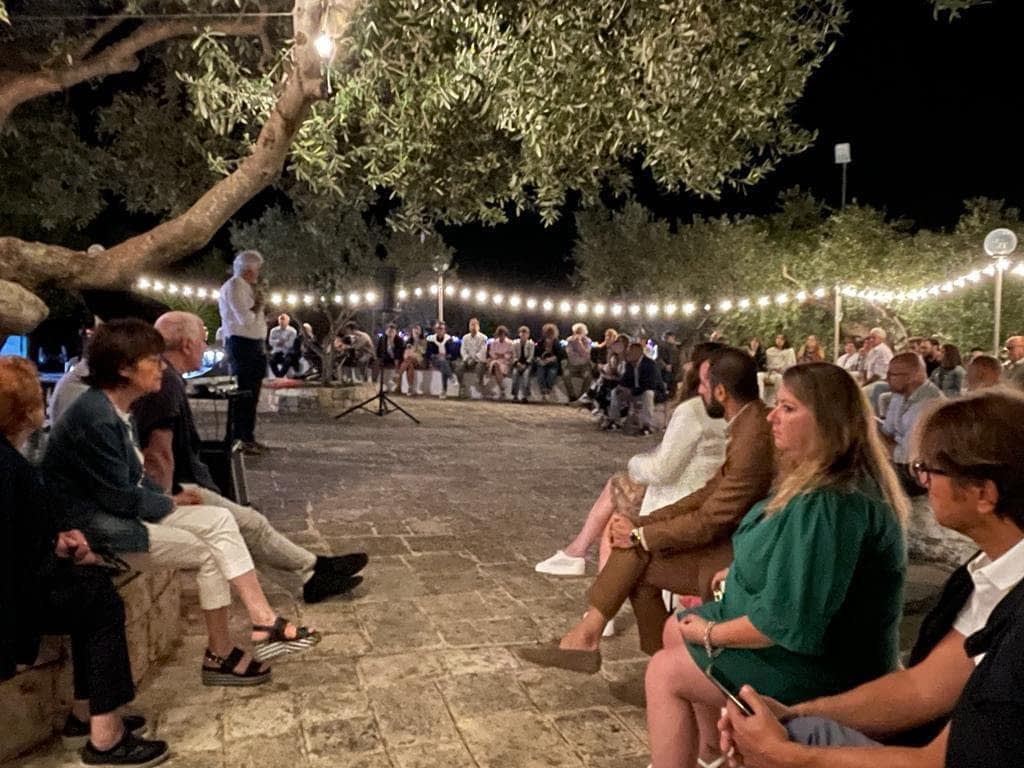 "The com­bi­na­tion between extra vir­gin olive oil and cul­ture has the poten­tial to cre­ate enjoy­ment for body and mind," orga­nizer Milena Tamborrino said. ​"This is why we opted for this infor­mal and pleas­ant but also impact­ful way to talk about the ben­e­fits of high-qual­ity extra vir­gin olive oil while enjoy­ing great music."
"The event took place in an evoca­tive set­ting, where we expe­ri­enced very inter­est­ing moments thanks to the talks by nutri­tion­ist Gianleo Berardinelli, who has extra vir­gin olive oil at the cen­ter of his food vision, and agri-food jour­nal­ist Maurizio Pescari, who explained the value of a healthy food cul­ture, which has noth­ing to do with rigid­ity and renun­ci­a­tion, but aims at pro­mot­ing well-being and stim­u­lates the awak­en­ing of the abil­ity to choose what to eat and drink con­sciously," she added.
The experts livened up the evening by inter­act­ing with the par­tic­i­pants – locals and tourists of all ages. There were also guided extra vir­gin olive oil tast­ings while the piano and voice of the jazz duo com­posed of Mario Rosini and Patty Lomuscio played an immer­sive sound­track.
"It was an intense and ful­fill­ing expe­ri­ence," Tamborrino said. ​"Sparkling jazz notes flowed along a bright river of extra vir­gin olive oil, cre­at­ing a full har­mony between knowl­edge and fla­vors."
In Puglia, other events are planned for the end of the month. La Settimana dell'Olio (The Oil Week) will be held in Vieste from August 28th to September 1st; there is a clas­si­cal music con­cert in the olive grove of the Azienda Agricola Prencipe (August 29th) and a read­ing of poems on olive oil and olive tree at the Navy League of the Apulian town (August 31st).
Moving to Calabria, in Tiriolo, the Oleificio Torchia orga­nized Vi(oli)ni e Stelle (Violins and Stars). In the olive grove located on the high hills of the vil­lage in the province of Catanzaro, high-qual­ity extra vir­gin olive oils met the enchant­ing music of a vio­lin under the sum­mer shoot­ing stars.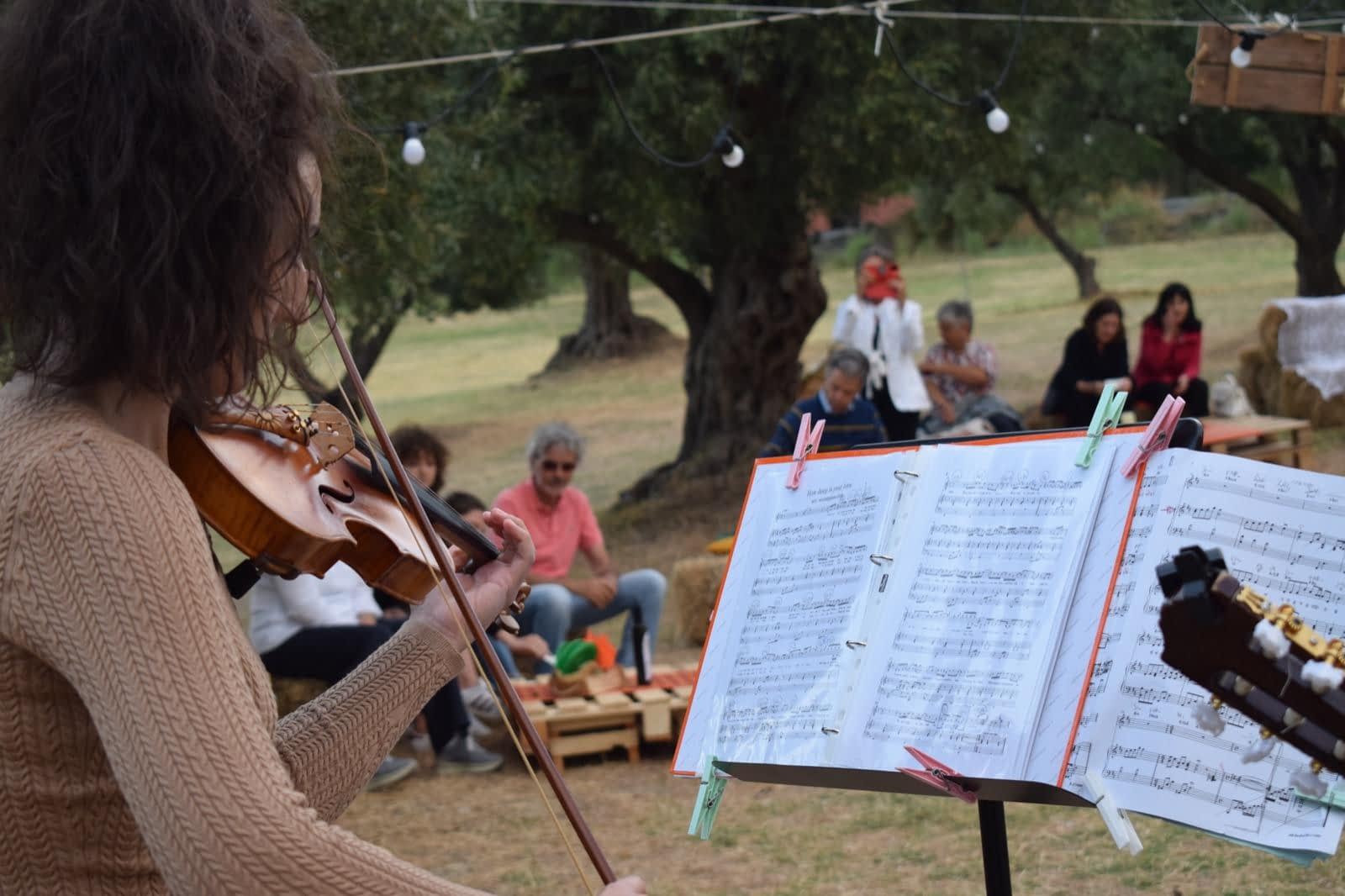 According to a pop­u­lar Italian tra­di­tion, the so-called Night of San Lorenzo (Italy cel­e­brates San Lorenzo and the night of the shoot­ing stars), on August 10th, is the right moment to go out­side and look up at the sky to admire the Perseids' meteor shower and make a wish for every falling star spot­ted.
"In this enchanted night, we wanted to develop a sen­so­r­ial jour­ney with the involve­ment of all the senses," said orga­nizer Lucia Talotta. ​"Putting together the smell of the fields and the chirp­ing of cicadas with the sound of the notes and the fla­vors of our extra vir­gin olive oils under the starry vault, we aimed at cre­at­ing emo­tions capa­ble of becom­ing mem­o­ries that remain etched in the mind."
"Like the oil was a Proust's madeleine, we hope that these feel­ings come back to the mind of those who par­tic­i­pated in the event every time that they will taste a great extra vir­gin olive oil," she added.
Surrounded by the olive trees, the par­tic­i­pants enjoyed the con­tem­po­rary music of vio­lin­ist Francesca Scavelli. Then, after an extra vir­gin olive oil tast­ing, the astrophile Ettore Ruga guided them in observ­ing the sky.
"With this encounter in the olive grove, we also wanted to help the par­tic­i­pants regain pos­ses­sion of a slower time and set aside the frenzy of daily life for a while," Talotta said.
"Under these olive trees, some of which are a thou­sand years old, our fam­ily has lived many moments of its social life," she added. ​"We con­tinue to live this space and open it to those who want to share these expe­ri­ences with us."
On the seat of a swing hang­ing off the branch of one of the ancient trees, the phrase ​"Hold on tight, but let your­self go" is writ­ten, which aptly describes the atti­tude behind the ini­tia­tive.
"The par­tic­i­pants said that they felt a mag­i­cal atmos­phere," Talotta said. ​"By cre­at­ing an ideal embrace between the olive grove and this spe­cial night sky wrapped in evoca­tive notes, we also wanted to help them expe­ri­ence a sense of free­dom."
"We invited them to go beyond and live the olive grove not only as a place where fruits are har­vested but as a soul place to be lived in many other stim­u­lat­ing ways," she added. ​"And in this sense, we cre­ated itin­er­aries for oleo­tourism."
"During the event, they par­tic­i­pated with a keen inter­est in guided olive oil tast­ings, and we are sure that this impres­sive set­ting and atmos­phere helped them to embrace bet­ter the value of spici­ness, bit­ter­ness, fruiti­ness and all the fla­vors that make each high-qual­ity extra vir­gin olive oil uniquely spe­cial," Talotta con­cluded.
---