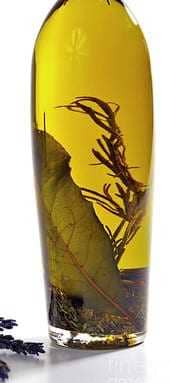 It's begin­ning to look a lot like… oh no, not that! But, if the big-box stores are any indi­ca­tion, we can't be far from the busiest gift-giv­ing time of the year.
For those of you who take the time to make gifts more per­sonal, espe­cially from your own kitchen, it's never too soon to begin a lit­tle plan­ning. This is the year of spe­cialty foods, and giv­ing some­thing spe­cial with extra vir­gin olive oil is at the top of my list.
It doesn't have to be a fancy bot­tle of expen­sive EVOO. Even a mod­er­ately priced extra vir­gin olive oil with good fla­vor can become extra­or­di­nary when the oil is infused with dried herbs and sea­son­ing blends, and the bot­tle is a born-again wine bot­tle.
Although cit­rus, fresh herbs and my per­sonal favorite, roasted gar­lic, offer an aro­matic treat, save those for freez­ing into olive oil and herb ice cubes and per­sonal use. Infusing olive oil with any­thing con­tain­ing mois­ture can cre­ate an envi­ron­ment for the growth of microor­gan­isms that can cause bot­u­lism. Dried herbs, on the other hand, can be used safely, and the longer they are left in an olive oil bath, the stronger the fla­vor.
This is the per­fect use for the over­abun­dance of pars­ley, rose­mary, basil, oregano, thyme, sage, plum toma­toes and chili pep­pers that we har­vest fever­ishly from our back­yard gar­dens this time of year, rac­ing to beat the first frost. Drying is easy, even with­out the use of a food dehy­dra­tor.
Thoroughly dry herbs in the sun, in an oven at low heat or tied and hung from beams and door jambs around the kitchen, fill­ing the room with a won­der­fully herba­ceous aroma. When their ready, herbs should be matched with a mildly fla­vor­ful extra vir­gin olive oil.
Choose one that is sub­tle and will not over­power the infused fla­vors of the sun-dried toma­toes, pep­pers and herbs. Be bold when com­bin­ing the fla­vors and col­ors, match­ing red chilis with gar­lic gran­ules and sprigs of thyme or stalks of rose­mary with a lemon pep­per spice blend and slices of bright yel­low banana pep­pers. Allowing the aro­mat­ics to infuse in a cov­ered con­tainer for a few days before bot­tling will inten­sify the fla­vor.
Even if gift mak­ing is not your thing, and you don't know an herb from poi­son ivy, you can still give a gift of extra vir­gin olive oil. The next time you are invited to a din­ner party, instead of a fruity red wine, hand the host a fruity golden bot­tle of your favorite extra vir­gin olive oil. An expe­ri­enced host will appre­ci­ate the care with which your gift was selected.