New research indi­cates that the world is on the brink of five ​"dis­as­trous" cli­mate tip­ping points as global tem­per­a­tures have exceeded the pre-indus­trial aver­age by 1.1 ºC.
"Climate tip­ping points are con­di­tions beyond which changes in a part of the cli­mate sys­tem become self-per­pet­u­at­ing," the researchers wrote in the study pub­lished in Science, which assessed more than 200 pre­vi­ous stud­ies.
"These changes may lead to abrupt, irre­versible and dan­ger­ous impacts with seri­ous impli­ca­tions for human­ity," they added.
See Also:
Europe Endures Hottest Summer on Record
Among the five tip­ping points passed as global tem­per­a­tures reached the 1.1 ºC mark are ice sheet col­lapses in Greenland and West Antarctica, changes in a sig­nif­i­cant north Atlantic ocean cur­rent, bio­di­ver­sity loss in trop­i­cal coral reefs and abrupt per­mafrost loss.
The researchers said these events would have pro­found impacts on the cli­mate. Loss of ice mass at the poles is expected to result in sig­nif­i­cant sea level rise, while changes to the Labrador cur­rent will pro­foundly alter Europe's cli­mate. The thaw­ing of per­mafrost is also expected to release tons of car­bon into the atmos­phere.
As tem­per­a­tures reach the 1.5 ºC thresh­old, the min­i­mum rise now expected, researchers indi­cated that four of those five tip­ping points would move from ​"pos­si­ble" to ​"likely," while five new tip­ping points would become pos­si­ble. These include moun­tain glac­ier loss and the migra­tion of forests far­ther north.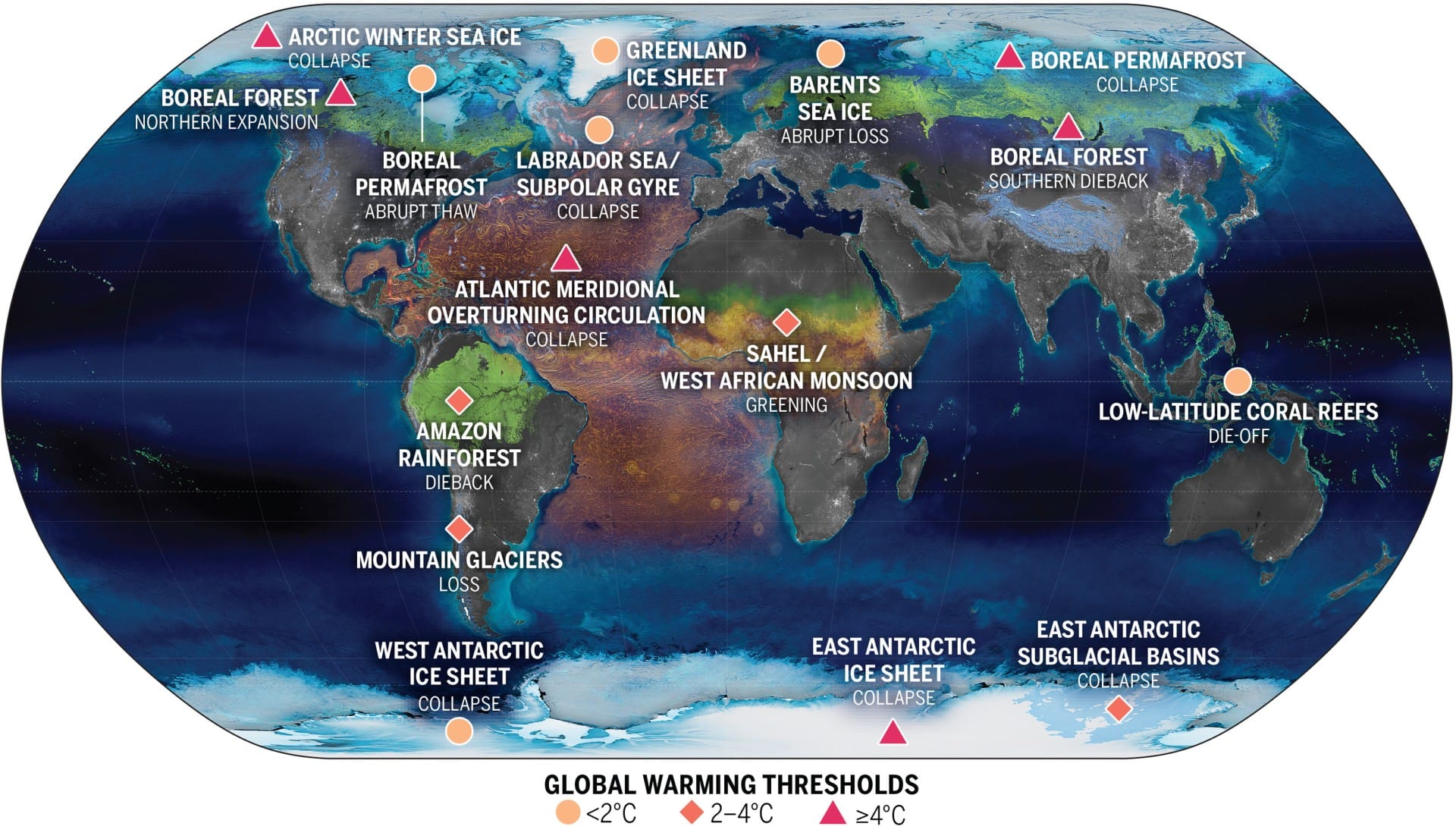 "This pro­vides really strong sci­en­tific sup­port for rapid cut­ting of emis­sions in line with the 1.5 °C goal," David Armstrong McKay, a cli­mate researcher at the University of Exeter and lead author of the study, told New Scientist.
"But the closer you get to 2°C, the more likely some of these tip­ping points get," he added. ​"Where we're head­ing at the moment is some­thing like 2.6°C – that's def­i­nitely going to hit lots of tip­ping points."
At the 2 ºC thresh­old, the researchers warned that a fur­ther six tip­ping points would also become more likely.
They con­cluded that the study pro­vided more evi­dence for urgent action to mit­i­gate cli­mate change, adding that fur­ther stud­ies would need to be done to delve more deeply into each tip­ping point.
"The world is head­ing towards 2 ºC to 3 ºC of global warm­ing," Johan Rockström, direc­tor of the Potsdam Institute for Climate Impact Research and a co-author of the study, told The Guardian.
"This sets Earth on course to cross mul­ti­ple dan­ger­ous tip­ping points that will be dis­as­trous for peo­ple across the world," he con­cluded. ​"To main­tain live­able con­di­tions on Earth and enable sta­ble soci­eties, we must do every­thing pos­si­ble to pre­vent cross­ing tip­ping points."
---
---