It's hard to believe the real­ity cook­ing com­pe­ti­tion show ​"Top Chef" just pre­miered its 14th sea­son on Bravo. Or is it?
The cre­ators behind this inven­tive culi­nary saga con­tinue to sur­prise con­tes­tants by chal­leng­ing them with an assort­ment of unex­pected ingre­di­ents, prompt­ing them to pro­duce gas­tro­nom­i­cal won­ders from a vari­ety of fla­vors.
Talented chefs from across the coun­try have con­cocted exotic cre­ations such as olive oil poached shrimp, salted olive oil pow­der and a crowd favorite, olive oil ice cream. To the judges' delight, ​"cheftes­tants" con­tinue to deliver orig­i­nal (and at times) unusual bites, often includ­ing the Mediterranean sta­ple.
Mushroom Crispy Garlic Vinaigrette might not be the first place you'd expect to find olive oil. However, last sea­son, Top Chef: California com­pe­ti­tion win­ner Jeremy Ford wowed the judges with his impres­sive Quickfire Challenge dish: Shaved Beef with Mushroom Crispy Garlic Vinaigrette, fea­tur­ing olive oil as a main ingre­di­ent in the prize-win­ning sauce. Sponsored by Bertolli's Olive Oil, the episode show­cased another promi­nent olive oil dur­ing the course of the statewide expe­di­tion.
As his sec­ond course, com­pe­ti­tion win­ner Ford notably included a local EVOO as an ingre­di­ent in the dish Artichoke Risotto with Crispy Shallot and Marin County Olive Oil. Olives spe­cific to the region cre­ate a rich, dusky base with pep­pery tones that accen­tu­ate the warmth of crispy shal­lots. Popular Northern California food blog Bite Club Eats explained that Marin county is expe­ri­enc­ing ​"an arti­san olive oil renais­sance" along with neigh­bor­ing coun­ties Sonoma, Mendocino and Napa.
In Bravo's lat­est install­ment of the hit show, com­pet­ing chefs were asked to list the top five ingre­di­ents they could­n't live with­out. Five of the nine con­tes­tants named olive oil as one of their must-haves in the kitchen.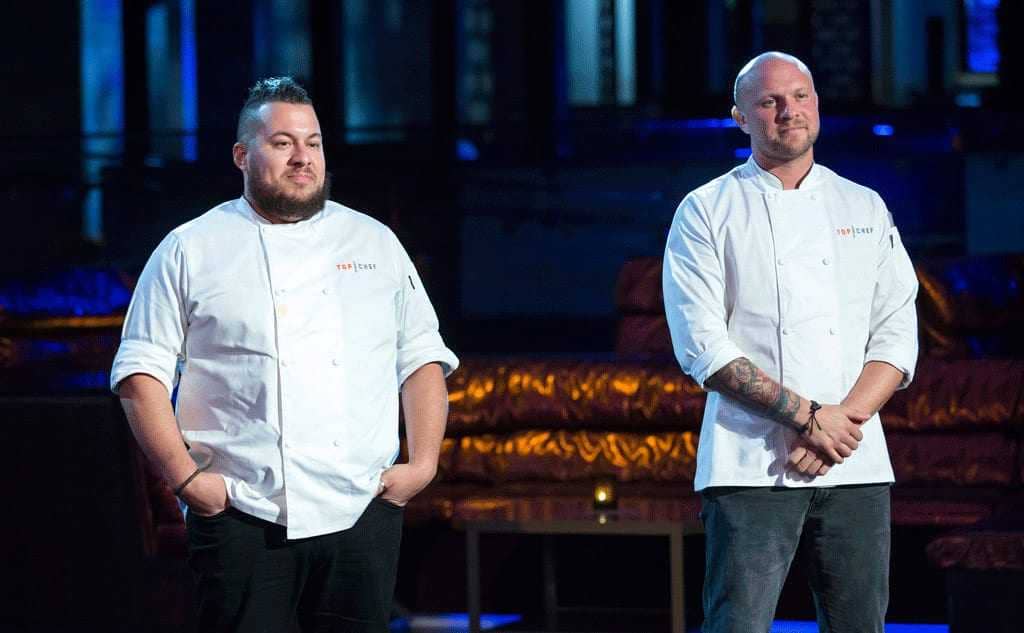 Current con­tes­tant and partner/boss of the ven­er­ated restau­rant Knife at The Highland Dallas, John Tesar, cited olive oil as one ingre­di­ent that can ​"make a good burger great." (Knife is known for hav­ing one of the best burg­ers in the coun­try.)
Whether it's mak­ing an excel­lent burger or com­bin­ing olive oil with fish sauce to cre­ate the per­fect French/Southern blend as con­tes­tant Annie Pettry noted in her culi­nary reper­toire, these new chefs have cho­sen to include olive oil in almost every­thing, includ­ing MexiKosher tacos by mas­ter­mind chef Katsuji Tanabe, who has his ground­break­ing restau­rants in New York and Los Angeles.
Olive oil pow­der, olive oil ice cream and olive oil-based vinai­grette, are just some of the ways inno­v­a­tive chefs fea­ture olive oil as an out­stand­ing ingre­di­ent in the culi­nary cre­ations.
The star­tling sur­prises brought to you by chefs from across the coun­try on ​"Top Chef" con­tinue to inspire fresh takes on old favorites, while gen­er­at­ing new recipes using olive oil for years to come.

---