Olive grow­ers in Croatia have started har­vest­ing.
From the first of October to the end of November, the fruits from 5.5 mil­lion trees, which stretch for more than 500 kilo­me­ters along the Adriatic coast­line from Savudrija in Istria to Prevlaka in south­ern Dalmatia, should be picked.
Corneal eye injuries, with limb frac­tures, are among the most com­mon dur­ing the olive har­vest.
Harvesting is a joy, but it also com­prises many dan­gers, espe­cially where the trees are tall, and the ter­rain is inac­ces­si­ble and rocky, as it is along the country's coast and on its many islands.
See Also:
Producers in Istria Brace for a Disappointing Harvest
Perhaps noth­ing encap­su­lated the per­ils of olive pick­ing more than a much-told anec­dote among the country's farm­ers.
As a man was get­ting ready to go to har­vest olives, his wife asked him, ​"when are you going to bring me lunch?" He replied: ​"I do not know, but don't hurry me. Maybe I'll be hav­ing lunch at the hos­pi­tal."
This darkly humor­ous anec­dote has been retold for years and is always rel­e­vant because it has a foothold in real­ity.
When the har­vest begins, espe­cially in October and even dur­ing November, the num­ber of patients in the sur­gi­cal wards usu­ally increases. They come with bro­ken limbs, most often arms and legs, but also other injuries.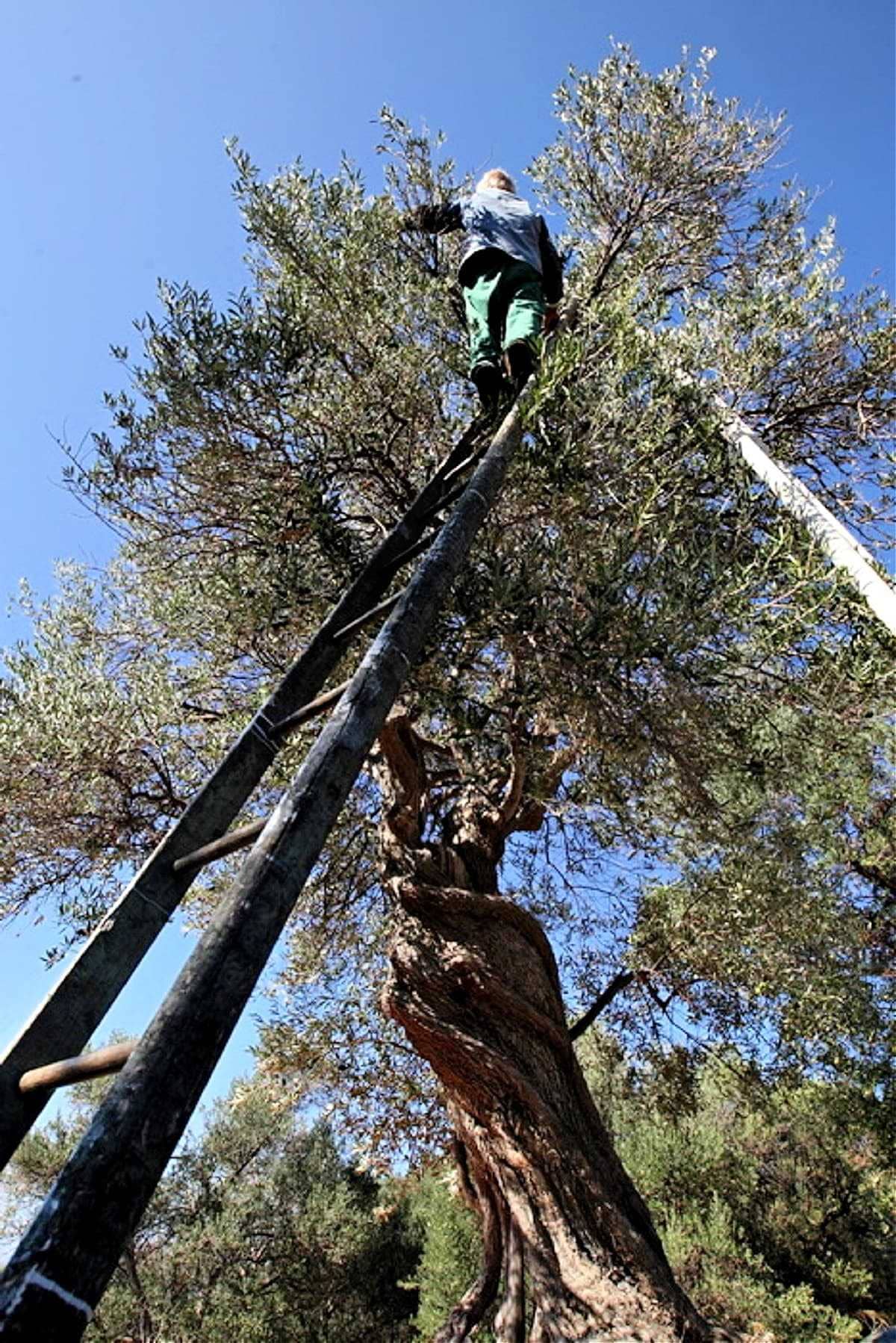 According to local media, Blaženko Boban, the pre­fect of Split-Dalmatia County, fell from an olive tree and broke three ribs dur­ing the har­vest in his grove.
In a sep­a­rate inci­dent, a 68-year-old res­i­dent from the island of Hvar was bit­ten by a viper, the most ven­omous snake in Croatia, from a branch while pick­ing olives in the area of​Selce near Bogomolje.
Luckily, in October only very young snakes live in the olive trees. However, even these ones trans­mit a small dose of venom to their vic­tims.
Unfortunately, other cases with tragic con­se­quences have also been recorded.
On the island of Brač, a 74-year-old farmer from Nerežišće, died pick­ing olives in the groves between Donji Humac and Lećevica. At one point, he climbed a stone pile to more eas­ily reach fruit from the high­est branches, but sud­denly fell, break­ing his spine. He died on the spot.
Last year, fatal­i­ties dur­ing the har­vest were recorded in Split na Brdi, where an elderly man fell from an olive tree at the foot of a moun­tain.
See Also:
Award-Winning Producers on Šolta Prepare for Modest Harvest
While plenty of sto­ries about unfor­tu­nate acci­dents of all kinds abound dur­ing the olive har­vest, the most com­mon injuries are to the eyes, accord­ing to the well-known oph­thal­mol­o­gist from Split, Vlade Glavota.
"Corneal eye injuries, with limb frac­tures, are among the most com­mon dur­ing the olive har­vest," he wrote in a blog post pub­lished on his practice's web­site.
The well-known olive grower Stanko Sikirić, from Bibinje, also recently told the story about how he lost his eye to the Zadar-based jour­nal­ist, Velimir Brkić.
Exactly 11 years ago in an olive har­vest, at the same loca­tion where he and three mem­bers of his fam­ily were har­vest­ing, an olive leaf stabbed him in the left eye. He will remem­ber this moment for a life­time because, after the sting, things got com­pli­cated and he lost his eye.
"After a hun­dred trips to Zagreb for treat­ment and exam­i­na­tions, and two corneal trans­plants, unfor­tu­nately, I lost my eye," said Stanko, an award-win­ning olive grower, who also once har­vested a 2.5‑kilogram red onion.
Eye injuries are actu­ally the most com­mon, although they are not often writ­ten about. The olive leaves are thick, com­pact and shaped like the head of a lance. The top of the leaf is pointed, but the olive grower usu­ally for­gets about this the moment he wants to reach the last fruit from the high­est branches.
Some of the pos­si­ble com­pli­ca­tions from being poked in the eye by the olive leaves are ker­ati­tis – inflam­ma­tion of the cornea – and corneal ulcer, which come as the result of a sec­ondary infec­tion at the site of an untreated corneal scratch.
Treatment for these con­di­tions is dif­fi­cult and long-term. Even after the treat­ment, corneal tis­sue scars often remain, lead­ing to a decrease in visual acu­ity.
See Also:
Poland and Israel Win Fourth World Championship of Olive Picking in Postira, Croatia
The eyes are wide open while farm­ers har­vest, so injuries are com­mon, Glavota said. The most com­mon are patients with a scratched sur­face of the eye, the cornea.
"It is accom­pa­nied by unpleas­ant pain, a feel­ing of itch­ing as if some­thing had fallen into the eye, increased tear­ing, inabil­ity to open the eye, swelling of the eye­lids and pho­to­pho­bia or intol­er­ance to strong light," he said.
Treatment is suc­cess­ful and recov­ery is rel­a­tively quick but requires fre­quent check­ups.
"Unfortunately, there are often cases when patients do not arrive on time and when things get com­pli­cated, which makes treat­ment more dif­fi­cult, slows down recov­ery and increases the risk of com­pli­ca­tions," Glavota wrote in his blog.
In very severe cases, visual acu­ity from untreated ker­ati­tis and corneal ulcers can be so impaired that the only solu­tion to improve vision is a corneal trans­plant.
Due to improper over­growth and poor adhe­sion of the new corneal epithe­lium at the scratch site, so-called repet­i­tive or recur­rent ero­sions are fre­quent, which peri­od­i­cally cause dis­tur­bances sim­i­lar to those at the time of injury.
Glavota rec­om­mends that any­one par­tic­i­pat­ing in the olive har­vest wear glasses or gog­gles to pro­tect their eyes. Pickers should also wear caps, hats with a stiff brim, to pro­tect against the tips of the olive leaves.
When har­vest­ing by hand, with­out shak­ers, it is also bet­ter to use alu­minum lad­ders instead of wooden ones, because the pos­si­bil­ity of falling from them is lower.
Marijan Tomac, an agron­o­mist, warns pick­ers to be care­ful when har­vest­ing the last fruit from the top of the tree. He rec­om­mends pick­ers do not crawl into the canopy or climb from one branch to the next.
"The devil takes away the speed" is an apt Dalmatian say­ing for the injuries received while har­vest­ing olives, and a wise one for pro­duc­ers to fol­low.
---