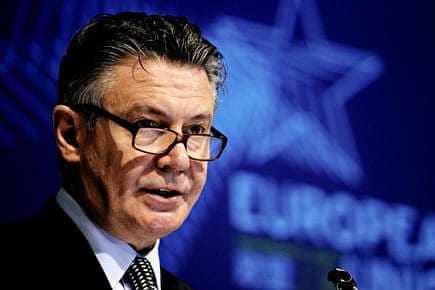 European Union Trade Commissioner Karel De Gucht
Importers will suf­fer unfair delays and costs if the pro­posed United States mar­ket­ing order for olive oil is applied to them, European Union Trade Commissioner Karel De Gucht says.

Responding on behalf of the European Commission to a ques­tion in the European Parliament, the Belgian politi­cian said the com­mis­sion is mon­i­tor­ing debate on the pos­si­ble mar­ket­ing order, which ​"would impose a new stan­dard def­i­n­i­tion, test­ing meth­ods and label­ing for olive oil in the US."
"The US rep­re­sents, by far, the EU's most impor­tant export mar­ket for EU olive oil exporters. Should a US Department of Agriculture (USDA) mar­ket­ing order apply to imported olive oil, this would cre­ate unfair delays and addi­tional costs for importers" he said in a writ­ten response on November 20.

The Commission is work­ing ​
"
in close coop­er­a­tion with rel­e­vant Member States and the International Olive Council to sup­port the inter­ests of the EU exporters."
"The issue has been raised sev­eral times with the rel­e­vant US author­i­ties, includ­ing rep­re­sen­ta­tives of the House, the Senate, USDA and the US Trade Representative.
"This has also been raised at polit­i­cal level, in the frame­work of the transat­lantic dia­logue. The Commission will con­tinue to mon­i­tor the debate with the aim of pre­vent­ing any neg­a­tive impact on the EU exports to the US" he said.
Several ques­tions raised in European Parliament
De Gucht was reply­ing to a writ­ten ques­tion last month from a Spanish mem­ber of the European Parliament, María Auxiliadora Correa Zamora, who asked what the EC plans to do about the threat of ​"non-tar­iff bar­ri­ers" being imposed on EU olive oil exporters.
Similar ques­tions have since been asked by other Members of Parliament, includ­ing fel­low Spaniard Francisco Sosa Wagner, who on October 24 wrote that the mar­ket­ing order pro­pos­als include ​"hold­ing back the oil for days in order to test the entire prod­uct," and would breach inter­na­tional trade rules.
"This mea­sure would pose a risk to the qual­ity, as well as add to costs and to other export prob­lems" he said.
US a key mar­ket for Spain, Portugal
And in a November 12 ques­tion, Portuguese MEP Nuno Melo also called on the EC to act on ​"the pos­si­ble restric­tion on olive oil imports that is being con­sid­ered in the US through the pub­li­ca­tion of a mar­ket­ing order."
The US is one of the largest mar­kets for Spain and the sixth largest for Portugal, which in the first eight months of 2012 shipped €2.9 mil­lion ($3.7m) worth of olive oil there.
"This restric­tion will par­tic­u­larly affect European exports, since it costs Europeans more to place their olive oil on the American mar­ket" he said.
Concerns about costs, retal­i­a­tion
US Senator Charles E. Schumer, who has called on the US Department of Agriculture not to adopt the mar­ket­ing order, said in May that it would add $7,000 in test­ing costs to each of (New York-based importer and bot­tler) Sovena's ship­ments.
But in its report on the US Farm Bill, the US House of Representatives Committee on Agriculture said that if the change goes ahead, ​"the Committee expects the USDA, in con­junc­tion with the US Trade Representative's office, to ensure the mar­ket­ing order is imple­mented in a man­ner that will not cause undue trade dis­rup­tion."
However, the report also included under ​"Additional Views" com­ments by com­mit­tee mem­bers Chris Gibson, Tim Johnson and Randy Hultgren on their fears that ​"impos­ing a non-tar­iff trade bar­rier to imports of olive oil…will invite retal­i­a­tion from the EU and oth­ers against US agri­cul­tural exports."
The over­due US farm bill stalled in Congress before the recent elec­tion. If when even­tu­ally passed it includes a pro­vi­sion to include olive oil under the Agricultural Adjustment Act, then imports will also be sub­ject to any national mar­ket­ing order enforced by the USDA.
---