Olive oil imports into the United States bounced back from April to June, finally tip­ping the world's biggest mar­ket back into growth – of four per­cent – over last sea­son.

New fig­ures from the International Olive Council (IOC) also show that ship­ments are up 19 per­cent in Canada and 5 per­cent in Japan, but the news is not as good in other major mar­kets: Imports are down 18 per­cent in China, 3 per­cent in Brazil and 3 per­cent in Australia.
The IOC data cov­ers olive oil and olive pomace oil imports for October 2013 to June 2014, the first nine months of the 2013/14 crop year, and were pub­lished in its lat­est newslet­ter.
Data for Russia was avail­able only until April, 2014 but showed an 8 per­cent gain com­pared to imports over the same seven months last sea­son. Similarly, EU data was avail­able to May only, but intra-EU acqui­si­tions were up 12 per­cent on the same period a year ago, how­ever, imports from out­side the EU were down more than half, a fall the IOC said seemed log­i­cal, ​"given Spain's high pro­duc­tion."
China and Korea
The IOC said Chinese imports of olive oil and olive pomace grew expo­nen­tially in the decade or so to 2011/12 but shrank 6 per­cent the fol­low­ing sea­son – dip­ping from 45,058 tons to 42,379 tons — only to suf­fer a fur­ther ​"sharp decrease" in the first seven months of this sea­son. Despite a recov­ery this May – July, ​"every­thing seems to indi­cate that (Chinese) imports will be lower than in 2011/12," the IOC said.
On the pos­i­tive side, South Korea imported just over 13,000 tons in the 10 months to July — up a third on the same period last sea­son.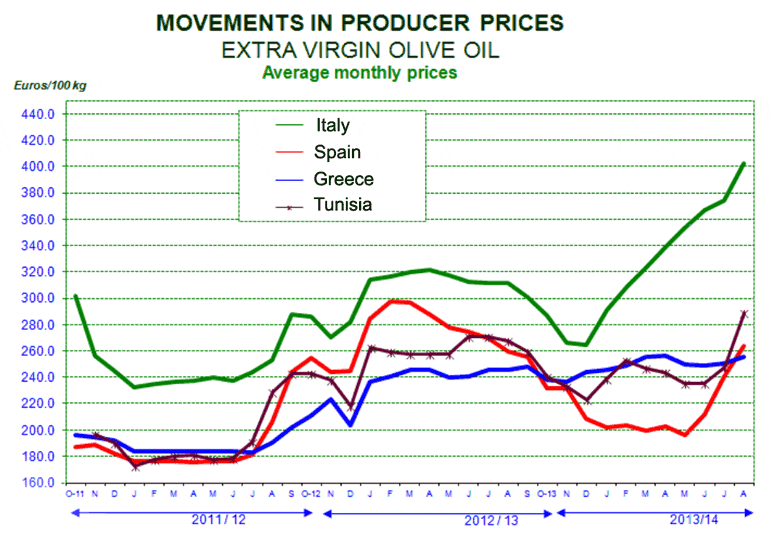 ---