Speakers and guests from a broad range of back­grounds includ­ing the sci­en­tific com­mu­nity, the media, pol­i­tics, and edu­ca­tion met on February 14 at the Pontifical Academy of Sciences at the Vatican City to launch a debate and dis­cuss ​'Food Values' in the con­text of the cur­rent role and sig­nif­i­cance of the Mediterranean diet.
See Also:
​

'

Food Values' Conference Program
The tra­di­tional Mediterranean diet (MedDiet) and lifestyle is now con­sid­ered to be one of the most health­ful pat­terns of eat­ing and liv­ing. Nevertheless, chronic ill­ness and obe­sity are grow­ing in soci­eties where the cost and per­ceived value of food are falling with increased avail­abil­ity and indus­tri­al­iza­tion.
The value of her­itage diets such as the MedDiet is finally becom­ing under­stood, and in this renais­sance lays the oppor­tu­nity to reawaken people's rela­tion­ship with what they eat, in the envi­ron­ment in which they live, and improve their health, as expressed in the intro­duc­tion by Paolo Pasquali and Monsignor Marcelo Sànchez Sorondo, who pointed out how the adher­ence to the Mediterranean diet strength­ens the ben­e­fi­cial link between food qual­ity, cul­tural tra­di­tions, health, well­be­ing, and sus­tain­abil­ity.
In fact, dietary pat­terns at the level of pop­u­la­tions have a major impact on every aspect of plan­e­tary health as well, from cli­mate to bio­di­ver­sity, said the pres­i­dent of The True Health Initiative David L. Katz. ​"The case will be made that we can love food that loves our health and the planet back."
Among the most recent research, an ​'umbrella review' con­ducted by Francesco Sofi from University of Florence and Careggi University Hospital, esti­mated the ben­e­fi­cial asso­ci­a­tion between MedDiet and 34 dif­fer­ent health out­comes, based on 12 meta-analy­ses of obser­va­tional stud­ies and 14 meta-analy­ses of RCTs (Randomized Controlled Trials), for a total pop­u­la­tion of over than 12,700,000 sub­jects. ​"Results showed that MedDiet had an impact on chronic dis­eases and over­all mor­tal­ity," Sofi affirmed.
"Furthermore, meta-analy­ses of RCTs demon­strated that sub­jects allo­cated to a MedDiet had, as com­pared with sub­jects fol­low­ing a con­trol diet, bet­ter anthro­po­met­ri­cal, meta­bolic and inflam­ma­tory risk para­me­ters."
In this sense, polyphe­nols and omega 3 fatty acids have been shown to exert anti-inflam­ma­tory actions, via mul­ti­ple mech­a­nisms of actions, as shown by Francesco Visioli from the Department of Molecular Medicine of the University of Padova. He high­lighted the ben­e­fi­cial activ­ity of micronu­tri­ents such as vit­a­mins, min­er­als, polyphe­nols and essen­tial fatty acids con­tained in extra vir­gin olive oil, which is not lim­ited to their antiox­i­dant activ­ity, but is also linked to a vari­ety of mech­a­nisms, often inter­re­lated.
Stefano Benedettelli, from the Department of Agrifood Production and Environmental Sciences of the University of Florence, drew atten­tion to ancient wheat species, which present a health­ier and a bet­ter nutri­tional pro­file than mod­ern wheat, by pro­vid­ing more vit­a­mins, min­er­als and nutraceu­ti­cal com­pounds, and organic cul­ti­va­tion.
"The MedDiet encour­ages sus­tain­able agri­cul­ture, con­tributes to pro­mot­ing local pro­duc­tion and con­sump­tion, and safe­guards land­scapes as an out­stand­ing resource of sus­tain­able devel­op­ment," said Antonia Trichopoulou, from the Hellenic Health Foundation and WHO Collaborating Centre for Nutrition and Health of Athens Medical School. The MedDiet has been acknowl­edged by the Food and Agriculture Organization of the United Nations (FAO) as an exam­ple of a sus­tain­able diet in which nutri­tion, bio­di­ver­sity, local food pro­duc­tion and local cul­ture are closely inter­con­nected.
With regards to food tra­di­tion and cul­tural her­itage, the chef and owner of Locanda Locatelli in London, Giorgio Locatelli, evi­denced the value of the con­vivi­al­ity of food and the ben­e­fits which this has on well­be­ing. ​"The Med diet is not solely about the food and the envi­ron­ment, but also the cir­cum­stances and sur­round­ings in which food is eaten. Our well-being can be influ­enced by ​'how' we eat," he pointed out, high­light­ing the ​'feel-good fac­tor' of this dietary pat­tern.
Then, the Menus of Change ini­tia­tive, was pre­sented by Greg Drescher, the vice pres­i­dent of Strategic Initiatives and Industry Leadership at The Culinary Institute of America. It was designed to inte­grate the sci­en­tific evi­dence around opti­mally healthy food choices and envi­ron­men­tal sus­tain­abil­ity, together with culi­nary and busi­ness insight.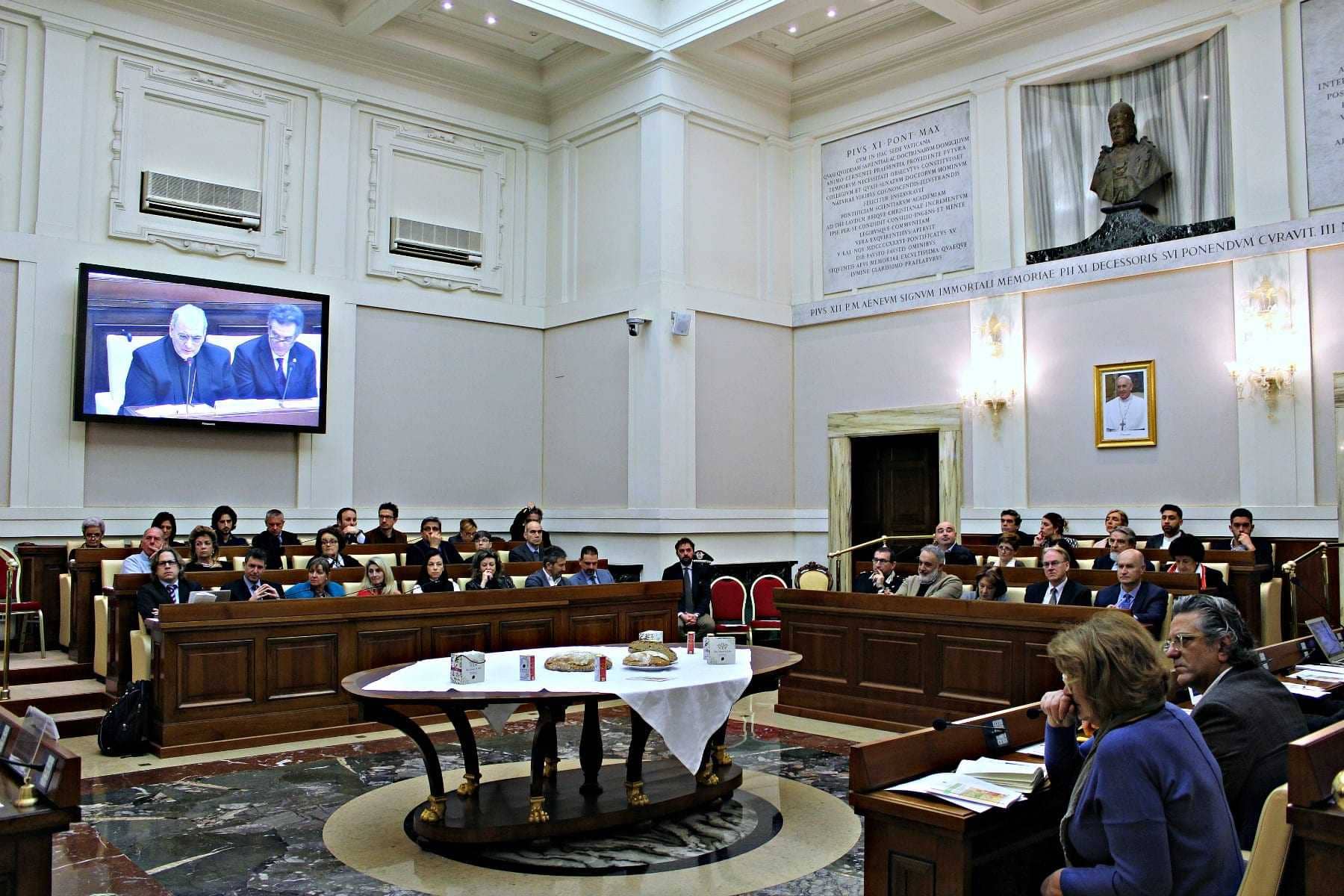 The pro­fes­sor and sen­sory sci­en­tist at the University of Davis, California, Jean-Xavier Guinard, pro­posed sen­sory strate­gies for dietary changes with the Healthy Flavors Research Initiative. Made in col­lab­o­ra­tion with the Culinary Institute of America and UC Davis Dining Services, sen­sory test­ing and culi­nary strate­gies have been devel­oped for health­ier recipes with uncom­pro­mised sen­sory appeal.
The vast, global con­sen­sus among experts in dif­fer­ent fields about the fun­da­men­tals of diet that favor both human and plan­e­tary well-being was evi­denced by Sara Baer-Sinnott, the pres­i­dent of Oldways, an orga­ni­za­tion that aims to improve pub­lic health through the pro­mo­tion of cul­tural food tra­di­tions and lifestyles. ​"As we learn that the top con­sumer trends for 2017 are authen­tic­ity and healthy liv­ing, there is the great poten­tial to make a dif­fer­ence through a renais­sance of the MedDiet in com­ing years."
In order to make it pos­si­ble, there is an urgent need for a new approach, espe­cially in regard to food and nutri­tion edu­ca­tion and com­mu­ni­ca­tion, accord­ing to Daniele Del Rio, of the Department of Food & Drug of the University of Parma and the NNEdPro Global Centre for Nutrition and Health, St John's Innovation Centre of Cambridge.
Basic and applied research in food and nutri­tion should be sub­jected to more rig­or­ous qual­ity con­trol, as is the case in med­ical and phar­ma­ceu­ti­cal research, Del Rio said. More invest­ment in evi­dence-informed food and nutri­tion edu­ca­tion are needed, pro­vid­ing high-qual­ity food and nutri­tion knowl­edge and skills, and pri­or­i­tiz­ing chil­dren. And much bet­ter care in com­mu­ni­cat­ing nutri­tional rec­om­men­da­tions, as well as knowl­edge trans­la­tion based on new dis­cov­er­ies and break­ing evi­dence, is a fun­da­men­tal step to make the pop­u­la­tion more aware of the incred­i­ble impact of their dietary choices on their per­sonal health.
"The trans­for­ma­tion of food sys­tems is emerg­ing as a sig­nif­i­cant solu­tion space that is unique in its capac­ity to moti­vate change from the indi­vid­ual, to the global level," pointed out Fabrice DeClerck, sci­ence direc­tor at the EAT Foundation and the Stockholm Resilience Center and senior sci­en­tist at the Bioversity International of Rome. ​"Global sus­tain­able devel­op­ment is achiev­able through food and this trans­for­ma­tion will only be achieved through a sys­temic, whole-of-soci­ety depar­ture from busi­ness-as-usual to an inno­v­a­tive and coor­di­nated action around the way food is pro­duced and con­sumed. This trans­for­ma­tion, while chal­leng­ing, is pos­si­ble," he added.
"There is a need for a more enlight­ened view of the poten­tial dam­age aris­ing from mod­ern meth­ods of food pro­cess­ing and a bet­ter under­stand­ing of the ben­e­fits of plac­ing a greater value on what and how we eat," the physi­cians and author, Simon Poole affirmed.
"Those of us priv­i­leged to have some under­stand­ing of the urgent need for a new par­a­digm on mat­ters of nutri­tion and lifestyle have a duty to dis­sem­i­nate this mes­sage."
Poole con­sid­ered that much can be learned from the way in which cli­mate change has become a polit­i­cal imper­a­tive hith­erto due to pres­sure from the sci­en­tific com­mu­nity and the prop­a­ga­tion of the need for change. ​"A renais­sance in the value we place on food is urgently needed to reverse what is a grow­ing health cri­sis in many parts of the world," he con­cluded.

---