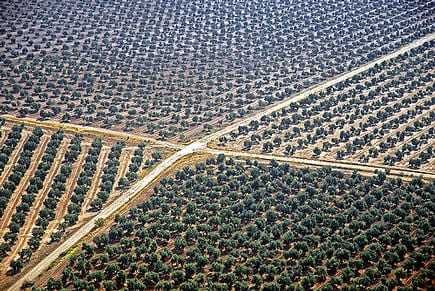 An army of work­ers — and these days few of them for­eign — is poised to start the mas­sive oper­a­tion that is Spain's annual olive oil har­vest.
With 282 mil­lion olive trees to shake and pluck, spread over 2.4 mil­lion hectares of plan­ta­tions, it cre­ates the equiv­a­lent of 17 mil­lion days of work, says the European Program for the Promotion of Olive Oil.

On the bright side is the fact that many Spanish olive oil pro­duc­ers have ​"staged a rev­o­lu­tion in mod­ern­iza­tion in recent years." According to the pro­gram, this has involved a shift to mechan­i­cal means of har­vest­ing in var­i­ous degrees, cut­ting costs and reduc­ing the length of the har­vest, and thereby improv­ing oil qual­ity.
"The fruit is col­lected at the ideal time and taken promptly to a mill for pro­cess­ing, ensur­ing the opti­mal out­come," the pro­gram said in a press release.
And the mills — nearly all 1,746 of them — have also mod­ern­ized, most now using the two-phase extrac­tion sys­tem, ​"which uses only mechan­i­cal (and not chem­i­cal) means to extract the oil, and is also one of the most effi­cient for reduc­ing energy and water con­sump­tion."
But on the darker side is a warn­ing this week from ASAJA, an agrar­ian asso­ci­a­tion for young farm­ers, that some pro­duc­ers would be bet­ter off let­ting their olives rot.
Having taken into account Spain's olive oil pric­ing cri­sis and costs such as for har­vest and trans­port (€0.03 – 0.05/kg of olive oil) and milling and write-off for dep­re­ca­tion (€0.27/kg of olive oil), ASAJA's Jaén branch says that unless the aver­age net yield in a farm is above 18 per­cent at the time of har­vest, ​"it would be cheaper to let the fruit fall to the ground than to take it to the mill."
Though rain came last week, a long stretch of dry skies and above-aver­age heat had already affected oil con­tent of olives in rain-fed regions, the Andalusian branch of agrar­ian orga­ni­za­tion COAG said. ​"Normally a kilo of olives has an oil con­tent of 23 per­cent but now it's going to be about 17 – 18 per­cent."
ASAJA spokesman Luis Carlos Valero urged grow­ers to care­fully eval­u­ate the yield of their trees before start­ing to har­vest, ​"in order to avoid a nasty sur­prise." The research sug­gested that many olive farms would not break even, and this was with­out even tak­ing into account other expenses, such as for cul­ti­va­tion, pest con­trol, irri­ga­tion, and prun­ing, he said.
Also risk­ing a nasty sur­prise are the hordes of peo­ple head­ing south in Spain in the hope of work on the har­vest. According to local news­pa­per Diario Jaén , author­i­ties are warn­ing any­one with­out a job con­tract to stay away from Jaén, one even say­ing that the region, which has an unem­ploy­ment rate of 31 per­cent, ​"didn't really need any labor­ers not already there." But already there are reports of dozens of immi­grants sleep­ing in the streets.
Back in 2008, when the job­less fig­ure was 11 per­cent, Time mag­a­zine reported on a ​"social emer­gency" being declared in Jaén due to many of the 9,000 or so immi­grants — in search of once plen­ti­ful sea­sonal work there — instead ​"find­ing the jobs have gone to newly out-of-work locals, who are only too happy to col­lect $72 for the back-break­ing job of col­lect­ing olives." There are fears the sit­u­a­tion will be far worse this year.