By Penelope Barker
Olive Oil Times Contributor | Reporting from Sydney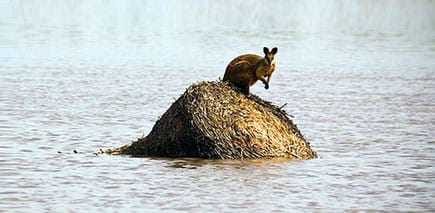 As teams of vol­un­teers, emer­gency work­ers and mem­bers of the armed forces clear debris and mop up the esti­mated $AU30 bil­lion dam­age left in the wake of the recent Queensland flood cat­a­stro­phe in north-east Australia, one third of the south-east state of Victoria lies under flood waters, del­uged from 28 days of flood­ing with the mighty Murray River yet to reach its peak.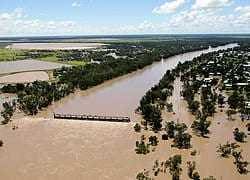 After a decade of severe drought that saw many small rural com­mu­ni­ties in Victoria on the brink of run­ning out of water entirely, there is now water every­where, includ­ing a flood-cre­ated inland sea 95 kilo­me­tres long and 50 kilo­me­tres wide stretch­ing between the town of Kerang and city of Swan Hill in the state's north­west. Northern Victoria is an impor­tant cen­tre of Australia's olive indus­try, with many groves now flood-affected, includ­ing those of the country's largest olive oil pro­ducer, Boundary Bend Limited.
"We're all sick of record weather," said Paul Miller, President of the Australian Olive Association. ​"We've had record frosts, record dry and record heat and now record flood­ing, so that's really made life inter­est­ing! Clearly there are going to be adverse affects. It's not look­ing good."
Though the Victorian grow­ers are not due to har­vest until late March, wet and humid weather is affect­ing fruit through­out the whole of south-east Australia. ​"We've had to act to get access to fungi­cides," said Miller. ​"We're try­ing to react as much as we can but this is an extra­or­di­nary weather event and many groves are inac­ces­si­ble as roads have been destroyed by flash flood­ing. As for the trees them­selves, they should sur­vive as long as the water is mov­ing and passes quickly. If water is sit­ting around it will lose oxy­gen and the trees will be lost. We will just have to wait and see when the flood waters sub­side, but the olive oil indus­try in Australia is still small and all the pro­duc­ers will help each other as best they can."
Meanwhile, a pow­er­ful cyclone clos­ing in on Australia's north­east threat­ens to bring more tor­ren­tial rain and huge storm surges to the dev­as­tated region.
Queensland Premier Anna Bligh is warn­ing res­i­dents that Cyclone Yasi could be the biggest the state has ever faced. ​"Cyclones can at the last minute turn off the coast, and I cer­tainly hope this one does," said Bligh. ​"But the bureau advises me in the most seri­ous terms, that all of the mod­el­ling right now says this is going to cross our coast."