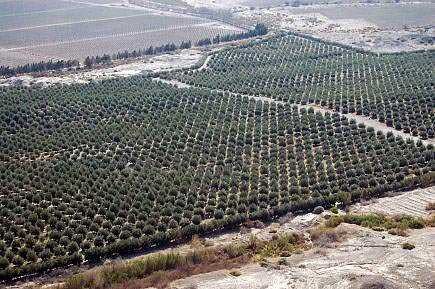 The Andalusian Minister of Agriculture and Fisheries, Clara Aguilera, announced a meet­ing, to take place on March 7th in Brussels, of a ​"European Forum of Olive Regions," an ini­tia­tive pro­moted by Andalusia and signed by 13 European pro­duc­tion areas.

The Forum's aim is to defend the strate­gic inter­ests of the olive sec­tor and in the devel­op­ment of the olive ter­ri­to­ries of the par­tic­i­pat­ing regions, which are Dubrovnik-Neretva and Istria (Croatia), Andalusia and Catalonia (Spain), Corsica, Langedoc-Roussillon, Provence-Cote d'Azur-Alpes and Rhone-Alpes (France), Crete and Sterea Ellada (Greece), and Emilia Romagna, Puglia and Tuscany (Italy). The ter­ri­to­ries com­prise rep­re­sent over half of Europe's land area devoted to olive groves.
The Forum, which is still open for acces­sion by other pro­duc­ing areas, is sup­ported by the Assembly of the European Regions pro­duc­ing Fruit, Vegetables and Plants (AREFLH) and the Association of European Regions for Origin Products (AREPO).
Their work will focus pri­mar­ily, accord­ing to the Ministry of Andalusia, on influ­enc­ing European Union poli­cies and play­ing an impor­tant role in the process of mak­ing deci­sions that affect the olive sec­tor. Also, the Forum will pro­mote the shar­ing of strate­gies between the gov­ern­ment, the pri­vate sec­tor and the con­sumer, focused on effi­ciency, com­pet­i­tive­ness, sus­tain­abil­ity, qual­ity and mar­ket­ing.
Among other ini­tia­tives, par­tic­i­pat­ing regions will launch a European prices, mar­kets and costs ​"obser­va­tory," as a ref­er­ence for the acti­va­tion of mech­a­nisms of reg­u­la­tion and the recog­ni­tion of crises.
The group also plans to coor­di­nate mar­ket­ing and pro­mo­tional activ­i­ties aimed at the dis­tinc­tion of olive oil as a healthy prod­uct.
As part of the forth­com­ing reform of the Common Agricultural Policy (CAP), the European Olive Regions defend the model of direct pay­ments for pro­duc­tion and not by sur­face.
The Forum will demand greater power for pro­ducer orga­ni­za­tions, so that they can improve their bar­gain­ing power in the agri-food value chain, com­pared to large retail­ers. They will request the cre­ation of Community rules that can estab­lish and update a pri­vate stor­age mech­a­nism depend­ing on the vari­able price thresh­olds and pro­duc­tion costs at the time.
Finally, the par­tic­i­pat­ing regions in the Forum will request the imple­men­ta­tion of national sup­port pro­grams co-financed with European funds sim­i­lar to those already devel­oped in other areas fac­ing struc­tural dif­fi­cul­ties, as is the case with nuts.
Strategic sec­tor
The olive grove is the most rep­re­sen­ta­tive and sym­bolic agri­cul­ture in the South European Union, with 4.4 mil­lion hectares under cul­ti­va­tion.
Andalusia con­cen­trates over 34 per­cent of the European olive sur­face and its 1.5 mil­lion acres pro­duce 40 per­cent of the olive oil on the con­ti­nent, with an aver­age pro­duc­tion of around 1.2 mil­lion tonnes per year.
Olive cul­ti­va­tion brings together over 800 mills, which rep­re­sent the main activ­ity for more than 300 Andalusian munic­i­pal­i­ties and 250,000 house­holds.
The four main European pro­duc­ers of olive oil (Spain, Italy, Greece and Portugal) com­prise 70 per­cent of world pro­duc­tion of olive oil and about 30 per­cent of table olives.
---