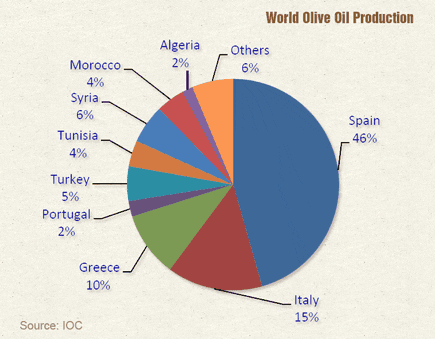 The world pro­duced just over 3 mil­lion tons of olive oil in the 2010/11 har­vest sea­son, accord­ing to pre­lim­i­nary esti­mates released today in the International Olive Council's September Market Summary. Spain is respon­si­ble for 46 per­cent of the total, or nearly 1.4 mil­lion tons.
Total world­wide exports and global con­sump­tion of olive oil both rose 3 per­cent over last year. The coun­cil noted in its report that for the past five years olive oil con­sump­tion has seen an aver­age annual increase of 3 per­cent. Consumption rose in every coun­try tracked by the report except one: Japan con­tin­ued its trend and con­sumed 6,000 tons less than it did last year.
Between October and July of this year, Australians imported 9 per­cent less olive oil than dur­ing the same period last year, while import totals rose impres­sively in Brazil (26 per­cent), the United States (7 per­cent) and Canada (6 per­cent).
Comparing cur­rent olive oil prices to last year's reveals, not sur­pris­ingly, much lower lev­els in Spain, and higher prices for Italian olive oil. Prices in Greece were level.
Recently, Italian prices have backed off recent record highs and Spanish olive oil prices saw a small rally when the European Commission announced lim­ited aid for tem­po­rary pri­vate stor­age of olive oil sur­pluses.
Click here to view the PDF.
.
---