Tallying the fig­ures from last year, the International Olive Council (IOC) in its lat­est newslet­ter said olive oil imports to the U.S. rose due to the strong out­put for the 2013/14 har­vest in Spain, which chal­lenged Italy as America's lead­ing olive oil sup­plier.
Italy sup­plied 44 per­cent of the imports, while Spanish olive oil accounted for 40 per­cent. Tunisia man­aged to pro­vide just 5 per­cent of U.S. imports, and Argentina sup­plied 2.8 per­cent, the IOC reported.
Spain's share of exports to the world's largest mar­ket more than dou­bled from the year before to 124,452 tons out of the total U.S. import total of 312,558 tons.
Last year's poor crop in Greece amounted to only 1.8 per­cent of the U.S. olive oil imports.
This year, on the other hand, is expected to be quite dif­fer­ent as the cycli­cal nature of olive har­vests, bad weather and envi­ron­men­tal scourges broad­sided pro­duc­ers in Italy, Spain and Portugal.
See Also:The 2014 Harvest: Complete Coverage
This sea­son it is Tunisia that has the bumper crop, and Greece is also expected to make up some of the mar­ket share it lost last year.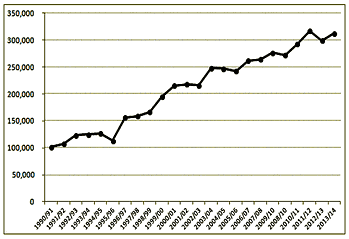 Using new U.S. cus­toms nomen­cla­ture for vir­gin olive oils the IOC was also able to report that about half (49 per­cent) of last year's imports were extra vir­gin grade and 11 per­cent of total imports were organic extra vir­gin. 15 per­cent of extra vir­gin imports were in bulk con­tain­ers, defined as being over 18kg (39.7 Lbs).
The pro­ducer prices for Italian extra vir­gin olive oil have inched down­ward from recent 10-year highs but still remain at his­toric lev­els, while prices for Greek and Spanish olive oils have been less affected by fore­casts of a pro­duc­tion short­fall this year.
Italian extra vir­gin cur­rently com­mands €5.55 per kilo­gram ($6.43) at the farm gate, up from €2.65 ($3.07) early last year, while in Jaén, prices have risen to €3.12 ($3.61).

---