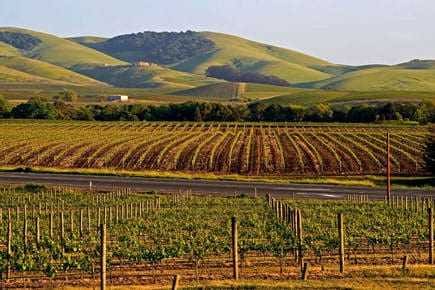 California's Napa Valley is leg­endary for its fine wines, culi­nary excel­lence, nat­ural beauty and good liv­ing. California olive oil pro­duc­ers have a chance to be asso­ci­ated with the Napa Valley allure by enter­ing their olive oil into the third annual Napa Valley Olive Oil Competition.
The com­pe­ti­tion will be judged by a panel of trained tasters using stan­dards adapted from the International Olive Oil Council's 100-point sys­tem. Winning pro­duc­ers will have the oppor­tu­nity to mar­ket their olive oil at the Napa County Fair in a wine, art and cul­ture pavil­ion. Producers may also offer sam­ples, tast­ings and sem­i­nars dur­ing the fair which runs from July 3 to 7, 2013.
The fair's chief exec­u­tive offi­cer, Carlene Moore, believes that the Napa Valley Olive Oil Competition is dis­tinc­tive because of the oppor­tu­nity for pro­duc­ers to directly engage and ​"edu­cate con­sumers on the ben­e­fits of olive oil and its dif­fer­ent tastes and fla­vors."
Another dis­tinc­tive fea­ture is the vari­ety of com­pe­ti­tion cat­e­gories, added Moore. A new cat­e­gory this year is a Micro-pro­ducer divi­sion for those who pro­duce less than 100 gal­lons. The new divi­sion was added because, ​"We want to encour­age small pro­duc­ers. It's hard for small pro­duc­ers to go up against the larger pro­duc­ers," said Moore.
Other divi­sions include EVOO, infused fla­vored oils, co-milled fla­vored oils and organic ver­sions of each divi­sion.
In last year's com­pe­ti­tion, 75 oils from 27 pro­duc­ers were received. Moore expects more than 100 sam­ples this year.
Alexandra Kicenik Devarenne will Chair the 2013 com­pe­ti­tion. It will be a ​"really excit­ing com­pe­ti­tion with a lot more oils to taste this year, and a great group of judges," said Kicenik Devarenne.
Entries from California olive oil pro­duc­ers are being accepted until 4 PM on March 29. The judges will make their deci­sion on April 9 and the results will be announced on April 11. Entry rules and infor­ma­tion are avail­able at www.NapaCountyFair.org or by call­ing the Fair office at 707 – 942-5111.