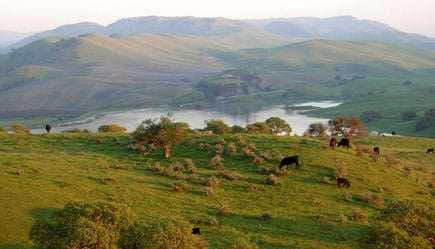 Paicines Ranch, San Benito
Hollywood his­tory, Spanish padres and a rich agri­cul­tural bounty will come together in the first annual San Benito Olive Festival. San Benito County, located south of the San Francisco Bay Area is home to ​"eight of the top ten California super foods," includ­ing spinach, broc­coli and award-win­ning olive oil, said Festival Director Kathina Szeto.
The fes­ti­val will fea­ture hand­crafted olive oils, such as Brigantino's Organic Tuscan Blend that won Best of Class at the Los Angeles Olive Oil Competition and Oil of Paicines, a gold medal win­ner at the Napa Valley Olive Oil Competition.
Oils will be avail­able for tast­ing, paired with locally pro­duced choco­lates, apri­cots, wine and other arti­sanal foods. Gourmet cook­ing demon­stra­tions by pop­u­lar chefs and a work­shop by ​"The Olive Guy," Don Landis on de-bit­ter­ing olives at home will also be part of the pro­gram.
The fes­ti­val mis­sion is to bring aware­ness to the region's world-class agri­cul­ture and arti­sans, with an empha­sis on olive oil. ​"We have a won­der­ful his­tory here of olive trees that were planted by the Spanish mis­sion­ar­ies in the 1700's," said Szeto. ​"Olive oil is fas­ci­nat­ing in that it is used uni­ver­sally and is cross-cul­tural and multi­gen­er­a­tional."
The October 19 event will be held at Paicines Ranch. The 7,500 acre site has been a work­ing ranch since the mid-1880s and is well known for being where singer-actress Judy Garland mar­ried Sid Luft in 1952.
More infor­ma­tion about the event can be found at the San Benito Olive Festival web­site.