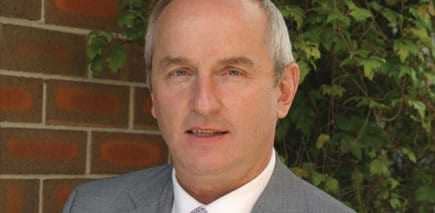 Paul Miller comes from a farm­ing back­ground and is an agri­cul­tural sci­en­tist. Since 2001 Mr. Miller has been President of the Australian Olive Association, the olive indus­try body of Australia. His spe­cial inter­ests within the AOA include trade and qual­ity stan­dards for olive oil, devel­op­ing bet­ter meth­ods of authen­ti­cat­ing high qual­ity olive oil and the place of the Australian indus­try in the global scene. Paul has led the devel­op­ment of the new Australian Extra Virgin brand­ing and authen­ti­ca­tion edu­ca­tion cam­paign and the indus­try Code of Practice for Australian olive oil. Recently we asked Mr. Miller about Australia's emerg­ing sta­tus as pro­ducer of high qual­ity olive oils.

What is Australian Olive Oil known for? What is Australia's rep­u­ta­tion in the global Olive Oil mar­ket?
Australian olive oil is known for its fresh and fruity taste. The rep­u­ta­tion is good on the global mar­ket because it is only Extra Virgin olive oil that is sold around the world from Australia and the gen­er­ally fruity taste pro­file is very user friendly for con­sumers in both new and tra­di­tional mar­kets.
If 95% of Australian Olive Oil is extra vir­gin does that mean Australian olive oil is a pre­mium brand?
Not really – what it means is that our prod­uct is made well and we don't have to deal with the large quan­tity of lower grade oils that are pro­duced in more tra­di­tional pro­ducer coun­tries. It may develop into a pre­mium brand based on its inher­ent authen­tic­ity and qual­ity com­ing from such a good pro­duc­tion base.
What will be the 2010 har­vest and what regions in Australia pro­duce it? Has ​"Olive Oil Tourism" started in Australia and if so, where should peo­ple visit?
The 2010 har­vest is pre­dicted at about 18 mil­lion litres. Olive oil is pro­duced in all the tem­per­ate agri­cul­tural regions of Australia – south east Western Australia. South east South Australia, Victoria, Tasmania, New South Wales and south­ern Queensland. Olive oil tourism is begin­ning in pro­duc­tion regions that are also famous for wines – for exam­ple Hunter Valley NSW, Tasmania, north east Victoria, Barossa and other wine regions in SA, Margaret River WA. It is also becom­ing a fea­ture on some major tourist road routes.
Australia has a rich migrant his­tory of Mediterraneans. How has this con­tributed to the olive oil being pro­duced and what is key dif­fer­ence in the olive oils mar­keted oil from Australia and the Mediterranean?
Olive oil has been in Australian food since European migra­tion began but its rise to promi­nence has come about since around 1980 when pro­mo­tion of dif­fer­ent diets and cook­ing styles became pop­u­lar. In par­tic­u­lar since the mid 1990s there have been many ​'Mediterranean' chefs on tele­vi­sion and other media. At the same time gen­eral inter­est in health­ier foods led to focus on nat­ural prod­ucts like olive oil. So the long Mediterranean her­itage in Australia prob­a­bly ​'primed' the mar­ket but the expan­sion in con­sump­tion has hap­pened rel­a­tively recently. Oil from Australia is fresh and fruity. Oil imported from the Mediterranean has gen­er­ally been of lesser qual­ity – there is a per­cep­tion that they (the Mediterraneans) keep the good stuff at home.
Can you please explain the new Code of Practice and its objec­tive?
The AOA intro­duced the Code of Practice to bet­ter sup­port qual­ity, authen­tic­ity and con­fi­dence in the Australian olive indus­try. The Code is to ensure hon­esty, integrity and authen­tic­ity in the label­ing of Australian extra vir­gin olive oil. To be cer­ti­fied by the Code of Practice, prod­ucts must be Australian and undergo organolep­tic (taste) and chem­i­cal test­ings.
The Code is a world-first in the olive indus­try and helps dif­fer­en­ti­ate qual­ity Australian prod­uct from imports. Only Australian olive grow­ers who sign up to the Code can dis­play the sym­bol on their bot­tles of extra vir­gin olive oil. There is no refined oil present what­so­ever in a bot­tle of Australian Extra Virgin Olive Oil dis­play­ing this sym­bol. Every har­vest is lab­o­ra­tory tested to ensure the high­est level of cer­ti­fi­ca­tion is main­tained. Extra vir­gin olive oils must have free fatty acid lev­els less than 0.8% and a per­ox­ide value under 20. There are cur­rently 87 sig­na­to­ries to the AOA's Code of Practice.
ALDI Australia has become the first gro­cery retailer to sign up to the Code of Practice. This means that all extra vir­gin olive oil for sale by ALDI super­mar­kets in Australia must meet the test­ing cri­te­ria set out in the Code of Practice.
How is Australia's Olive Oil indus­try look­ing in the future? What achieve­ments are you striv­ing for?
The indus­try has slowed its expan­sion of plant­ing trees – we expect a fur­ther expan­sion once some cur­rent advances in pro­duc­tion tech­nol­ogy have come in to com­mer­cial use and also as mar­kets such as Asian mar­kets develop fur­ther. It is our aim that as Australia could dou­bles its cur­rent pro­duc­tion from exit­ing tree — to rise about 1% of global olive oil pro­duc­tion – that it will become a pre­ferred sup­plier of reli­able authen­tic and user friendly Extra Virgin Olive Oil.
How do tech­no­log­i­cal advances in pro­duc­tion play a part in Australia's grow­ing indus­try?
The Australian olive indus­try is a world leader with regard to effi­cient olive har­vest­ing. In addi­tion our irri­ga­tion prac­tices utilise local and global tech­nol­ogy to nec­es­sar­ily con­serve water. Australia is also at the lead­ing edge with regard to the appli­ca­tion of chem­istry to ver­ify the authen­tic­ity of olive oil and its con­sumer related qual­ity. This under­pins the rep­u­ta­tion for reli­able user friendly, fresh, and fruity extra vir­gin olive oils.
To what extent does the fact that there are only so many Southern Hemisphere pro­duc­ing regions help exports?
I don't think this helps much at all. Few buy­ers rec­og­nize region­al­ity and of those that do, very few are con­cerned with hemi­sphere. It may be sig­nif­i­cant in the future that the pro­duc­tion sea­sons of each hemi­sphere are six months apart and so the very fresh­est oils avail­able from, say, May to November come from the south­ern hemi­sphere.