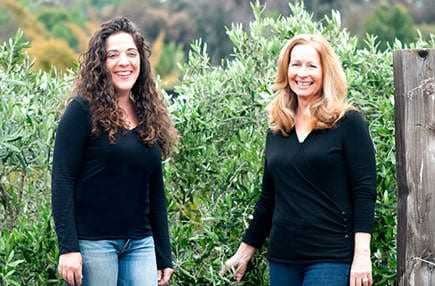 An author team that call them­selves ​"Two Extra Virgins," wrote their new ​"Cooking Techniques with Olive Oil" book for cooks of all lev­els who are look­ing for new approaches to cook­ing with olive oil. In the book, Mary Platis and Laura Bashar show peo­ple how to do much more with their liq­uid gold than just use it as a salad dress­ing or as a sauté base.
Recipes for poach­ing, brais­ing, mar­i­nat­ing, steam­ing, bak­ing and infus­ing with olive oil are accom­pa­nied by tech­ni­cal tips and full color pho­tos. (In the book's acknowl­edge­ments, Bashar thanks her fam­ily for impa­tiently wait­ing to eat their din­ners while the dishes were pho­tographed.)
Poached rose­mary gar­lic lamb chops, water­melon shoot­ers with Persian mint syrup and dark choco­late olive oil cake with straw­ber­ries are a few of the book's offer­ings. Most of the recipes are Mediterranean because ​"it's a health­ful diet and it's what we know," said Platis, who is of Greek descent. Bashar has a Persian her­itage.
In addi­tion to recipes, the book con­tains a primer on olive oil — it's his­tory, pro­duc­tion, vari­eties and fla­vors and select­ing and stor­ing.
Platis is a culi­nary instruc­tor, recipe devel­oper, Greek olive oil rep­re­sen­ta­tive and food blog­ger (her blog is called California Greek Girl). She was inspired to write the book after a trip to Greece with her fam­ily, where they expe­ri­enced the full process of olive oil mak­ing. Bashar is also a food blog­ger (Family Spice), pho­tog­ra­pher, recipe devel­oper and for­mer graphic designer and adver­tis­ing account exec­u­tive. Bashar says first became aware that qual­ity olive oil existed when it was served with her bread at an Italian restau­rant and she found it ​"exquis­ite."
"Cooking Techniques with Olive Oil" has been nom­i­nated for a 2013 Global Ebook Award. The book is avail­able ($9.99) in enhanced PDF for­mat or by down­load to Kindle, Nook or other elec­tronic devices. Downloads or more infor­ma­tion are avail­able at the Two Extra Virgins web­site.