Around 5,000 hectares (12,400 acres) of farm­land and forests were destroyed by wild­fires, which swept across north­ern Cyprus last Sunday, wip­ing out around 90 per­cent of the regions 2,000 mon­u­men­tal olive trees.
The mon­u­men­tal olive trees of Kalkanli, in north­west­ern Cyprus, had European Union pro­tected sta­tus and were renowned for their size and stature. The old­est trees had dot­ted the land­scape for more than 800 years and a fur­ther 400 trees had a 500-year his­tory.
We need to act very quickly to find the best way to pro­tect our for­est and nature with new tech­nol­ogy.
"As a Cypriot and an olive grower, I was dev­as­tated to see these ancient olive trees burnt down," Hakan Temizyurek, the direc­tor of Templos Olive Oil, an award-win­ning pro­ducer from the region, told Olive Oil Times.
Temizyurek's sen­ti­ments were echoed by the deputy com­mu­nity leader of Kormacit, Valentinos Koumettou, who told CyBC radio, ​"the extent of the destruc­tion is unbe­liev­able," and added, ​"the sit­u­a­tion is depress­ing, most tragic."
See Also:
Natural Disaster Updates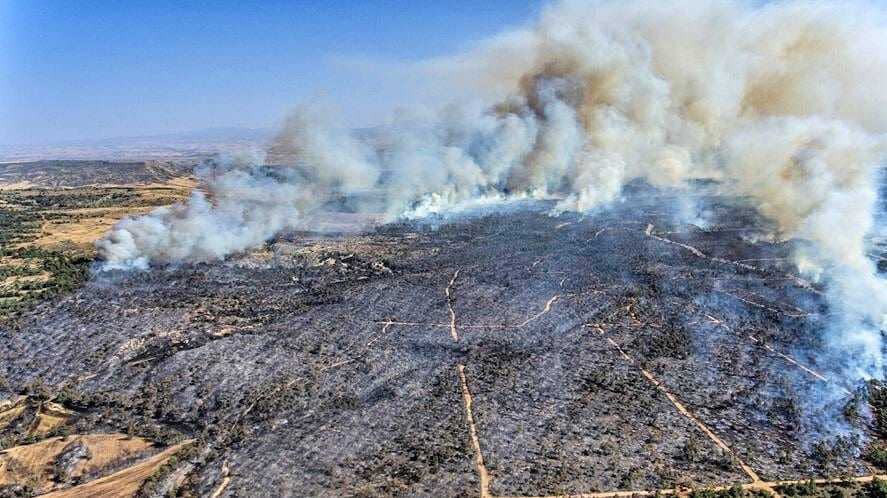 Temizyurek told Olive Oil Times that the imme­di­ate pri­or­ity was to cre­ate a plan for clean­ing the charred area and to begin plant­ing new trees, includ­ing olive saplings.
"We need to act very quickly to find the best way to pro­tect our for­est and nature with new tech­nol­ogy," he said. ​"Also, we need to arrange to rent a fire heli­copter or plane dur­ing the hot sum­mer months."
The weekend's fires dealt a fur­ther blow to the region's farm­ers, many of whom had been unable to access their land or har­vest their crops since cross­ing restric­tions were imposed on the island's buffer zone, in March.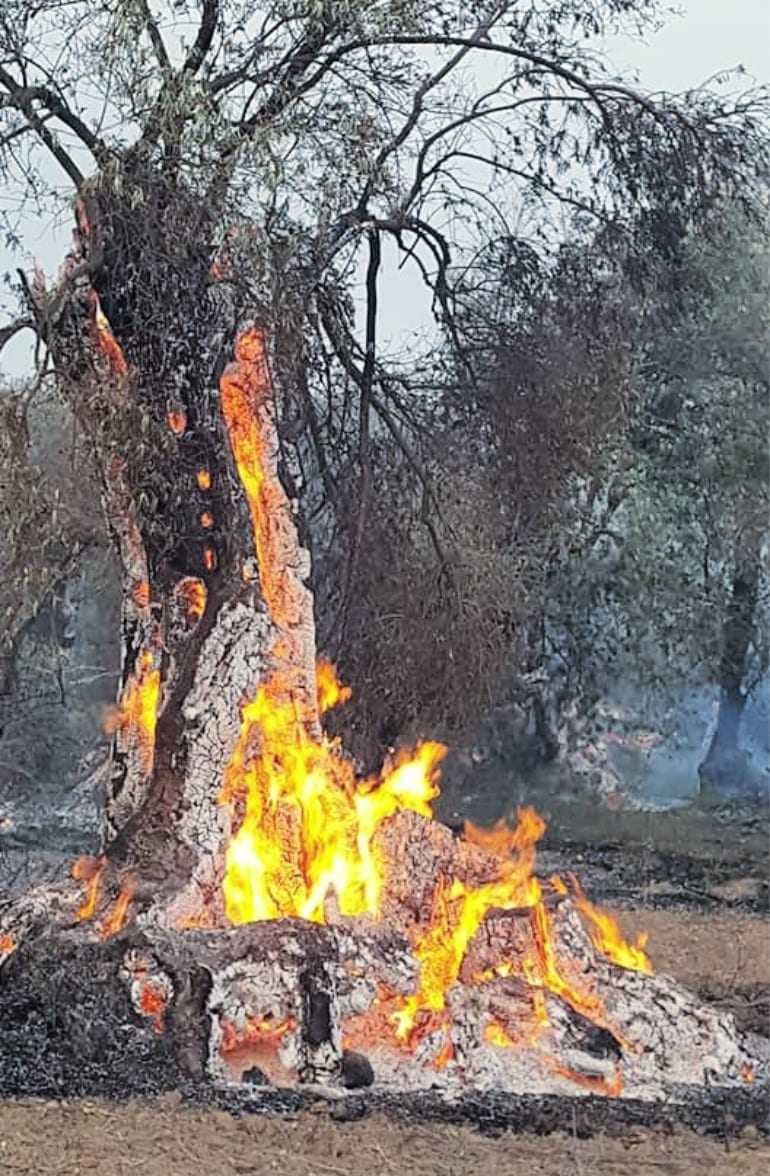 This attempt to pre­vent the spread of Covid-19 has forced many farm­ers to pay labor­ers to har­vest their ripened crops.
Police and the forestry depart­ment have begun an inves­ti­ga­tion into the cause of the two sep­a­rate fires, which simul­ta­ne­ously swept across the land­scape. Initially, a dis­carded cig­a­rette butt was blamed for spark­ing one of the fires while the sec­ond blaze, which began in the mil­i­tary zone of Diorios, was believed to have been caused by an elec­tri­cal fault.
A man was later arrested for attempt­ing to start a third fire and is under sus­pi­cion of start­ing the ear­lier blazes.
Although the Turkish and Greek mil­i­tary put aside past hos­til­i­ties and ral­lied to fight the flames engulf­ing the Maronite vil­lage of Kormacit, their efforts largely failed to save either crops or olive trees. However, Cyprus' pres­i­dent, Nicos Anastasiades was hailed for his rapid response to the Turkish Cypriots call for help.
The Turkish news­pa­per, Hurriyet Daily News reported that three mil­i­tary heli­copters were sent from Ankara to assist two Greek Cypriot air crafts in tack­ling the fires and Turkish author­i­ties pledged sup­port for the Turkish Cypriot's Agriculture and Forestry Ministry.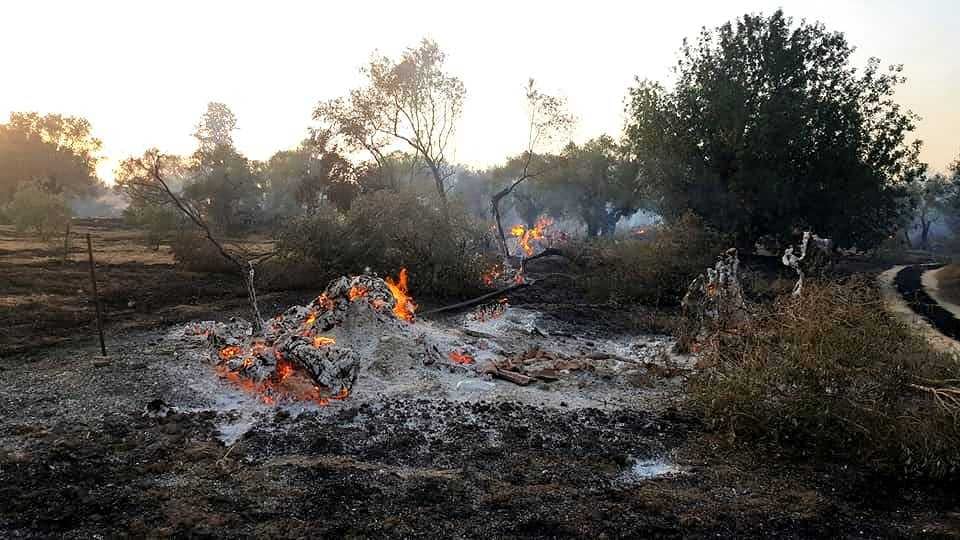 Maronite com­mu­nity lead­ers have called for state assis­tance for the Kormacit farm­ers fac­ing finan­cial hard­ship after los­ing their homes, crops and inher­ited olive trees. The vil­lage's 200 res­i­dents are pre­dom­i­nantly farm­ers and the com­mu­nity is made up of 56 res­i­dents who have remained in the vil­lage since 1974 (when the de facto divid­ing of Cyprus occurred after the Turkish inva­sion), plus 150 more recent set­tlers.
A num­ber of the mon­u­men­tal olive trees had been given names such as Athena (queen) and Afrodit (king). Unfortunately, Afrodit was destroyed by the blaze, but Athena sur­vived the flames.
In 2014, Olive Oil Times reported on an ini­tia­tive in which Greek and Turkish Cypriot olive oil pro­duc­ers hoped to reunite the divided island with their shared pas­sion for olive oil. Both sides col­lab­o­rated in an olive oil fes­ti­val named ​"Let's grow together".
This aimed to bring the com­mu­ni­ties together and help them to solve com­mon prob­lems. Coping with the after­math of the wild­fires is the newest chal­lenge fac­ing both sides of the divide.
---
---