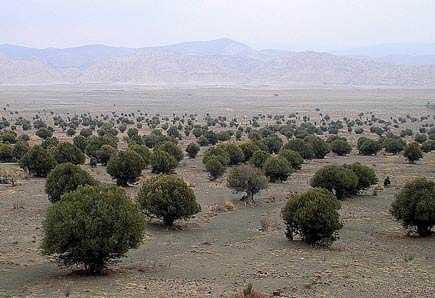 SaffyH
Pakistan has announced plans to boost olive cul­ti­va­tion with a plan­ta­tion of four mil­lion olive saplings in the north­west tribal province of Khyber Pakhtunkhwa. Provincial Minister for Agriculture Arbab Ayub Jan said that the goal is to make the region self-suf­fi­cient in olive oil.
The gov­ern­ment of Pakistan has already launched a Rs. 500 mil­lion mech­a­nized farm­ing pro­gram to usher in a rev­o­lu­tion in the country's agri­cul­ture. Minister Ayub Jan, while speak­ing to a group of farm­ers in Khyber Pakhtunkhwa, said that a major dis­tri­b­u­tion plan is under­way to ensure that the olive saplings get dis­trib­uted to var­i­ous areas of the province that are well-suited for the cul­ti­va­tion of olives.
The gov­ern­ment is devis­ing a multi-pronged strat­egy to achieve its long-term goal of self-suf­fi­ciency. Well-dis­trib­uted olive cul­ti­va­tion across the province would help achieve max­i­mum pro­duce in the short­est time­frame. At the same time, the gov­ern­ment is look­ing at other key areas to boost olive pro­duc­tion.
The min­is­ter said that the gov­ern­ment is invest­ing in the estab­lish­ment of new cold stor­ages and instal­la­tion of plants to grade and pol­ish fruits. Such improve­ments in agri­cul­tural infra­struc­ture would sup­port the government's tar­gets of achiev­ing supe­rior pro­duce, low wastage and self-suf­fi­ciency in crit­i­cal food prod­ucts such as olive oil. The min­is­ter pointed out that two new cold stor­ages at a cost of Rs. 360 mil­lion had already been estab­lished with finan­cial assis­tance from Italy.
---