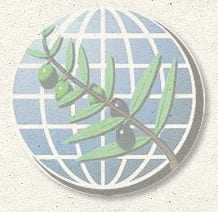 Italy and Turkey have lost ground to Spain, Morocco and Tunisia in the United States olive oil and pomace import mar­ket, which has grown 11 per­cent in half a decade to reg­is­ter a record 292,049 tons last crop year.
Italy remains by far the biggest sup­plier for the US mar­ket. Its 149,444 tons — almost all pre-bot­tled — accounted for 51 per­cent of total US imports last crop year (October to September) but that's down from 59 per­cent five years ago.
According to the International Olive Council's February mar­ket newslet­ter, the next biggest source is Spain, account­ing for 23 per­cent — up from 18 per­cent in 2006/07 — and Morocco has top­pled Tunisia to occupy third place. More than half of Spain's and almost all of Morocco's US exports are in bulk.
Morocco's explo­sive growth was ​"fueled by its olive expan­sion plan and higher pro­duc­tion," the IOC said. The coun­try has leaped from sup­ply­ing less than one per­cent of US olive oil imports in 2006/07, with 2,002 tons, to 9.6 per­cent in 2010/11, with 28,156 tons.
Meanwhile US imports from Turkey have tum­bled from 14,315 tons in 2006/07 to just 1,059 in 2010/11.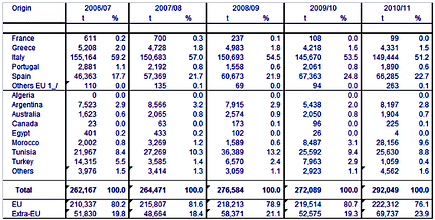 U.S. imports by coun­try over the last five crop years (tons) — Source: IOC
Virgin olive oil dominating
Of all the olive and olive pomace oil imported, 65 per­cent was vir­gin grade (of which 67 per­cent was bot­tled), 29 per­cent was olive oil and the rest was olive pomace oil (71 per­cent of which was in bulk). ​"There is a grow­ing ten­dency to import vir­gin olive oil," the IOC said.
It also reported that in the last 18 years bulk imports have enjoyed greater growth in US imports than those of packed product.
World olive oil and table olives market
Worldwide, imports in the first three months of the cur­rent crop year (October – December) are up 3.4 per­cent on the same period a year ago. Imports into China are up 33 per­cent, Russia 20 per­cent, Japan 9 per­cent, Brazil 4 per­cent and the US 1 per­cent. Conversely, imports into Australia fell 25 per­cent — with a par­tic­u­larly stark decline in December — and Canada 7 percent.
In the table olive mar­ket, imports into Brazil and Canada are up 24 and 12 per­cent on the same period last crop year but down 12 per­cent in the US, and eight per­cent each in Australia and Russia.
Producer prices
Compared with this time last year, the price for extra vir­gin olive oil in Spain is 9 per­cent lower (€1.82/kg) , 6 per­cent in Greece (€1.84/kg) and 23 per­cent in Italy (€2.35/kg). ​"Prices in Italy and Greece have not var­ied in the past two months. However, in Spain, they have recorded a slight upturn after hit­ting their low­est level in the last three crop years," the IOC said.
It made no com­ment on why the price in Italy had slumped but it's under­stood that one key fac­tor is that Bari, in Puglia, is used as the ref­er­ence point and prices in that region have slipped after a big increase in production.
The pro­ducer price for refined olive oil — cur­rently €1.68/kg in Spain and €1.77 in Italy — is in both cases down 7 per­cent. ​"These prices are lying at the low­est level since the last three crop years," the IOC said.
Click here to view the PDF.
---