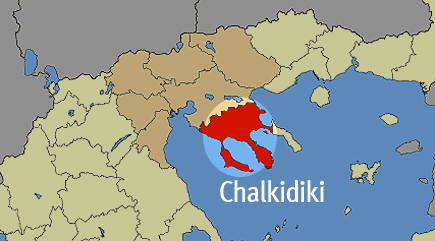 The European Commission gave the green light to add Agourelio Chalkidikis (Αγουρέλαιο Χαλκιδικής) to the list of Protected Designations of Origin (PDO). The European Union clas­si­fi­ca­tion of a PDO prod­uct is given to high­light the unique­ness of a prod­uct that is pro­duced in a spe­cific geo­graph­i­cal region. Agourelio Chalkidikis is the 28th Greek olive oil to be granted the spe­cial cer­ti­fi­ca­tion.
The Union of Agricultural Cooperatives of Chalkidiki requested the des­ig­na­tion for their local prod­uct three years ago. Agourelio Chalkidikis is known for its low acid­ity and dis­tinct, bright green color and pleas­antly bit­ter char­ac­ter­is­tics.
"The des­ig­na­tion gives us more oppor­tu­nity and adds more value to the prod­uct," said Zacharoula Vassilaki, who pro­duces the extra-vir­gin olive oil Ladopetra in the town of Polygyros in Chalkidiki. ​"Now, our olive oils must be pro­duced and bot­tled right here in Chalkidiki so the true value stays with the prod­uct when we export it world­wide." Vassilaki cur­rently exports Ladopetra to Germany, Sweden and Slovakia.
Chalkdiki is located in the Greece's north­ern province of Macedonia, just east of Thessaloniki. The new PDO des­ig­na­tion of Chalkidi's extra vir­gin olive oil fol­lows the PDO cer­ti­fi­ca­tion of the region's green olives last year. The large, oval, pale green olives are known for their slightly tart fla­vor.
"Chalkidiki pro­duc­ers cre­ate a spe­cial kind of olive oil. The olive har­vest starts in north­ern Greece where the cli­mate enables us to pro­duce the first olive oil of the year in our coun­try," said Vassilaki. ​"The char­ac­ter­is­tics of the green olive from our region make our extra vir­gin olive oils an extremely healthy prod­uct."
In a pub­lic state­ment, the Greek Minister for Rural Development and Food, Athanasios Tsaftaris, pointed out that the PDO des­ig­na­tion is a great ben­e­fit for Greek olive oil pro­duc­ers and a boost for the econ­omy. ​"The com­pet­i­tive­ness of Greek agri­cul­ture can­not be based on low pro­duc­tion costs, but the qual­ity and unique­ness of its cer­ti­fied prod­ucts. Europe and the whole world are turn­ing towards qual­ity agri­cul­ture and it is really an oppor­tu­nity for our coun­try to exploit the com­par­a­tive advan­tages and the excel­lent qual­ity of these prod­ucts."
---