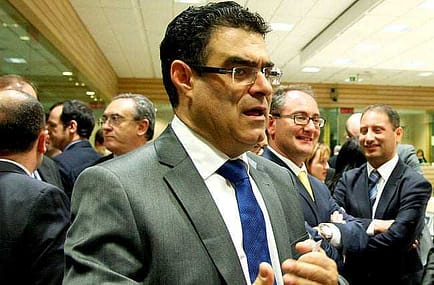 Cypriot Minister of Agriculture, Natural Resources and Environment Nicos Kouyialis
As reported last week by Olive Oil Times, the Spanish gov­ern­ment is prepar­ing a royal decree forc­ing the country's restau­rants and bars to replace refill­able oil con­tain­ers with clearly labelled sin­gle-use sachets or bot­tles of oil. The announce­ment, made by Minister of Agriculture Miguel Arias Cañete, came as a shock after the European Union made the deci­sion to back down from the pro­posal to ban refill­able ves­sels around Europe in May.
When informed of the arti­cle, Cypriot Minister of Agriculture Nicos Kouyialis, who took office last March, agreed with the logic of his Spanish coun­ter­part. Kouyialis noted that extra vir­gin olive oil in Cyprus car­ries an his­tor­i­cal sig­nif­i­cance and, due to the fact that Cyprus is not only a tourist des­ti­na­tion but also a haven for inter­na­tional busi­ness­men and their fam­i­lies, the qual­ity of the olive oil can not be tam­pered with.
He said he totally agrees with his Spanish col­league when he he said the motion to ban the cruets ​"was essen­tial to main­tain the sector's strict pol­icy of pro­mo­tion and infor­ma­tion, as well as the main­te­nance of the Spain Brand." Kouyialis added that every coun­try must pro­tect the name and the qual­ity of its tra­di­tional pro­duce and, in this man­ner, the cul­ture sur­round­ing the prod­ucts will also be pro­tected from those who are look­ing for quick profit. The min­is­ter said that using glass oil bot­tles for olive oil, sealed by the pro­ducer will pre­vent refill­ing of ves­sels from bulk oil bot­tles of lower qual­ity, some­times nowhere near the qual­ity of the orig­i­nals.
Adding more sup­port, the Cypriot Consumers Association announced that if the agri­cul­ture min­is­ter were to issue such an order, he would be doing every­body a favor — the pro­duc­ers, the con­sumers and even the restau­rant own­ers. The Consumers Association also added that the costs of such a mea­sure would be min­i­mal.
The Restaurant Owners Association also wel­comed the idea and pro­posed olive oil pro­duc­ers should look into offer­ing pri­vate label pro­grams for restau­rants and food ser­vices — a request seen very pos­i­tively by the Producers' Association.
Phanos Leventis, pres­i­dent of the Restaurant Owners Association said ​"after all it is con­sid­ered pres­ti­gious in Cyprus for restau­rants to have their name printed on very good wine bot­tles, so why not on olive oil minia­tures?"
Kouyialis said that employ­ees of the min­istry would be trained to ensure that the mea­sure is enforced suc­cess­fully and bot­tles would bear the nec­es­sary infor­ma­tion, such as date and place of pro­duc­tion, expiry dates and pro­ducer cer­ti­fi­ca­tions.