Situated in the cen­tral Italian province of Perugia, stu­dents from the Ciuffelli Agricultural Institute of Todi – the country's old­est agri­cul­tural school – are return­ing to a rather unique class­room this autumn.
The so-called Green Room replaces the ceil­ing with Umbria's blue skies and boasts rows of olive trees instead of walls. While the coun­try was in the midst of the Covid-19 pan­demic last spring, stu­dents took their final exams in this out­door class­room.
Spread over three types of ter­rain, in order to rep­re­sent the var­i­ous crops of the region… the prop­erty serves as a wide, mul­ti­func­tional open-air lab­o­ra­tory for our stu­dents.
"In 2012, we had an idea to cre­ate an area at its core where they could fur­ther develop the knowl­edge acquired in the field," the direc­tor of the farm, Gilberto Santucci, said.
"The Green Room is located at the heart of the farm­ing estate man­aged by the insti­tute," he added. ​"Spread over three types of ter­rain, in order to rep­re­sent the var­i­ous crops of the region… the prop­erty serves as a wide, mul­ti­func­tional open-air lab­o­ra­tory for our stu­dents, with its 75 hectares (185 acres)."
See Also:
In Italy, Hiking Through the Olive Groves
Shaded by rose per­go­las, desks and chairs have been placed in a clear­ing sur­rounded by olive trees, which allows stu­dents to learn from a cen­tral posi­tion in the con­text of the ter­ri­tory, with the Tiber River below and Mount Subasio, the town of Assisi, and cul­ti­vated fields above.
"Located in the midst of our olive trees and over­look­ing the val­ley, the Green Room turned out to be the solu­tion to orga­nize the final exams last June, in a healthy envi­ron­ment and in com­pli­ance with the mea­sures imposed to curb the spread of Covid-19," Santucci said.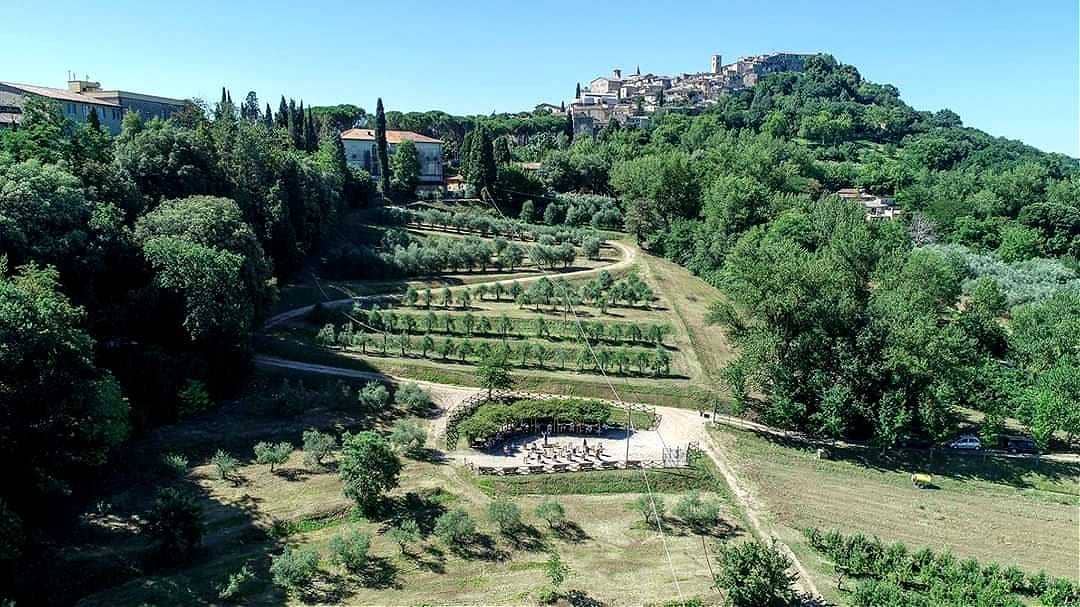 In the after­math of a three-month lock­down, Italian schools and uni­ver­si­ties, like many oth­ers in the world, remained closed for the rest of the term and moved lessons online. Students of Ciuffelli and sim­i­lar insti­tutes could at least take solace in tak­ing their final exam out­doors, reunit­ing with their class­mates, even while appro­pri­ately dis­tanced.
"Thanks to the Wi-Fi cov­er­age, all the admin­is­tra­tive for­mal­i­ties could be han­dled eas­ily," Santucci said, adding that dur­ing the sum­mer the space was used to screen movies, present books and host art events. ​"The suc­cess of this ini­tia­tive encour­ages us to use the Green Room even more often than before, espe­cially at this time, in which out­door activ­i­ties are being encour­aged."
The prop­erty, which was founded in 1863 and housed in the thir­teenth-cen­tury for­mer monastery of Montecristo, is a model for its social and envi­ron­men­tal com­mit­ments.
Since 2014, a small col­lec­tion of olive vari­eties of Umbrian ori­gin, includ­ing Moraiolo, Frantoio, and Pendolino have been cul­ti­vated on an adja­cent plot. Additionally, another 4,000 olive trees have been restored by the insti­tute and become the cen­ter­piece of its mis­sion.
"We run an edu­ca­tional farm that orga­nizes envi­ron­men­tal and agri-food activ­i­ties, includ­ing olive oil pro­duc­tion, for about 3,000 chil­dren each year," Santucci said. ​"Also, we oper­ate as a social farm that, through an inclu­sion project, hires at-risk peo­ple, such as the unem­ployed, immi­grants and asy­lum seek­ers, who work in the recov­ered olive groves."
In addi­tion to pro­mot­ing local olive vari­eties, the insti­tute also man­ages a col­lec­tion of olive trees from other coun­tries in the Mediterranean basin, the Middle East and newer areas of cul­ti­va­tion.
The plants come from a larger col­lec­tion of the olive germplasm gath­ered and pre­served by the Institute for Agricultural and Forest Systems in the Mediterranean of the National Research Council (CNR) of Perugia.
"This col­lec­tion, in addi­tion to the con­ser­va­tion of the germplasm, is intended for its bio­log­i­cal and agro­nomic eval­u­a­tion and as a source of vari­abil­ity for genetic improve­ment," Santucci said. ​"It rep­re­sents a first nucleus, which will be enriched in the com­ing years with other vari­eties, species and sub­species sim­i­lar to the olive tree. These col­lec­tions are an inte­gral part of the school's edu­ca­tional offer­ings."
The prop­erty also includes a vine­yard and wine cel­lar, a cheese fac­tory, a honey lab­o­ra­tory, an ani­mal hus­bandry facil­ity, a botan­i­cal park, orchards ded­i­cated to the study of plants at risk of genetic ero­sion, and an oil mill used to pro­duce a high-qual­ity extra vir­gin olive oil.
"We won last year's Silver Diploma com­pe­ti­tion, orga­nized by Pandolea and Gambero Rosso and reserved for Italian agri­cul­tural schools," Santucci said. ​"We are also part of a net­work whose next goal is to estab­lish a foun­da­tion that can help make the Ciufelli Institute the dri­ving force of national and inter­na­tional ini­tia­tives in the field of agri­cul­tural edu­ca­tion and envi­ron­men­tal sus­tain­abil­ity."
---
---