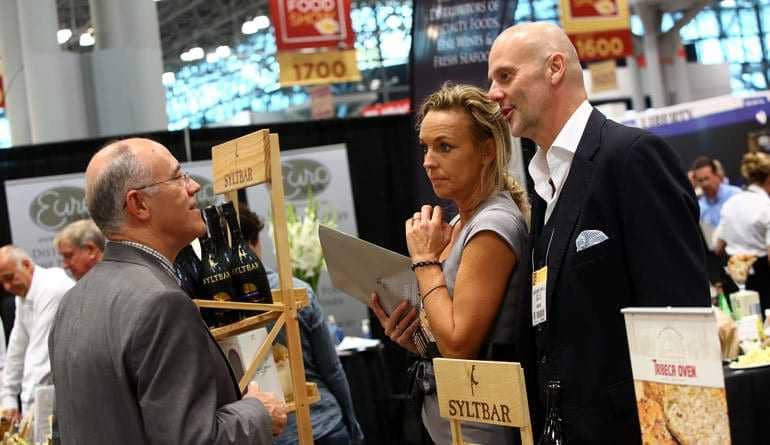 The olive oil world was well rep­re­sented at the 60th annual Summer Fancy Food Show in New York City. Olive oil pro­duc­ers, exporters, retail­ers and pro­mo­tion com­mit­tees hail­ing from around the globe con­verged upon the Jacob K. Javits Convention Center in New York City from June 29th – July 1st at the mas­sive event that fea­tured 180,000 spe­cialty food and bev­er­ages and draws over 24,000 vis­i­tors.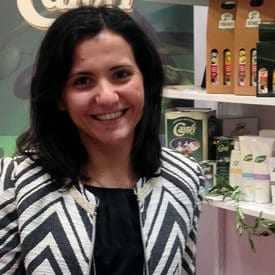 Among the inter­na­tional and domes­tic exhibitors from the olive oil indus­try, many had been attend­ing this show for years, while oth­ers were exhibit­ing for the first time. However, the rea­sons behind their atten­dance at this major event were com­mon to both groups: the American mar­ket is a crit­i­cal one and the show pro­vides oppor­tu­nity for forg­ing and solid­i­fy­ing con­nec­tions.
Sizable American Market
Almost all of those in atten­dance expressed a keen aware­ness of unre­al­ized growth oppor­tu­ni­ties in America, with a par­tic­u­lar empha­sis on improv­ing aware­ness of olive oil. Antonella Caroli, sales & export Manager for Antica Masseria Caroli, a pro­ducer from Puglia, Italy, said, ​"It's an impor­tant mar­ket. We want to improve Americans' knowl­edge about olive oil. There is a lot of con­fu­sion and we want to explain how qual­ity olive oils are dif­fer­ent."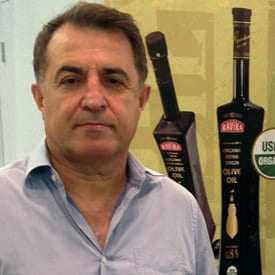 Other exhibitors were excited about con­nect­ing with U.S. con­sumers, buy­ers and cat­e­gory man­agers given the Americans' inter­est in olive oil. Savas Ozaltun, gen­eral man­ager of Ravika, the fastest-grow­ing olive oil brand in Turkey, knows that there is a great poten­tial in the U.S. ​"We have been com­ing to the Fancy Food Show for over five years and we have found that Americans are always open to ​'new.' They are thirsty to find out about new sources of qual­ity oils, espe­cially since the mar­ket is becom­ing sat­u­rated with oils from cer­tain well-known [pro­duc­ing] coun­tries."
A Chance to Connect
Olive oil exhibitors all men­tioned the word ​"con­nec­tion" when prompted for their rea­sons for attend­ing the Fancy Food Show.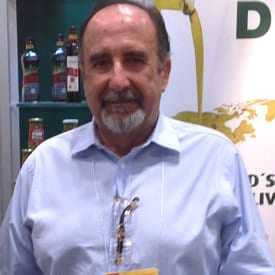 For those com­pa­nies who have had booths at the show for years, the event pro­vides an opti­mal set­ting to meet with cus­tomers and col­leagues with whom they oth­er­wise only com­mu­ni­cate through tech­no­log­i­cal means. Representatives from the United Olive Oil Import Corporation, a 100 year-old, fam­ily-run olive oil com­pany out of Sicily, have been exhibit­ing at the show for over twenty years. ​"This is a chance for us to recon­nect with peo­ple we do busi­ness with," said Tommaso Asaro, who han­dles sales and mar­ket­ing for the com­pany. Antonio Arcis of Acorsa echoed those sen­ti­ments; ​"We have had a pres­ence at this event for years. We meet with cus­tomers from across the coun­try. People expect us to be here."
For new­com­ers at the show, there was hope for build­ing busi­ness and get­ting one's name out there. Carla Reis-Alves is com­mer­cial direc­tor of Olivais do Sul, a small pro­ducer in Portugal. She described her brand as very young and char­ac­ter­ized the peo­ple she had met thus far at the show as ​"very nice and very open," which is ideal for a grow­ing busi­ness like hers. Tony Fultz, who works in sales for Ohio-based Olivamed, said he and his col­league were look­ing to ​"get the brand out" and spread the word about their com­pany.
The Fancy Food Show also fea­tured edu­ca­tional sem­i­nars and awards rec­og­niz­ing excel­lence in foods and bev­er­ages.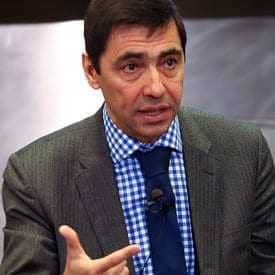 International Olive Council Executive Director Barjol Also On Hand
After speak­ing at a morn­ing sem­i­nar titled ​"Understanding Olive Oil," Jean-Louis Barjol, the exec­u­tive direc­tor of the International Olive Council (IOC), was asked to com­ment on the recent down­ward trend in olive oil imports in the U.S. and other major mar­kets. At this point, he said, the expec­ta­tion is that imports in major mar­kets will likely be down 7.5 per­cent, but it is still too early in the year to know for sure that this will be the case. He men­tioned Spain hav­ing sig­nif­i­cantly higher pro­duc­tion last year as one of the rea­sons why the import num­bers are trend­ing dis­mally.
On the Stance Against Flavored ​"Extra Virgin" Oils
Barjol was quick to point out that there is not an IOC cam­paign against fla­vored oils, but in fact, a reminder to mem­ber coun­try gov­ern­ments to re-estab­lish that ​"extra vir­gin" oils are, by def­i­n­i­tion, nei­ther fla­vored nor infused. He said that it is up to the gov­ern­ments to refer pro­duc­ers to estab­lished label­ing reg­u­la­tions. When asked specif­i­cally about what he thought the reac­tion would be to this, he responded that it will be a mat­ter of indi­vid­ual coun­tries' pol­i­tics that deter­mines what the reac­tion of pro­duc­ers will be.
What Barjol Hoped to Accomplish with Morning Seminar
The IOC direc­tor said that the main objec­tive of the sem­i­nar orga­nized dur­ing the Fancy Food Show was to make the point that the IOC is a ​"dream team" — a neu­tral, insti­tu­tional body that any­one in the olive oil world should want to work with in order to tap into their exper­tise. He wanted to rein­force the mes­sage that the Council is a trans­par­ent orga­ni­za­tion that makes all of its analy­ses and ini­tia­tives pub­licly avail­able.
What's Next After His Tenure Ends
When asked what his plans were after his three-year appoint­ment ends this December, Barjol said there remained the pos­si­bil­ity that he will be reap­pointed, so it was too early to say what his future plans are.
---