The XII International Award for Cooking With Extra Virgin Olive Oil (XII Premio Internacional de Cocina con Aceite de Oliva) was awarded today at Madrid Fusión 2015.
From an ini­tial field of 59 com­peti­tors, Xanty Elías of Restaurante Acánthum in Huelva won first place for his Torrijas de aceituna y choco con cococha de corv­ina y su piel (olive oil toast with crispy croaker skin), fea­tur­ing Oro Bailen and Cortijo La Torre olive oils. Second place hon­ors went to Felix Guerrero of El 38 de Larumbe in Madrid for a Cocochas de mer­luza cru­jiente al pil pil (mer­luza a pil pil) and third place to Diana Díaz of Restaurante Rodero in Pamplona for her inter­pre­ta­tion of una Oleomiel de alca­chofas y ostras (arti­chokes and oys­ters with olive oil emul­sion). Prize money of €12,000 was dis­trib­uted among the win­ners.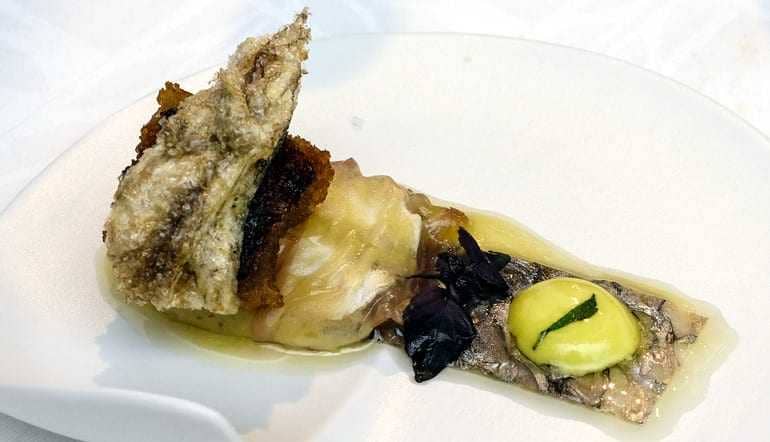 The contest's spon­sor, Diputación Provincial de Jaén, staged its first event of the year to cel­e­brate eight extra vir­gin olive oils recently awarded their Jaén Selección 2015. Now in its twelfth year, the com­pe­ti­tion included con­tes­tants from Spain, Italy, Greece and Portugal. Participants were required to use one of the Selección 2015 oils in their orig­i­nal cre­ations.
"Xanty Elias is a genius in the kitchen and we are very proud that he chose to include Oro Bailen's Picual extra vir­gin olive oil in his win­ning dish, said José Galvez González of Oro Bailen. ​"Xanty is one of the most cre­ative chefs using extra vir­gin olive oil. We con­grat­u­late him on win­ning this pres­ti­gious com­pe­ti­tion that show­cases the best olive oils from Jaén."
The six final­ists in the inter­na­tional cook­ing con­test hailed from six dif­fer­ent Spanish provinces, includ­ing Jaén, Navarra, Girona, Barcelona, Madrid and Huelva. Each con­tes­tant was required to pre­pare and present their orig­i­nal cre­ations within a one-hour com­pe­ti­tion in front of an expert panel of judges, includ­ing panel pres­i­dent and famed chef Ángel León, and the audi­ence.
Other chef final­ists included Alejo Perez (Restaurante Antique, Ubeda), Victor Trochi (Les Magnolies, Arbucies ‑Girona), and Germán Espinosa (Vermell Restaurant de Badalona, Barcelona).
---