Agriculture has long been the engine of eco­nomic growth in Georgia. According to the Georgia Farm Bureau, the entire sec­tor is worth $69.4 bil­lion annu­ally and employs one in seven Georgians.
While the state is pere­nially the largest pro­ducer of blue­ber­ries, broiler chick­ens, peanuts, pecans and spring onions, olives main­tain a mod­est foothold, and inter­est is grow­ing.
We are able to come first to mar­ket… This pro­vides us the oppor­tu­nity to bring a really fresh prod­uct to the super­mar­ket shelf before any­one else.
The sec­tor's poten­tial piqued the inter­est of Ciriaco Chavez, a fix­ture of the California olive oil sec­tor. Virtually all olive oil pro­duc­tion in the United States comes from the Golden State.
In January, Chavez left Boundary Bend, one of the coun­try's largest pro­duc­ers, along with posts at the Olive Oil Commission of California and the University of California-Davis Olive Center's research advi­sory com­mit­tee to become the direc­tor of agri­cul­ture and inno­va­tion at Fresh Press Farms.
See Also:
Producer Profiles
"I saw a very inter­est­ing oppor­tu­nity and cer­tainly lots of unique chal­lenges that are dif­fer­ent to grow­ing olives and pro­duc­ing oil in California," Chavez told Olive Oil Times.
Before offi­cially mak­ing the move, he had already started work­ing remotely as a con­sul­tant. ​"I was advis­ing on which vari­eties to har­vest, when to har­vest, but was not there in per­son dur­ing the har­vest," he said.
Shortly after Chavez offi­cially joined the largest olive oil pro­ducer in the east­ern U.S., Fresh Press Farms earned a Silver Award for its medium-inten­sity blend at the 2023 NYIOOC World Olive Oil Competition.
Chavez might not have been fully involved in last year's crop, but he is already gear­ing up for the start of the 2023/24 har­vest, which he pre­dicted could begin as early as the end of August in Fresh Press Farms' 1,600 hectares of olive groves.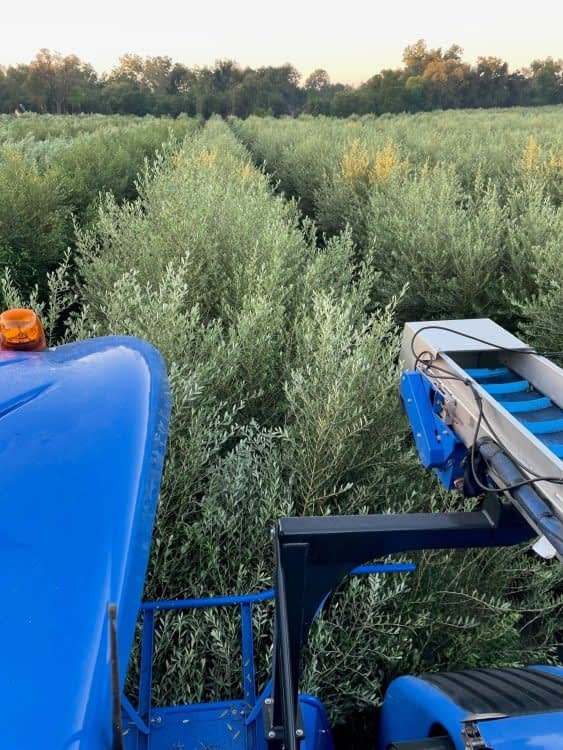 "From what I'm see­ing, the har­vest looks like it will be a bit of a mixed bag," he said. ​"We have some areas of the grove that look fan­tas­tic with really strong pro­duc­tion, more so than we prob­a­bly have had in pre­vi­ous years. But other areas are not look­ing as good."
Georgia does not face the same set of chal­lenges as California and other tra­di­tional olive-grow­ing regions. Chavez said there are no tra­di­tional pests or olive tree dis­eases in the state, and drought is not a sig­nif­i­cant con­cern.
"The humid­ity is prob­a­bly the biggest chal­lenge," he said. ​"Humidity can lead to dif­fer­ent fun­gal dis­eases that affect the olive leaves and fruit if we're not care­ful. To date, we've been able to man­age it through pre­ven­ta­tive fungi­cide pro­grams."
Along with humid­ity, the south­west­ern cor­ner of Georgia, where Fresh Pess Farms is located, is also prone to extreme weather events.
"We're faced with tor­na­does in this part of Georgia," Chavez said, ​"and strong thun­der­storm."
Fresh Press Farms sits on the south­east­ern edge of Dixie Alley, a region of the south­east­ern U.S. that fre­quently expe­ri­ences tor­na­does due to its cli­mate and geog­ra­phy.
The farm is also exposed to hur­ri­canes and trop­i­cal storms, with trees grow­ing just 110 kilo­me­ters away from the Gulf of Mexico.
With har­vest begin­ning at the end of August, one of the wettest times of year in the state, rain is not uncom­mon.
"We mon­i­tor the weather lead­ing up to har­vest time and if, if we see active hur­ri­canes, we'll adjust our har­vest sched­ule accord­ingly," Chavez said. ​"When it is time to har­vest, we absolutely get in there and har­vest 24 hours a day, seven days a week, with all our equip­ment."
Along with the rain, tem­per­a­tures usu­ally exceed the 27 ºC thresh­old for pro­duc­ing extra vir­gin olive oil at this time of year.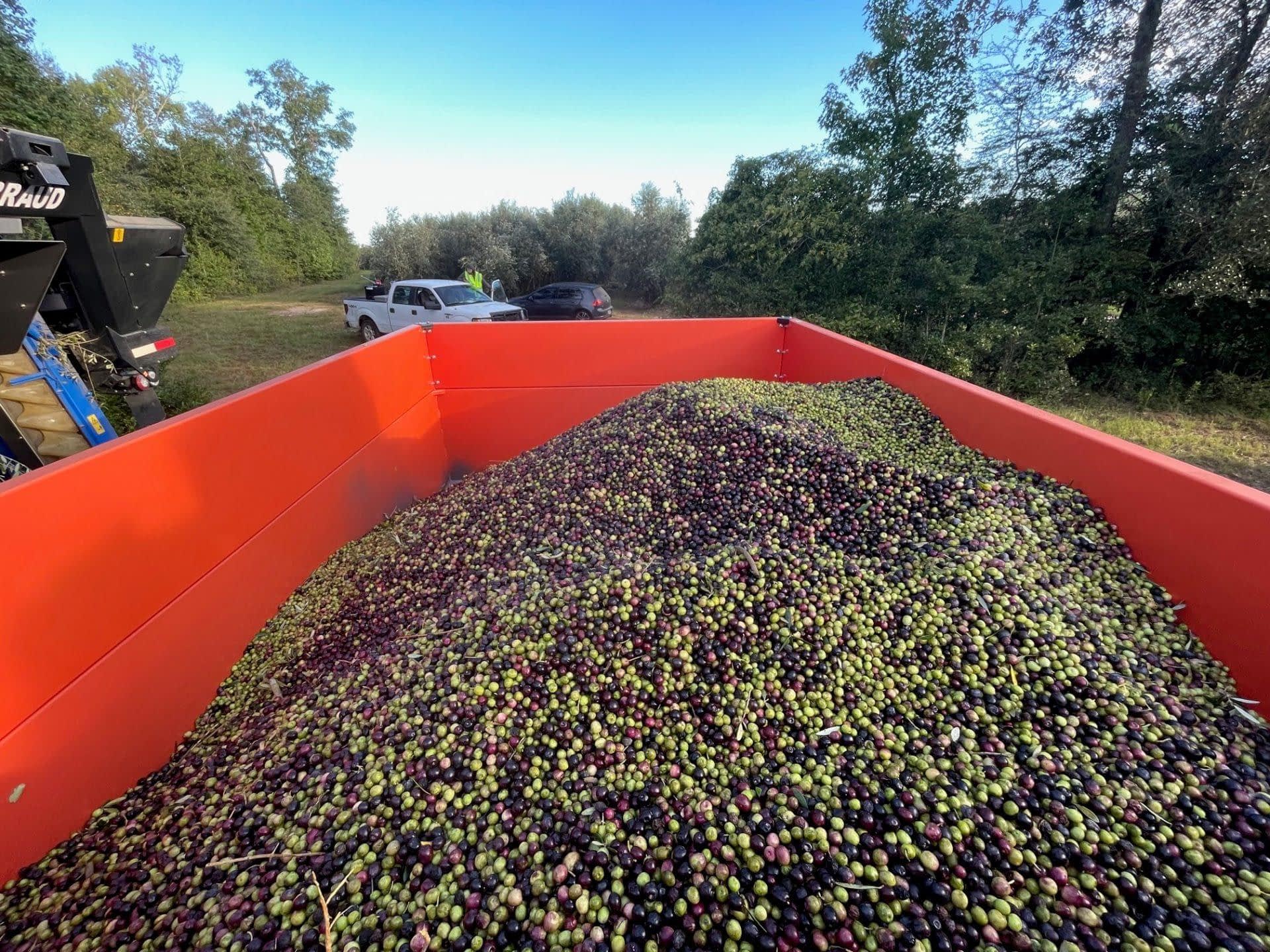 Chavez said Fresh Press Farms deals with high tem­per­a­tures by har­vest­ing at night and send­ing small batches to the mill, which is located at one of the company's two groves.
"We have plenty of chal­lenges, but we have a great team who knows the area," Chavez said. ​"We have local peo­ple work­ing for us who know the soils, know the cli­mate and have done a great job grow­ing the trees and prepar­ing them for size­able pro­duc­tion in the future."
Along with great peo­ple, Chavez attrib­uted the company's ris­ing suc­cess to its ver­ti­cal inte­gra­tion, which allows it to con­trol every step of the process and pre­vents the spread of pests or dis­eases.
Fresh Press Farms grows Arbequina, Arbosana and Koroneiki olives in super-high-den­sity olive groves, a com­mon arrange­ment in the state.
However, the com­pany has planted ten addi­tional vari­eties at one of its farms, includ­ing Chemlali and Picual, to see which will grow best.
"We're at the very early stages in that trial," Chavez said. ​"I'm very curi­ous to see how it evolves and what other vari­eties could be adept to our unique Georgian cli­mate."
While the Peach State's unique cli­mate can com­pli­cate a late sum­mer har­vest, Chavez said being one of the first north­ern hemi­sphere olive oil pro­duc­ers to come to mar­ket has dis­tinct advan­tages.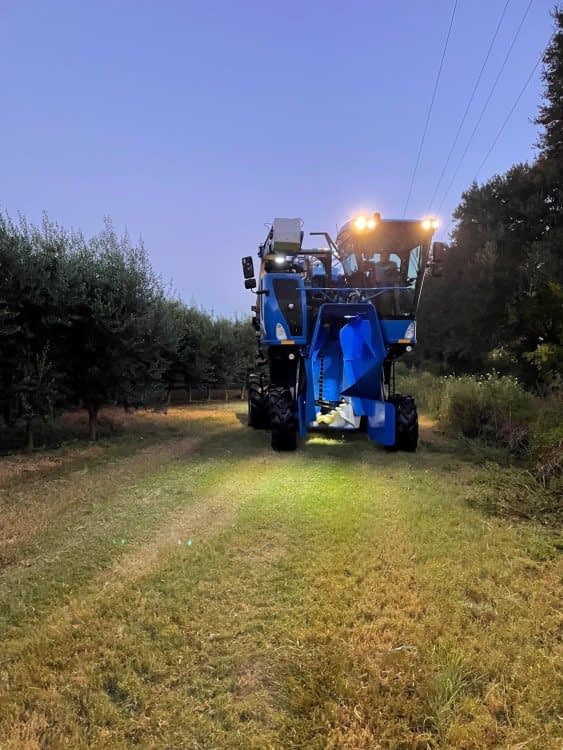 "We are able to come first to mar­ket, up to a full month or two months ahead of other Northern Hemisphere pro­duc­ers," Chavez said. ​"This pro­vides us the oppor­tu­nity to bring a really fresh prod­uct to the super­mar­ket shelf before any­one else."
He added that Fresh Press Farms is lever­ag­ing this oppor­tu­nity in its mar­ket­ing and sales strat­egy; it is even in the name. ​"Freshness is the name of the game," Chavez said.
The com­pany sells extra vir­gin olive oil to gro­cery stores around the U.S. and is secur­ing deals with some of the nation's largest retail­ers and spe­cialty stores. ​"We're def­i­nitely nation­wide," Chavez said.
While Georgia has seen mod­est increases in olive oil pro­duc­tion since com­mer­cial olive farm­ing was first stud­ied two decades ago, Chavez said Georgia would never com­pete with California in terms of vol­ume.
Still, he sees a future in tak­ing advan­tage of the state's early har­vest and devel­op­ing a local olive oil cul­ture.
"Do I think it's going to become the Olive State, not the Peach State?" Chavez said. ​"No, I don't. And we don't mind that. We like this lit­tle niche we've carved out for our­selves here and hope to do the most with it."
---
---