The UC Davis Olive Center will again host their Master Milling Certificate Course this fall, from September 28 to October 1.
This year's cur­ricu­lum cov­ers a vari­ety of top­ics that aim to help olive oil proces­sors pro­duce bet­ter oil more effi­ciently, accord­ing to the course's web­site.
Leandro Ravetti, among the world's top experts in olive oil pro­cess­ing, grow­ing and stan­dards will lead the course. Ravetti cur­rently serves as the exec­u­tive direc­tor of Australia's Boundary Bend Limited, the award-win­ning pro­duc­ers of the Cobram Estate brand.
The UC Davis Olive Center exec­u­tive direc­tor Dan Flynn and research direc­tor Selina Wang will also serve as instruc­tors through­out this year's course.
See Also:Register for the 2017 Master Milling Certificate Course
In addi­tion to four days of expert instruc­tion, the Master Milling Certificate Course also offers par­tic­i­pants an oppor­tu­nity to visit olive oil proces­sors through­out California's Yolo County.
This year's excur­sions will bring par­tic­i­pants to sites includ­ing Boundary Bend's recently estab­lished U.S. facil­ity, located in Woodland, CA. A visit to Seka Hills in Brooks, CA was also recently added to the itin­er­ary.
Ravetti told Olive Oil Times, ​"We designed the course to appeal to a wide audi­ence, from those who have never processed olives to those who have been milling for decades. Everybody ben­e­fits."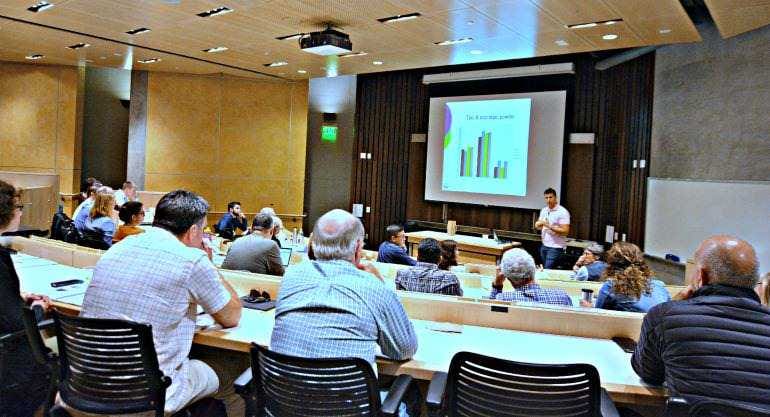 According to a sur­vey taken of last year's atten­dees, ninety per­cent of respon­dents ​"believed that the coursed mate­r­ial would boost their qual­ity or effi­ciency by more than five per­cent," and sev­enty-two per­cent said that ​"the course was ​'very likely' to lead to higher prof­itabil­ity."
Flynn said that these ben­e­fits are achieved by three val­ues pre­sented in the course: a focus on max­i­miz­ing qual­ity in order to yield higher prof­itabil­ity, hands-on field vis­its to top-qual­ity pro­duc­ers, and the oppor­tu­nity to taste the first milling of the sea­son through a ses­sion led by Them Curry of Olive2Bottle Milling Services.
Organizers described the yearly course as a ​"small invest­ment that will pay off in more effi­ciency, bet­ter qual­ity and higher prof­its."

---