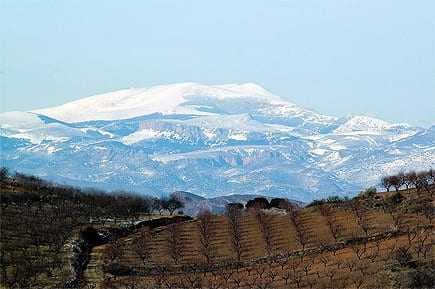 Between the mainly Empeltre-grow­ing area of Bajo Aragón and the pre­dom­i­nantly Arbequina grow­ing area of Catalonia lies Sierra del Moncayo, where the local olive oil is said to be a unique blend of both vari­eties.
Centuries of nat­ural selec­tion have seen the olives adjust per­fectly to the zone's ecosys­tem, accord­ing to Spain's recently pub­lished appli­ca­tion for its reg­is­tra­tion as a European Union Protected Designation of Origin (PDO) for olive oil.
Empeltre olives make up at least 70 per­cent of this extra vir­gin oil, Arbequina olives no more than a quar­ter, and up to 5 per­cent comes from at least one of the minor­ity vari­eties of Negral, Verdial and Royal.
'Cierzo' wind pro­tects from frosts
In the north-west of the province of Zaragoza amid the wide, flat ter­races of the Ebro val­ley and the Iberian moun­tain ranges, the ​'Aceite Sierra del Moncayo' zone cov­ers more than 2,500 ha of olive groves and an aver­age annual pro­duc­tion of about 800 tons of the extra vir­gin oil for which the PDO is sought.
Pressure dif­fer­ences between the Cantabrian Sea and the Mediterranean Sea pro­duce a cold, dry wind known as the ​'cierzo' which helps pre­vent frosts. Its con­stant pres­ence; the deep, lime-rich soil; low annual rain­fall; and hot sum­mers are listed as chief influ­enc­ing fac­tors in the local ecosys­tem.
Oleic and linoleic acid pro­por­tions make for ​"very sta­ble" oil
"The soil and cli­matic con­di­tions (rain­fall out­side the har­vest­ing period, lit­tle rain when the fruit is devel­op­ing, tem­per­a­tures that are high in sum­mer and low in win­ter and the char­ac­ter­is­tics of the type of soil) affect the acid com­po­si­tion of the olive oil, lead­ing to higher con­cen­tra­tions of oleic fatty acid…with val­ues exceed­ing 70 per­cent," the appli­ca­tion says.
Combined with a linoleic fatty acid con­tent of no more than 11 per­cent, this is said to make the olive oil very sta­ble.
Its organolep­tic pro­file is described as bal­anced, with hints of bit­ter and pun­gent attrib­utes, and scores of at least 2.5 for fruiti­ness.
Producers now close to fin­ish line
The appli­ca­tion was pub­lished in the Official Journal of the E.U. on June 26. If no oppo­si­tion occurs within three months of that date, the asso­ci­a­tion of Sierra del Moncayo pro­duc­ers formed six years ago to seek the PDO reg­is­tra­tion should finally be able to cel­e­brate suc­cess.
---