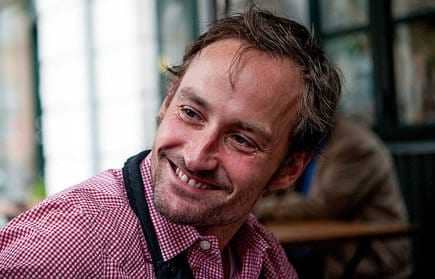 Ten chefs from around the world com­peted this week in the 10th International Championship for Cooking with Extra Virgin Olive Oil in Bilbao, Northern Spain.

The ten final­ists were cho­sen from a total of 59 con­tenders, the major­ity of which were Spanish, but also includ­ing eleven Italian chefs, two Greek, Two Danish, two Portuguese, one German and one Mexican. The final ten fea­tured two Italians and one Dane, with the remain­der of con­tes­tants com­ing from var­i­ous regions of Spain.
Despite the strong Spanish pres­ence, it was Danish chef David Oliver Fischer, from Restaurant Hos Fischer in Copenhagen, who took out the prize for the best dish. Fischer was the first chef out­side of Spain or Italy to win the award, with his dish of Piña, aceite y espino cer­val (pineap­ple, olive oil and buck­thorn) deemed the best by the judg­ing panel.
The ten chefs, who were each allowed an assis­tant, cre­ated their extra vir­gin olive oil dishes within a six-hour time limit. Each chef pro­duced ten media raciones, or half serv­ings, of their cre­ation, in which olive oil played a major role.
Also val­ued by the jury were evi­dence of imag­i­na­tion, a high stan­dard of culi­nary tech­niques and aes­thet­i­cally pleas­ing dishes.
Finalists were pro­vided with seven extra vir­gin olive oils, all of which had the pres­tige of being included in the ​"Jaen Selection 2012", a selec­tion of the top oils for the year which includes Fuenroble, Quinta Esencia, Melgarejo, Nobleza del Sur, Oro Bailén, Oro de Cánava and Tuccioliva.
From these high qual­ity oils, the chefs had to choose the most appro­pri­ate for their dish in the bid to take home the prize of €18,000 ($22,921). The dishes were then cri­tiqued by a panel of judges includ­ing restau­ra­teurs and gas­tro­nomic jour­nal­ists.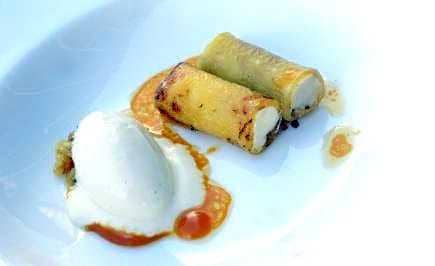 The win­ning recipe: Pineapple, olive oil and buck­thorn
An ini­tia­tive of the famed olive oil pro­duc­ing region Jaén and spon­sored by its provin­cial coun­cil, the com­pe­ti­tion took place in the Bilbao Exhibition Center on Tuesday the 6th of November as part of the ​"Professional Fair of Gastronomy and Food Focus." The aim of the event was to stim­u­late cre­ativ­ity in chefs, while pro­mot­ing the use of the his­toric and nutri­tious prod­uct that is so impor­tant to Spain in both sweet and savory dishes.
In addi­tion to the cham­pi­onship, a vari­ety of other olive oil-based activ­i­ties were held through­out the day, includ­ing olive oil tast­ings and olive oil cook­ing classes. Well known chefs, such as Martin Bersategui, demon­strated how to make dishes based on olive oil, includ­ing del­i­ca­cies like olive oil ice cream with mar­i­nated tuna and sautéed monk­fish liver and cod with pil pil sauce.
To round out the day, along with the pre­sen­ta­tion of the prize money and tro­phy to chef Fischer, Spanish chefs Ignacio Sanfilippo, Iñaki Rodrigo and Josean Martinez Alija also received awards in recog­ni­tion of their com­mit­ment to the use of extra vir­gin olive oil through­out their careers. The event con­cluded with a tast­ing of food prod­ucts from Jaén, as well as an olive oil lot­tery for mem­bers of the audi­ence.
Pineapple with olive oil and buck­thorn

Ingredients:
4 pineap­ples
200 gr. Buckthorn
50 gr. sugar
5 dl. Cream
300 gr. White Chocolate
500 gr. Fresh hazel­nuts, peeled
50 gr. Black olive.

OLIVE OIL CREAM

Preparation:
1. Marinate pineap­ple in Picual oil and put on the grill.
2. Blanch the nuts and put in cup Pacojet, sift 6 – 8 times, adding aca­cia honey.
3. Boil the cream and add white choco­late mousse, pass and let stand overnight. Whisk before serv­ing.
4. Add the dried sliced​black olives.
5. Sift buck­thorn with sugar syrup and Picual oil.

Plate and Serve
---