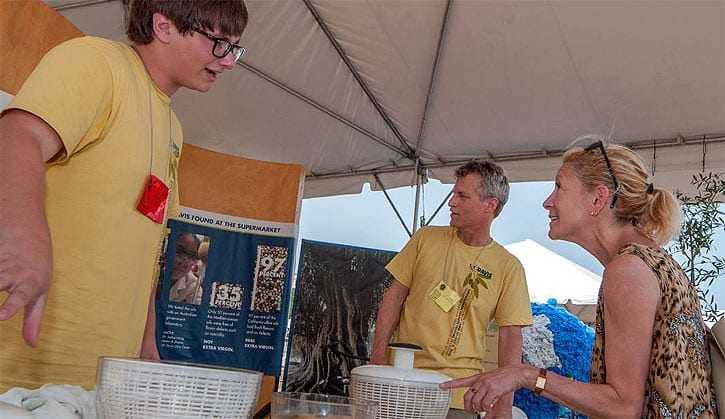 The Smithsonian Folklife Festival is held every year on the National Mall in Washington, DC. Each year sees three new fes­ti­val themes. This sum­mer, the 46th edi­tion of the fes­ti­val fea­tured the USDA and Land-Grant University System — a part­ner­ship that is based on leg­is­la­ture signed by Abraham Lincoln 150 years ago in an effort to grant land and estab­lish uni­ver­si­ties, and help facil­i­tate the eco­nomic devel­op­ment of agri­cul­ture in the United States.

There are a num­ber of land-grant uni­ver­si­ties in the coun­try, and University of California at Davis is one of them. The Smithsonian was inter­ested in high­light­ing sus­tain­abil­ity and that's when the UC Davis Olive Center came to mind.
As a bik­ing cam­pus, the olive trees that lined a heav­ily trav­eled bike path would fall on the ground and cre­ate an extremely slip­pery sur­face. In 2004, it was cal­cu­lated that olive related acci­dents on the cam­pus amounted to $60,000 in legal costs and lia­bil­ity claims.
Sal Genito, then direc­tor of build­ings and grounds, sug­gested har­vest­ing the olives for oil as a sus­tain­able solu­tion to this costly haz­ard. In 2005, the cam­pus har­vested a cou­ple of tons of olives for the first time, and thanks to the com­mu­nity embrac­ing this idea, they sold out of the olive oil within days.
Around the same time, Dan Flynn was fin­ish­ing up 17 years as a leg­isla­tive con­sul­tant in Sacramento. When a group of University of California and Cooperative Extension olive sup­port­ers pro­posed an edu­ca­tional cen­ter for olives and olive oil under the Robert Mondavi Institute for Wine and Food Science, Dan was a log­i­cal choice as the inau­gural exec­u­tive direc­tor in 2007. The UC Davis Olive Center was then launched in 2008.
Today, the cen­ter pro­duces almost 600 gal­lons of olive oil dur­ing a good har­vest. Next year will mark the first har­vest of the 8 acres of olive trees that have been planted on cam­pus since the incep­tion of the pro­gram. Proceeds go toward some of the olive center's bud­get.
Flynn, who is now the Executive Director of the Olive Center, shared his expe­ri­ence at the Smithsonian Folklife Festival. ​"At the fes­ti­val we talked about this sus­tain­able solu­tion to this prob­lem on cam­pus, but we also talked about how olive oil is made, what are some of the attrib­utes of good olive oiland the defects of bad oil, and we had peo­ple smell sam­ples of famil­iar oil ver­sus fresh oil."
"One of the things we're look­ing to do is help con­sumers get bet­ter qual­ity, so we sug­gest that they look for a har­vest date on the label. We're try­ing to impress upon them the impor­tance of fresh­ness, because olive oil is a nat­ural prod­uct and it's bet­ter when it's fresher."
"We also dis­cussed the stud­ies that (the Olive Center) did which found that a high per­cent­age of the imported super­mar­ket olive oil wasn't up to extra vir­gin stan­dards. We found that there are a lot of peo­ple who were sur­prised by this, and while some peo­ple could smell the dif­fer­ence between the sam­ple oils, oth­ers were very savvy when it came to olive oil — it was quite a range."
Flynn also held a few demon­stra­tions touch­ing on the myths of olive oil. For exam­ple, the myth that you can't fry with extra vir­gin. Flynn wowed the crowd when he fried pota­toes in extra vir­gin olive oil, ​"and the sky didn't fall."